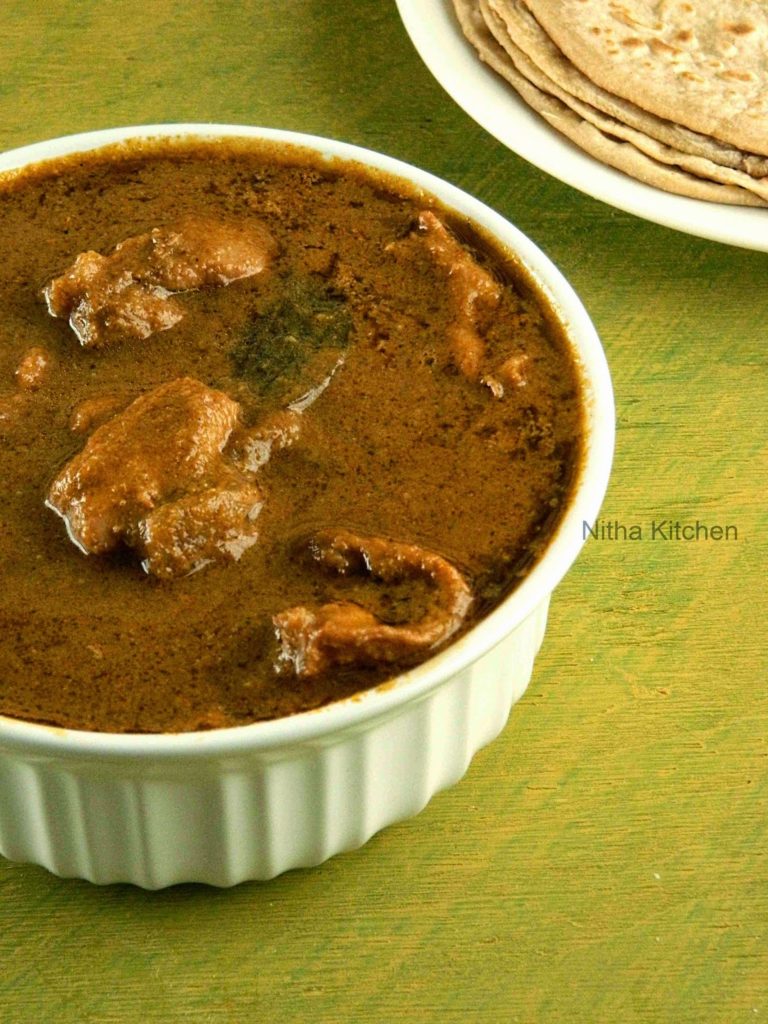 Authentic Goan chicken curry is a spicy chicken curry from Goa Cuisine/Konkan. It's a mix of onion, tomato paste and coconut milk with some spices. Goan Chicken Curry is very easy to prepare if you have tomato puree
and onion paste by handy then you can prepare it under 30 minutes and this curry tastes too good. You can adjust the thickness of the gravy as you wish. I have adapted the video version of goan curry to my taste.
Ingredients for Authentic Goan Chicken Curry
Onion – 3 Numbers (Large, US Onions)
Tomatoes – 4 Pureed
Green Chilis – 4 Numbers
Red Chili Powder – 1/2 Tbsp or More
Coriander Powder – 2 Tbsp
Turmeric Powder – 1/2tsp
Garam Masala Powder – 1 Tbsp
Thick Coconut Milk – 1 Cup
Second Extracted Coconut Milk – 1/2 Cup
Bay Leaves and Cloves – 3 Each
Oil and Salt – As Needed
Optional Curry Leaves – Few
Coriander Leaves – Few Sprigs
Ingredients to Marinate the Chicken
Yogurt – 2 Tbsp or Lemon Juice – 1 Tbsp
Turmeric Powder – 1/2tsp
Red Chili Powder – 1 Tbsp
Kosher Salt – 1tsp
Grated Ginger or paste – 2tsp
Chicken – 2 Pounds
Mix all the ingredients (Stepwise Pic 1) with well cleaned and water drained chicken pieces for 1 hour at least. You can marinate overnight in refrigerator.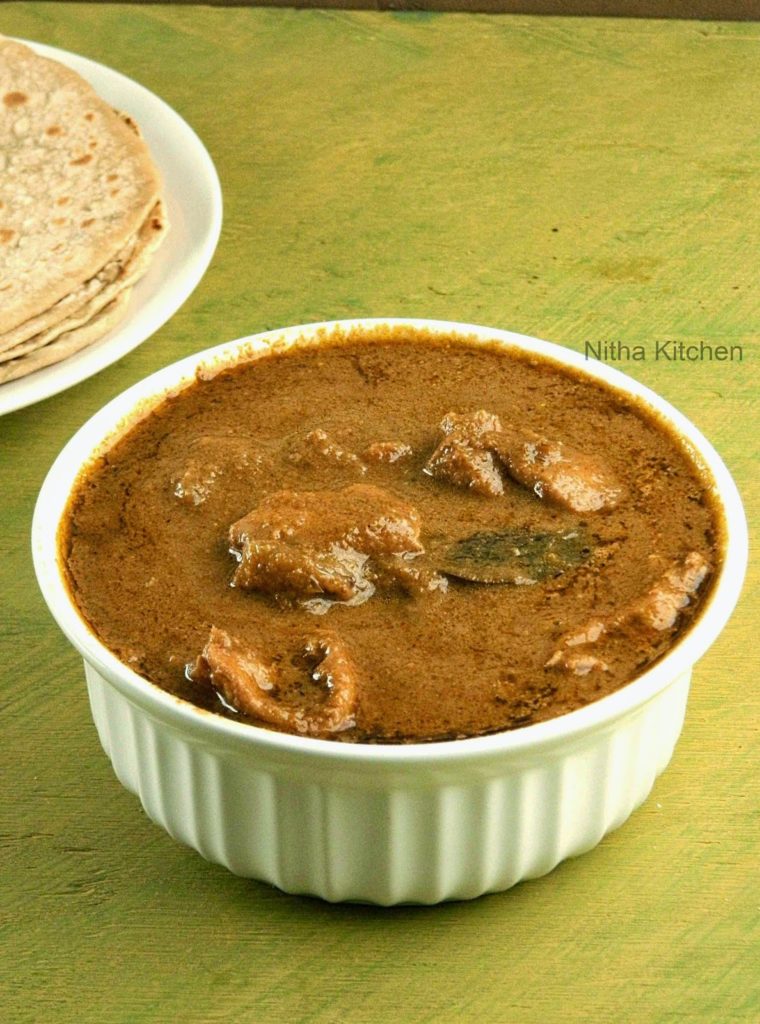 How to make Authentic Chicken Goan Curry
Slice half of the onions roughly; Saute them with 2-3 Tbsp oil and 1/2tsp salt until onion turns translucent and well cooked.
Just add few sprigs of coriander leaves when onion mixture is hot (Pic 2) and grind it to fine paste.
Boil water in sauce pan, add the tomatoes in well boiled water, rest it 5 minutes, peel the skin and once it cooled down, make the tomato puree and keep aside.
Chop the rest of onion finely and make other stuffs ready.
In the same pan/kadai add enough oil, when oil is hot enough add bay leaves and cloves.
Add the chopped onions, curry leaves and green chili's sauté till it turns nice brown in color (Pic 3).
Now add the marinated chicken, cover the lid and cook for 2-3 minutes or till chicken coats well with marinated stuff (Pic 4).
Now add onion+ coriander leaves paste (Pic 4), since its sautéed before no need to cook long time, just cover and cook for 3-4 minutes in medium flame.
Add the tomato puree (Pic 5) and cover the lid (Pic 6) and cook for 5 minutes at least or till oil separates.
Now add coriander powder, red chili powder, garam masala powder and cook in low to medium flame for another 2-3 minutes (Pic 7).
Finally add both the coconut milks if necessary add some water and cook for 5-8 minutes.
Keep stirring on and off but through the whole process cover the lid and cook.
At last when gravy gets thick and cooked well (Pic 8) garnish some coriander leaves (optional) and remove from heat.
This curry goes well with Chapathi, Tiffin Varieties, Rice and Biryani.