Eggless Pumpkin Sugar Cookies with Pumpkin Sugar Icing, is the apt recipe to share during Halloween Trick or Treat. I used cardboard to make pumpkin shape and tapped using knife. Even you don't need piping bag or tool tips to decorate the cookies, I applied frosting by making small hole in the ziplock bag and also uses toothpick to fill the icing over cookies, so easy n interesting indeed? Try this n get ready to treat the nonstop knocking, spooky kids today :). I recently got pumpkin cookie cutter so updated the recipe with and without cookie cutter versions…Here comes the detailed post with pumpkin sugar royal icing…
Ingredients for Pumpkin Sugar Cookies
APF or Maida – 1 and 1/2 Cup
Butter – 5 Tbsp – 8 Tbsp (I used 5 Tbsp)
Milk – 1/4 Cup or as required to prepare the dough (If using 8 Tbsp of butter reduce milk)
Powdered Sugar – 1/2 – 3/4th Cup
Baking Powder – 1/2tsp
Yields 10-12 Cookies
Method
Cream butter and sugar till both mixes well and creamy.
Mix flour and baking powder separately and slowly mix with the butter mixture by sprinkling milk.
It should be as pliable/soft stiff dough, otherwise its tough to hold shapes.
Cover with cling film and refrigerate for 30 minutes and then make the desired shape.
The below picture shows how I implemented the pumpkin shape.
If you have cookie cutter check the last pictures.
Spread it in the cookie sheet, if not using non stick pans better to layer the pan with parchment paper.
I free zed the shaped cookies for 5 minutes before baking
Preheat oven and bake at 400° F for 10-12 mins or check by turning the cookies at back,should turn light brown.
Allow to cool in the cooling rack, meanwhile prepare the pumpkin frosting.
Picture 1 – The dough consistency
            2 –  My own cookie cutter 🙂
            3 – Few Pumpkin shaped dough getting ready to go in to the oven.
            4 – Baked cookies.

How to make Pumpkin Puree in Pressure cooker
Pumpkin/Squash – 300gms
Salt – 1/4tsp
Method
Remove the odds (Pic 1), peel the skin (Pic 2), wash and chop the pumpkin in to medium sized cubes (pic 3).
Add pinch of salt to pumpkin, give a nice stir and pressure cook for a hiss sound (Pic 4).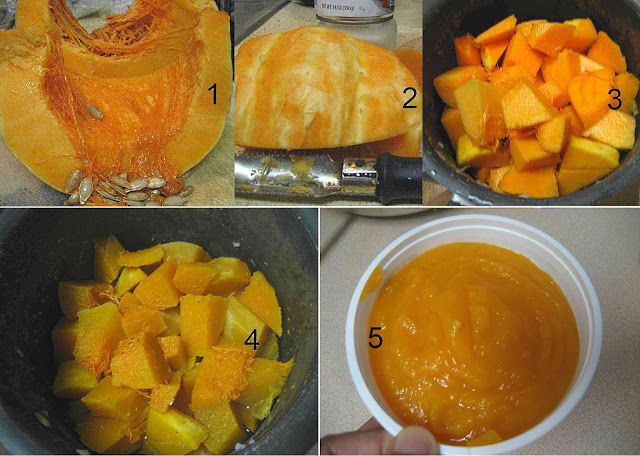 Be sure to cook in medium flame and don't add water, when cooled down completely, squeeze/filter the excess water.
Blend the pumpkin alone to make nice puree (Pic 5).
Pumpkin Frosting/Icing
Icing Sugar – 1 Cup (If using regular sugar, powder it well, for 1 cup of powdered sugar add 1 Tbsp of corn starch and mix well before using)
Butter – 1 Tbsp (Optional)
Homemade Pumpkin Puree – 1/4 Cup
Orange Food Color – (Optional)
Vanilla Essence – 1tsp
Method
Melt the butter if using, add pumpkin puree, essence and icing sugar, whisk all the ingredients well.
The frosting should be thick as shown in the picture (Pic 4), since we are not using any tools/piping bag to squeeze.
If needed add more puree for spreading consistency.
If the icing is too runny add more icing sugar to attain the right texture.
Make a very small hole using scissor at the corner of ziploc bag.
Now drop 2 spoonful of frosting in to the bag and draw a outer line over well cooled cookies.
Then leave it aside for 5-10 minutes for the outer line to set(Pic 5), will set quickly.
Now if the already mixed icing is very thick add more puree.milk to make it thin and add it inside the bordered cookie, use toothpick/bamboo skewers to even it (Pic 5).
Again leave it in room temperature for another 30-60 minutes or till it sets without sticking to ur fingers when touched.
Pack it in air tight container and store it in refrigerator for later/future use.
That's it pumpkin cookies are ready to treat 🙂
Notes
I haven't added any colors, if you need dark orange color add equal drops of Yellow n Red while blending the frosting…
As I cooked the pumpkin completely, i added directly in frosting.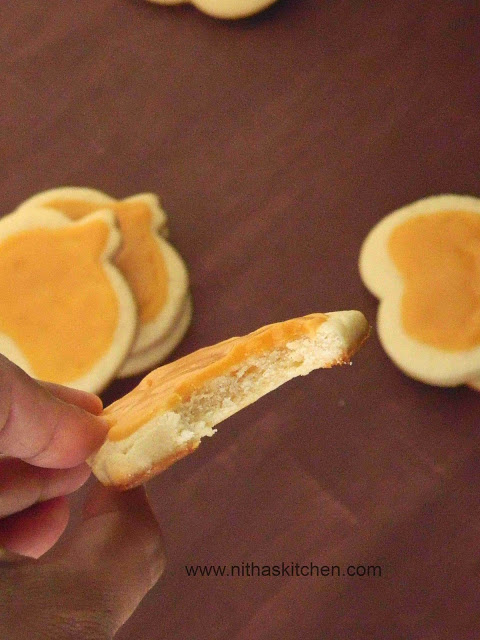 * Note : Old post with updated pictures…