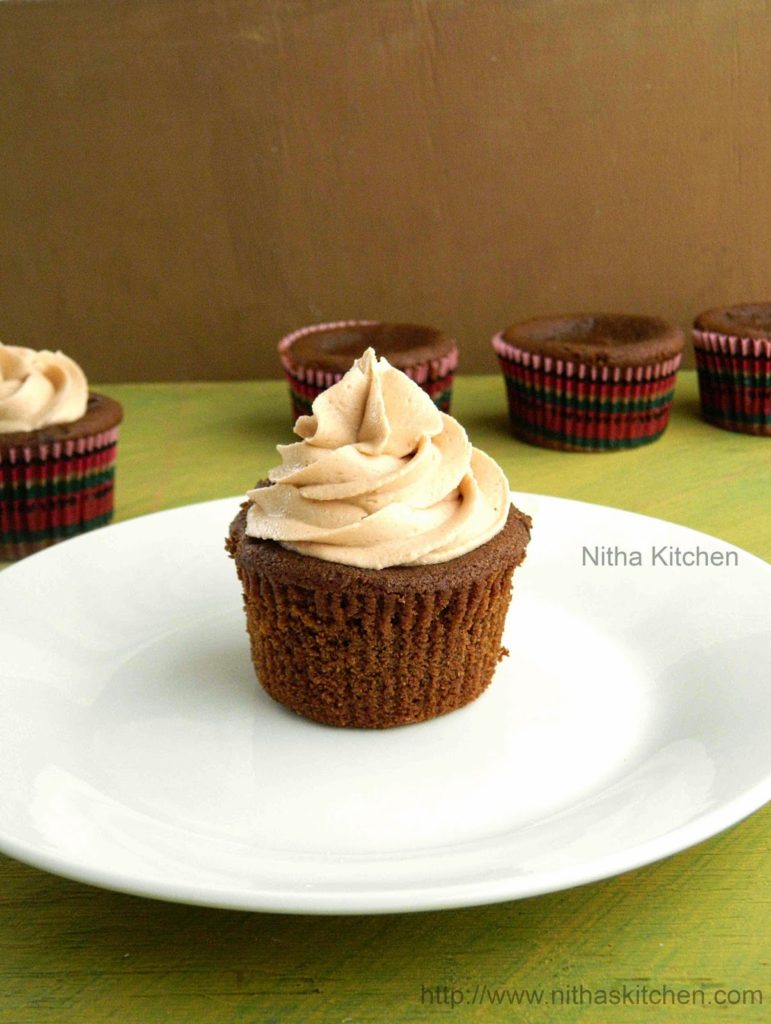 I made this cupcakes during first week of this month for Home bakers challenge. Because of Navratri/Puratassi I adapted the recipe suggested by 
Nalini
 to egg less version and thanks
Priya sis
for this wonderful challenge. As today is National Chocolate Cup Cake day this is the apt recipe to post I used pumpkin puree for the cake batter and I have given two type of frosting recipes as well. As the weather was dull that day, after few mummy effect over cupcakes i moved to plain frosting and rushed to click pictures…You can choose any frosting and decorate as you wish 🙂 Recently I applied
butterscotch frosting
and updated few pictures.
Yields – 10 Cup Cakes Approx
Ingredients
APF/Maida – 1 Cup
*Unsweetened Cocoa powder – 1/3 Cup
Pumpkin Puree – 3/4 Cup (I used Homemade Puree)
Unsalted butter – 1 Stick (1/2 Cup or 8 Tbsp at Room temperature)
Baking Powder –  1tsp (I used Double Acting)
Baking Soda – 1/2tsp
Instant Coffee/Espresso Powder – 1 Tbsp (I Used Nescafe)
Salt – 1/4 tsp
Sugar – 1/2 – 3/4th Cup
Vanilla Extract –  1tsp
Milk – 1/4 Cup or more to attain batter consistency
*You can reduce cocoa powder a bit when using strong coffee powder.
Variations
Instead of pumpkin puree you can go for yogurt or sour cream in that case increase 1/4tsp of baking soda.
I used melted mini whole marshmallows icing and butter cream frosting for those cupcakes and shared both the pictures.
Frosting with Small Whole Marshmallows
Unsalted butter (room temperature) – 1/2 Stick
Confectioners Sugar – 1 Cups
Mini Marshmallows – 1/2 Cup
Milk -2 Tbsp or More
Gems to decorate
Butter Cream frosting
Confectioners'/Icing Sugar –  1 n 1/2 cups
Unsalted Butter – 3/4th Stick (6 Tbsp)
Vanilla Extract – 1tsp
Water/Milk – Few Tbsps
Method to make Cupcakes
Preheat oven to 350°F. Line cupcake tin with holders.
In a medium bowl, whisk together flour, cocoa powder, espresso powder, baking powder, and salt (Pic1).
In a large bowl, beat together butter and sugar (Pic 1) until light and fluffy, about 3 minutes.
Add Pumpkin puree and vanilla extract and beat until just combined (Pic  2).
Beat in flour mixture in batches, add few tbsps of milk for batter consistency (Pic 3), but i didn't add so.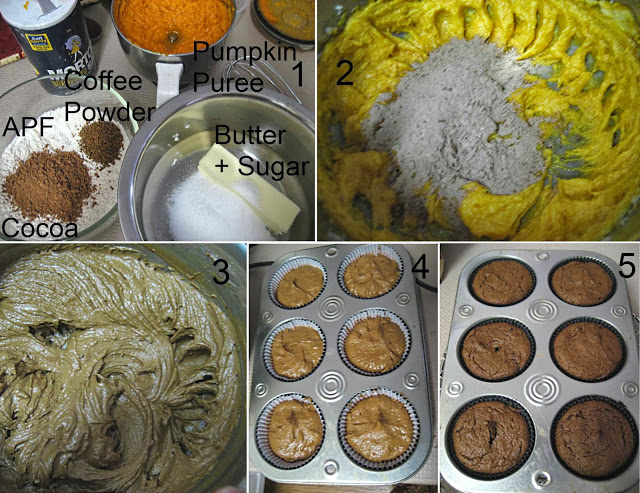 Pour batter into cupcake holders (Pic 4).
Bake until a cake tester comes out clean, about 15-22 minutes (Pic 5).
Method  to make Marshmallow Frosting
Add hot milk to marshmallows and toss well, keep it aside for 10 minutes.
This way the marshmallows become tender and easily blend with butter n sugar later.
In a medium bowl, beat butter,sugar and soaked marshmallows together.
If needed add more sugar and continue to mix until frosting is proper fluffy consistency.
Regular marshmallows contain less than 2% of gelatin also you can go for vegan marshmallows.
Combine confectioners' sugar, softened butter, vanilla and few drops of milk/water to achieve frosting consistency.
For the Mummy cup cake Decoration
Place frosting into a piping bag, cut the tip off or use plain basket tip and pipe onto cupcakes to create mummy effect (no need for a fancy tip unless of course you want to use one!)
While frosting is still wet, press 2 colored  gems (letter side down) of the same color on each cupcake to create the eyes as shown in above picture.