Basmati Rice – 1 Cup
Assorted Veggies (Carrot/Beans/Peas) – 1.5 Cups
Ginger, Garlic Paste – 1 Tbsp (Optional)
Bell Pepper – 1 Number (Small)
Soy Sauce – 2 Tbsp
Red Chili Paste – 1 Tbsp or More
Butter – 2 Tbsp
Salt,Spring Onion – As Required
Tomato Ketchup or Raita or
Kurma
to serve
Old Picture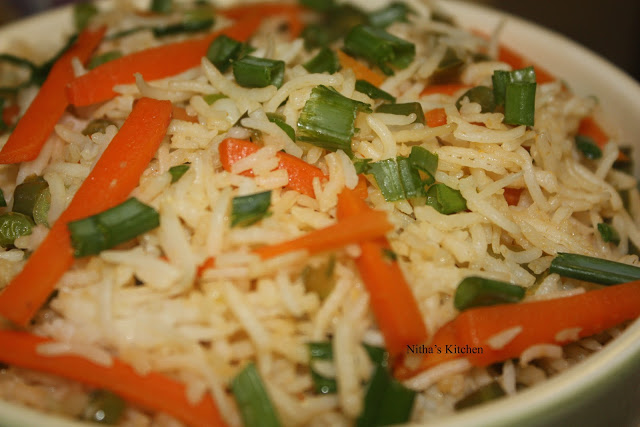 Method
Soak rice for 30 mins and fry with little butter/ghee then add 3 and 1/2 cups of water and cook.
Heat a wide pan/wok melt the butter, add bell pepper saute for a while followed by ginger,garlic paste.
Now add chopped veggies after getting nice aroma from ginger garlic paste.
Cover the pan with lid and cook the veggies in medium flame, saute them at regular intervals.
Once all the veggies are cooked and tender add the soy sauce and red chili paste.
Mix well add the chopped spring onions and cooked rice.
In simmer/low flame saute for another 5-8 minutes.
Remove from heat and Serve with onion raita or veg kurma or ketch up.
Notes:
1. Egg eaters can fry Egg+Pepper+Oil+Salt separately and then add along with cooked rice.
2. I usually add broccoli for fried rice.