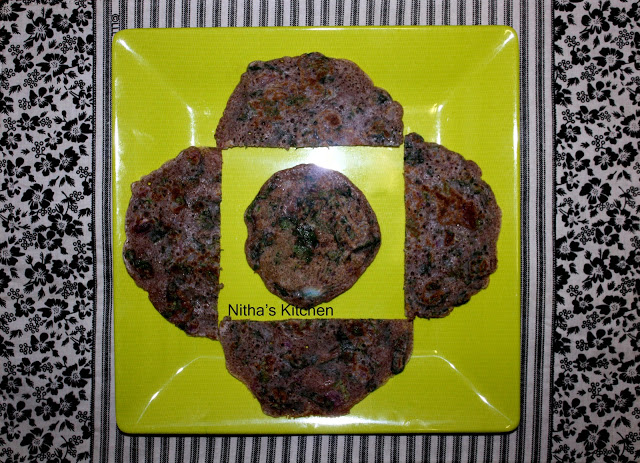 Nitha Kitchen has started Diabetics corner with a simple Ragi Spinach Dosa Recipe . This is slightly different from Ragi adai using Drumstick Leaves. I have added Spinach leaves instead and this recipe is free from oil.
Ingredients
Ragi Flour – 1 1/2 Cup
Optional Idli Rava for crispier version
Spinach – 1/2 Bunch
Green Chili – 1 Number
Curry Leaves – Few
Onion – 1 Number
Salt, Water – As Required
Method
Clean and chop the green leaves.
Add Ragi Flour, Raw (chopped onions, spinach, curry leaves and chili) to the dosa battter.
Add necessary water and pour the batter in hot non stick dosa pan to thick/thin version.
Flip it in half way and cook well.
Have with your favourite side dish, I usually make Peanut chutney for this…