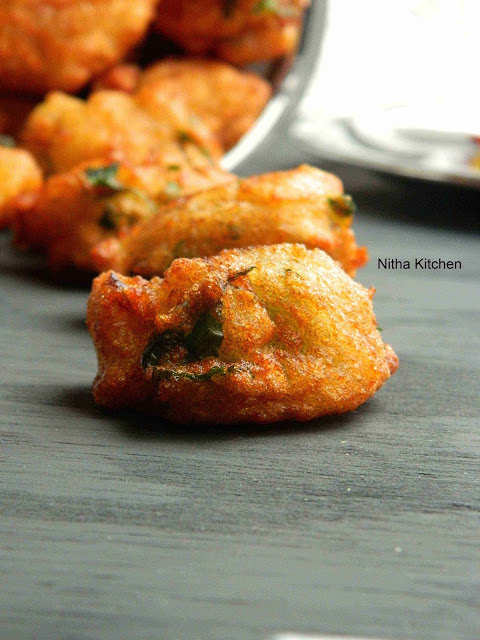 Kuchi Kizhangu Maravalli Kilangu Bonda is one among our traditional recipe. Generally I pressure cook yucca with salt and have it as it is or otherwise make sir fry/poriyal using it. But today i remembered my mom who makes bonda with it. So I called her and got this recipe over phone. This is a yummy ;snack to go alone. If needed serve with coconut chutney.
Ingredients
Yuca – 1 Number (Medium Size)
Onion – 1 Number (Small)
Green Chili or Red Chili powder – As Required
Finely Chopped Coriander and Curry Leaves – Few
Salt and Oil – As Required
Method
Soak yuca in water for at least 5hours (its optional you can wash and start making fritters immediately).

Peel the outermost skin (it has 2 layers, white and pink) and wipe the water.
If you don't find time to soak just peel the 2 skin layers using vegetable peeler and go ahead.
The purpose of soaking is for easy cleaning from muds. Nowadays the yuca are not coming with muds instead they are cleaned and coated with wax.

Chop the yuca to small cubes (remove the center root part) and grind coarsely (Don't add water).

Chop green chili, onion, curry and coriander leaves, add salt and squeeze the excess water.

Now add yuca to onion mixture, check salt.

Heat oil, take a ball size batter, drop in oil, add 5-7 at a time in hot oil.

Fry till golden brown by flipping it.

Once done remove from oil and drain excess oil using paper towel.
Old Picture
Note:
Try to reduce water as much as possible in the mixture by grinding coarsely. If it is bit watery add a tbsp of sooji/gram flour to the mixture.