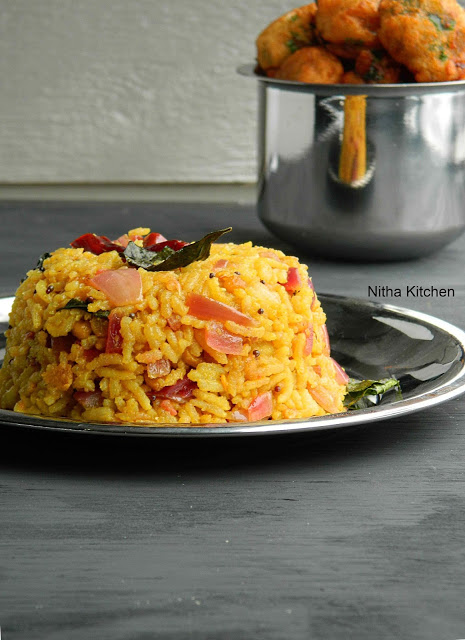 Tamarind rice from left over rice is a traditional one. My
grandma usually says this pulisadam is the ancestor of Instant Puliyodarai…In olden
days they used Bullock cart for transportation, still alive in few places. When marriage or other function comes they usually start a day or 2 days
before to reach the destination and for food they pack this rice. This is not an instant mixing of hot rice and
tamarind juice version, instead soak
the rice and tamarind juice overnight or at least 5hrs (at room temperature)
and make tempering with spices. This Puli Sadham when handled with clean spoon is good to go for
2 days. A very easy peasy lunch box special too, will move on to the detailed recipe…
Ingredients
Left over Rice – 3 Cups
Tamarind Juice – 1 Cup (Medium tangy n little watery as shown in Pic 1)
Or
Lemon sized Tamarind
Whole Red Chill – 2 Numbers
Curry Leaves – 2 Sprig
Turmeric Powder – 1/2tsp
Onion – 1 Numder
Mustard Seeds – 1/2tsp
Salt and oil – As Required
Method
In boiling water soak tamarind for 15 mins, extract and filter the juice.
Mix leftover rice, turmeric powder n salt with tamarind juice (Pic 1).
Leave it room temperature for overnight (Pic 2).
Next day in a pan temper mustard seeds in hot oil n then add chana/urad dhals.
When dhal turn golden brown, add lengthy sliced onion, red chillis n curry leaves (Pic 3).
Add the soaked boiled left over rice (Pic 4).
Stir well n check salt before serving.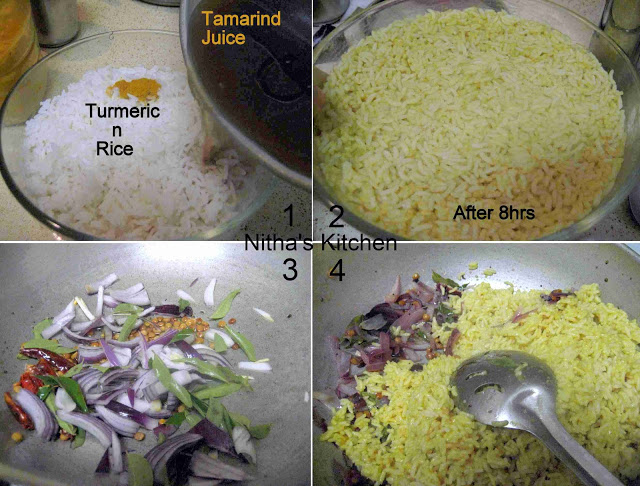 Goes very well with Potato poriyal/Podimas but today I served with Kothavarangai/Cluster beans Poriyal n Mor milagai.
Note:
Can add peanuts if you like.
Old Picture Updated