This is going to be a perfect Valentine treat for ur loved ones. I already posted Thengai/Coconut bakery bun and Soft dinner rolls, so mixed these two recipes and came up with heart shaped dinner rolls / soft buns with coconut filling. If you don't like coconut can replace it with nuts too…This recipe is really a Healthy low fat version n pure Vegetarian too (See Note). Even I brushed with milk over the top of the buns. I have not added any eggs or butter. The Yogurt, Oil n Multigrain flour combo worked great n tasted good too. Here comes the recipe in detail
Ingredients
APF – 1 Cup + 1 or 2 Tbsp for kneading
Wheat flour/Multi Grain or Bread Flour – 1/2 Cup (I used Multi grain flour or you can use APF/Maida itself)
Active Rapid Dry Yeast – 1tsp
Vegan Yogurt – 1/4 Cup
Vegan Milk – 1/2 Cup
Oil Or Plant Butter – 1 – 2 Tbsp (skip salt if using plant butter)
Salt – 1/4tsp
Cane Sugar – 1 and 1/2 Tbsp
For Filling
Sugar – 1/2 Cup
Shredded coconut – 1/2 Cup
Chopped Nuts (Almonds/Pista/Cashew/Walnuts) – 1/4 Cup
Tutti Frutti – 1/4 Cup  (Optional)
Oil – 1 and 1/2 Tbsp
Method
Chop the nuts to small bits.
Heat oil and fry the nuts till golden brown, put off the stove and then add shredded coconut.
When cooled down add sugar, tutti frutti and mix well.
Keep it aside.
Method for Making bun
To the warm milk, add yeast, sugar and, just mix it well and let it sits for 3mins.
No need to wait for the mixture to ferment.
Mix the flours (reserve 2 Tbsp for later use) with salt and make a well in center.
Add yogurt at Room temp and yeast mixture to it.
Mix it well to very smooth bit sticky dough (Pic 1).
At last add oil, cover the dough and allow fermenting in warm place for atleast 1 hour.
After 1 hour (Pic 2) punch the dough, u may need that 2 tbsp of flour right now so mix and roll it to medium thin using parchment/wax paper or Ziploc bag (see Note 1).
Use the heart shaped cookie cutter and make shapes (Pic 3).
Place one layer in the cookie sheet or pan going to use for baking (Pic 3 – 1), top with coconut filling (Pic 3 – 2) and then seal it with another heart shaped layer (Pic 3 – 3) .
You can make 3 layers too as shown in Pic 4.
Don't need to seal the stuffing very well, if it is visible over the sides, wipe it off.
Brush with milk and leave it aside for another 30mins to raise (Pic 4).
After 30mins, again brush with milk and bake in preheated oven at 400° F for 12-15mins or till light golden brown (Pic 5).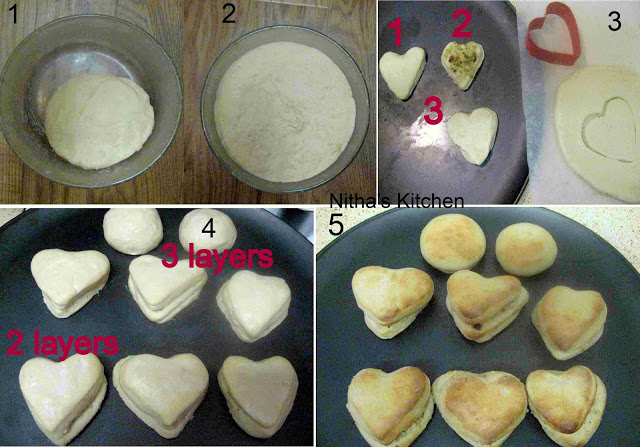 Serve hot with whipped cream/Juice as desired.
Notes
I used parchment paper for rolling n showed the Ziploc bag rolling for your convenience, if using Ziploc bag grease with few drops of oil before rolling.
For frying nuts you may use butter/ghee too but I was very particular in making low fat dinner rolls this time.
I used fresh coconut shredded at home, recently read an article that fat in coconut is very good for health, as all we know that coconut oil speeds up the healing process apart form that shredded coconut is rich in fibers and minerals.
If using store bought sweet shredded coconut then additional sugar is not necessary.
If like to stuff savory instead of sweet please check my potato peas stuffed dinner rolls here.
If you want some butter flavor, add 2-3 Tbsp softened butter while mixing the dough.