How many of you like Coconut/Thengai Bun? It has been years that I tasted Dilkush in India (I love specially the one with loads of nuts and elachi flavor from our well known relative who runs a bakery). I often make, but I interacted recently to know the secret of brown top without substituting egg and they suggested applying sugar water. I am dedicating this step by step recipe for all coconut bun crazes, who miss the bakery bun including me 🙂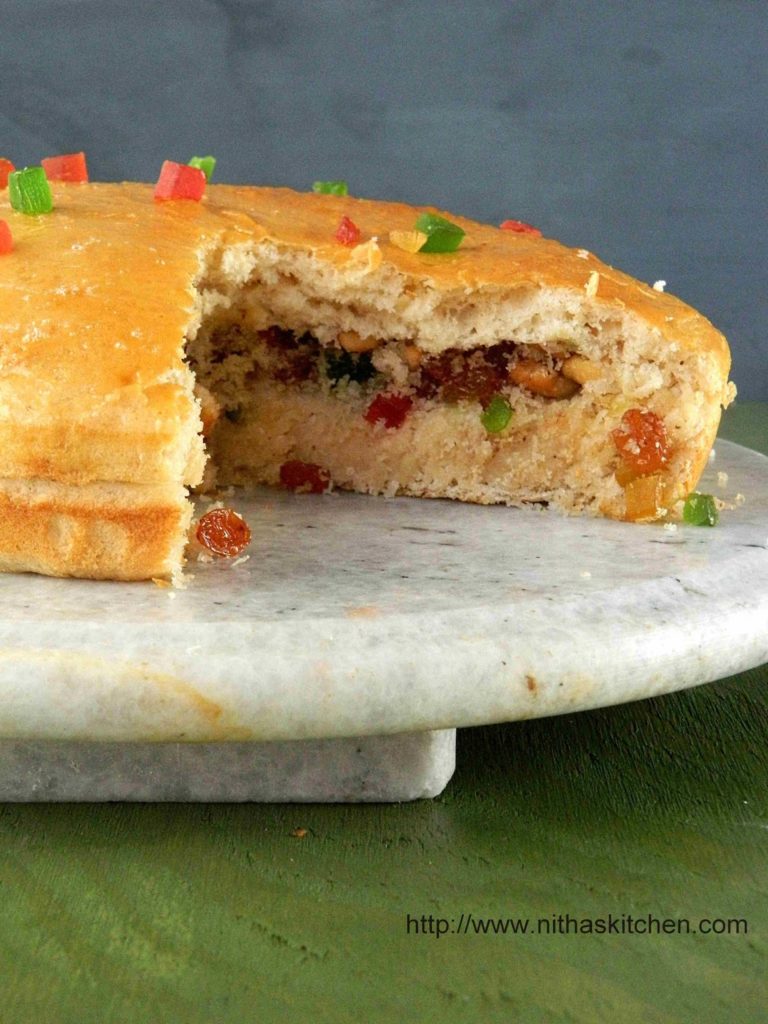 Ingredients
All Purpose Flour/Maida or Bread Flour – 2 Cups (You can substitute a small portion say 1/4 cup of wheat flour here)
Shredded Coconut – 3/4th Cup (if using sweetened variety then reduce the sugar and you can mix any food color or skip)
Active Dry Yeast – 1 and 1/2tsp (Initially i mentioned rapid rise yeast and changed to easily available dry yeast)
Gulkand – 1 to 2tsp or Rose Water – Few drops for flavor
Cashews/Raisins – 1/3 Cup ( any nuts and dried fruits)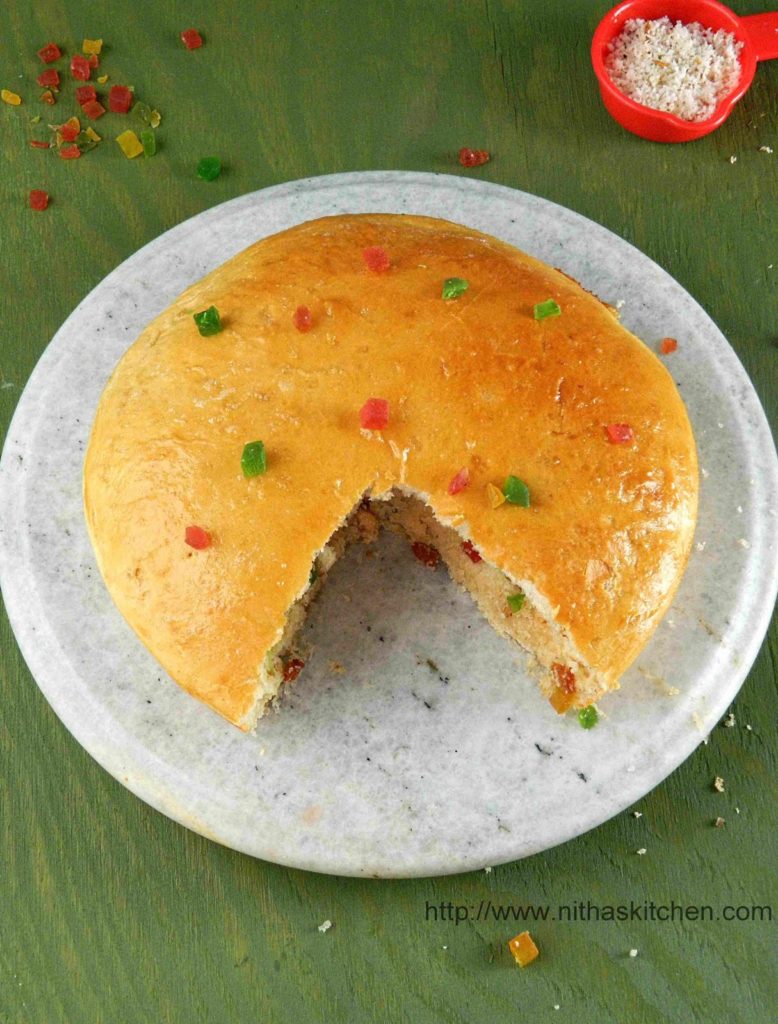 Method
Warm the milk + water add yeast and 1 tbsp sugar stir well and leave it for 10 mins.
Mix the flour and 2 Tbsps of sugar, salt, pour the yeast mixture in small proportions, add melted butter and knead the dough.
If needed add more water as needed.
Divide into two equal parts and rest it for an hour in warm temperature.
You can make one portion (bottom) weigh more and top portion little bit less.
If you need step by step pictures of dough preparation, check out my pizza dough post.
Meanwhile heat ghee/oil add cashews/raisins(Pic 1) when turns golden brown add fresh coconut stir less than a minute then remove from heat, if using store bought sweetened one you can add as it is to the bun.
Cool the mixture, when it is light warm or like warm add the remaining 5 Tbsp sugar (the sugar level  is more than medium so if you want to reduce do reduce 1-2 tbsp pls) and tutti frutti (Pic 2).
By this way granulated sugar crystals gel with coconut mixture.
Also add rose syrup or gulkand for more flavor.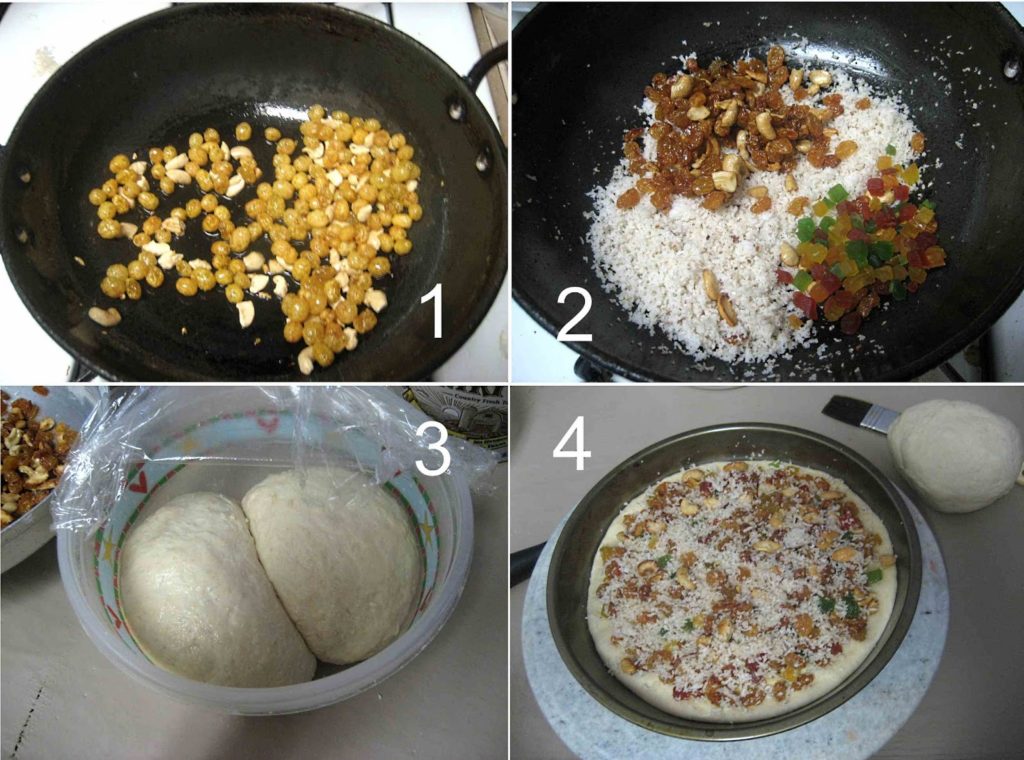 After an hour or dough doubled in size (Pic 3), punch the dough and knead for few minutes.
Use rolling pin, dust flour if needed, take one part and roll to a thick base.
Use 8″ cake pan, grease with little oil then place the rolled dough.
Now sprinkle the coconut mixture evenly leaving 1/2″ inch over sides (Pic 4).
Roll the other part (Pic 5), brush lightly the sides with water and cover over the coconut mixture.
Close the sides properly, pinch it(Pic 6)…
Again allow to raise in room temperature for another 30-40 minutes (Pic 7).
Brush the top with milk+brown sugar mixture/wash (Pic 7).
Bake in oven to 400° F (10-12 mins) or till sides separate and turns light brown (Pic 8).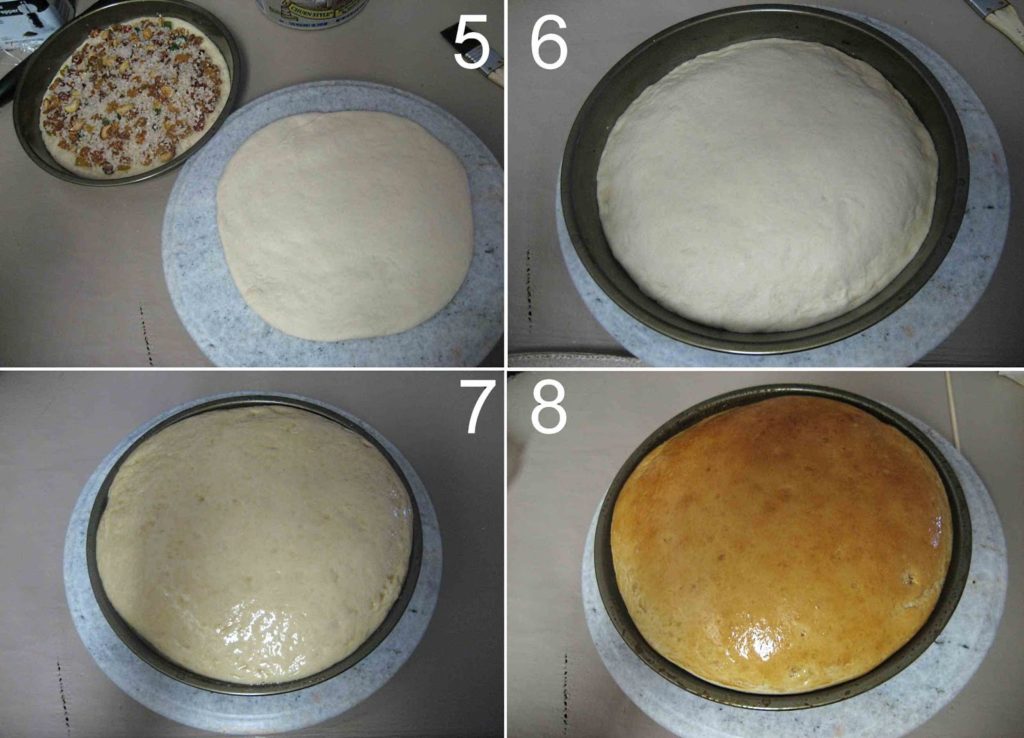 Also dust sugar or apply melted butter on top after taking out from oven.
Variations
Can also substitute a tbsp of dark brown sugar instead of white sugar while kneading the dough.
You can use tangzhong method to get even soft buns…
Recently I added 1/2 cup coconut milk + heavy cream, when the bread start to rise in the second proof. It almost soaked the top of the bun after 30 minutes and baked at 375 F for 17 minutes to get the brown and flat even top. Here is the picture of it…
If you are ok with egg then add 1 egg and reduce water/milk level.
You can use the same filling and prepare buns using puff pastry.
The fillings are arranged well over the bottom dough.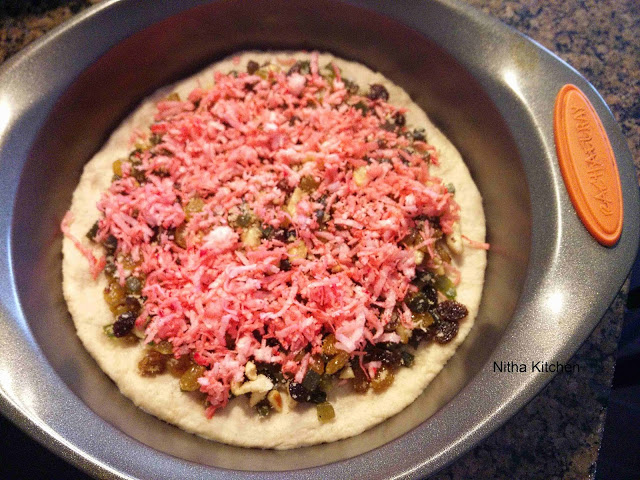 Before sealing the top portion.
Hmm the top portion was well soaked in 1/2 cup coconut milk + heavy cream.
Then guess the result, flat top buns and so soft they were. Hope i have few more stepwise pictures in my cam, will upload morning if i have any…