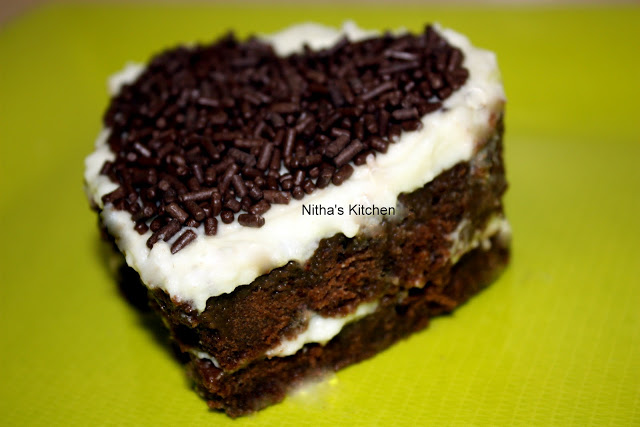 Getting good neighbor is a nightmare, and I was lucky to get them from the same place where I born and brought Up. The Culture, Cooking Style everything resembles us and like to post few of their recipes in future with their permission:-). Most of my kitchen experiments I share with them and they are the first to like my post when I publish in Blog. Today is their Wedding Day (Wish them Good Luck), Me and my Hubby decided to give a surprise treat? So
we called them for dinner yesterday, invited with this Black Forest Cake and Assorted Homemade Pizzas. The mini party went well tap tap tap will move on to the detailed recipe :-).
Updating the Old Recipe with Video Tutorial soon

Ingredients For Cake Preparation
All Purpose Flour – 195 grams minus 2 tbsp ( 1 Cup is 120grams so 1 Cup Plus 2/3 cup )
Corn Flour – 2 Tbsp
Unsweetened Cocoa Powder – 1/2 Cup (45 grams)
Granulated Sugar – 1 Cup
Large Eggs – 8 Numbers (415grams approx)
(each egg weighs 57 or 58 grams and shell is 6-7 grams approx so each egg without shell 52 grams approx)
Vanilla Extract – 1/2tsp
* Make in 2 – 8 or 9″ cake pan, in 9″ cake pan each cake height is around 1.25inches trim top and cut horizontally in to two layer, so total 4 layers of 1/2 inch each layer.
Fill 3/4th cup of whipped cream over each layer. overall this cake is 3 and 1/2 inch height.
Cake Assembling
Heavy Whipping Cream – 1&1/2 Pint (3 Cups)
Pure Vanilla Extract – 1tsp
Icing Sugar – 1 and 1/4 Cup
Chocolate Strands and Fresh Cherries – As Required
Homemade Cherry Syrup – 1 Cup (prep Follows)
Cherry Syrup
Pitted Cherries – 15 Numbers
Cane or regular Sugar – 1/2 Cup
Lemon Juice – 1 Tbsp
Water – 1 Cup
Method
Make the syrup a day before assembling the cake.

In Sauce pan bring water, sugar to boil when starts boiling add Lemon Juice and remove from Heat.

After the syrup cools down  still it's warm, add the pitted Cherries and store it in an air tight container at room temperature.

I have given 2 cake methods one with cocoa powder and other with baking chocolate, choose your convenient method.

Mix Flour, Cocoa Powder and Salt, keep aside.

Use large bowl, Cream Butter and Sugar.

Separate the Egg Yolks and Whites, add one yolk at a time and mix well.

Add Vanilla extract and dry flour mixture in batches.

Beat Egg Whites separately (

Click here

to check out my video) and fold it to the batter.

Pour the batter in 2 pans equally, Bake at 350 ° F for 12-15mins or toothpick inserted at center comes out clean.
Cake using Chocolate
Add butter and chocolate squares to a pan when butter melts remove from heat and mix well (free from lumps).
Mix Flours and salt, keep aside.

Separate the Egg Yolks and Whites.

Beat the egg yolks till forms smooth consistency, add sugar and extract to it,  mix well.

Add the Flour and salt mixture to the batter.

Pour this batter in to the chocolate + butter mixture.
Finally fold with whipped negg whites and bake as said before in baking chocolate method.

Can see lot of air bubbles this is what we exactly need for a moisture cake that absorbs the cherry syrup which we apply later.
 Cake Assembling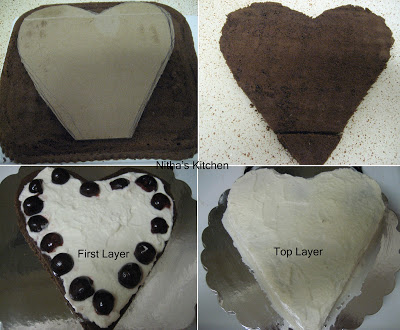 I used aluminum pan to make the cake Heart shape.
Draw shape in cardboard, place over the cake and cut it Do the same for another layer).
The end triangle comes from the corner left over cakes (I am not good in drawing so succeeded in 2nd attempt).
Drain soaked Cherries and pour the syrup we prepared using spoon over the cakes.
Allow cake to absorb the syrup, meanwhile whip the heavy cream.
Apply the Whipped Cream over the first layer and add some soaked cherries.
Gently place the other layer, cover completely with whipped cream.
Decorate the top to your creativity. I added Chocolate strands and fresh Cherries.
Lot of effort, but satisfied with the outcome and happy they all liked it. Also they delighted with my Hawaiian Style Pizza, which I published in another post.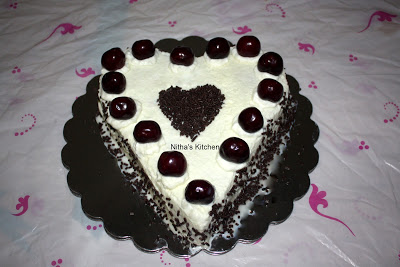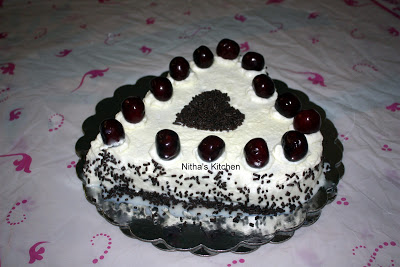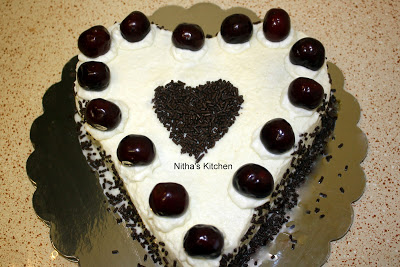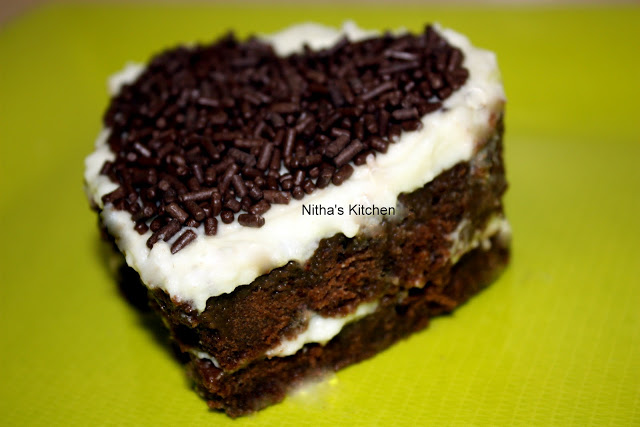 Notes
1. Electric Mixer is recommended for creaming butter and Egg yolks to get more spongy.
2. If using aluminum pan it takes time to cool so I kept the baked goods in fridge for 5 mins.
3. Also use one pan and cut the cakes in to two parts for assembling.
4. If you get time allow the syrup to sit on cake at least for an hour.
5. Can refrigerate for the cream to set, some may freeze it to set quickly, in my experience doing so make the cake hard.