I prepared this checker board for the first time for my neighbor aunty who returned back last month to her homeland after 6 months of vacation. She loves cake so I planned to make this checker board cake. Even I don't have special checker board cake pans or round cookies cutters but still decided to give a try. I searched in google, Youtube and finally landed
here
.  Then I decided to give a try by cutting the baked goodies using knife or bowl. It was fun baking it and ended up with a cute and delicious cake. Yup I messed 1 layer, as the cake were so soft while cutting they broke at some places and somehow managed it .
Wow the final outcome was just amazing; really it was beyond my expectation. The fun continued again as I made the same cake for hubby's colleagues. This time the checker board was so perfect, only I clicked the whole cake that too early morning before he starts to office, so got dull pictures. They all liked the cake very much, I asked to click the cake slices, so my H clicked in mobile and the pics were not clear .This month for baking partners challenge I got mail to make Neapolitan/nuts cake/plum cake. I don't want to make a 3rd cake in a very short time so I asked Swathi the master brain, whether I can post this recipe, immediately she said ok, thanks
Swathi for agreeing n giving such a wonderful task. Also I thank Suja and Archana for your suggestions. After spending lot of time in making a perfect treat, I am here with well detailed recipe for you…Guys I assure this as
a fool proof recipe n give your try…
Yellow Cake
Can choose any egg based cake recipes, for step by step cake preparation hover the cursor over below appropriate recipe.
1) Princess Cake Recipe
2) Basic Birthday Cake Recipe (Egg whites separated recipe)
I adapted my princess cake recipe, here is the exact measurement…
Ingredients for Yellow Cake
APF – 2 and 1/4 Cups
Corn Starch Or Corn Flour – 5 Tbsp
Butter – 1 and 1/2 stick (12 Tbsp)
Powdered  Sugar – 1 and 1/4 Cup (I used 1 cup only)
Baking Powder – 2 tsp
Egg Yolks – 5 Numbers.
Milk – 1  Cup or As Needed
Vanilla Essence – 2 tsp
Salt – 1/4 tsp
Chocolate Cake
Choose any one from my below recipes to bake the basic chocolate cake, for step by step cake preparation hover the cursor over below appropriate recipe.
1) Chocolate Fudge Cake (Only the cake baking part)
OR
2) Black Forest Cake (Egg whites separated recipe)
I choose chocolate fudge cake recipe n here is the exact measurement
All Purpose Flour( Maida) – 1 n  3/4 Cup
Butter – 1 n 1/2 Stick (12 Tbsps @Room Temperature)
Powdered sugar – 1 Cup
Almond Powder – 4 Tbsp (Optional)
Cocoa Powder – 5 Tbsp (1/3 Cup)
Eggs – 5 No.
Salt – A Pinch
Baking Powder – 2 tsp
Milk – 1 Cup or as needed
Method
Initially I baked 2 layers of chocolate cake in a batch with 2  round  cake pans and then baked  2 layers of yellow cakes.
For cake preparation, mix all the dry ingredients(Flour, all powders n salt) together.
Cream butter and sugar, when turns fluffy, add one egg/yolk at a time, here is the pictorials for yellow cake preparation in detail.
Gradually add dry ingredients n milk in batches, start n end with flour.
Same steps for both yellow n chocolate cakes, Bake at 350°F for 20-22 mins or toothpick inserted at center comes out clean.
Allow the cake to cool using wire rack meanwhile prepare the frosting, recipe given below.
Best Chocolate Frosting/Chocolate Ganache/Glaze
Already I came up with many whipped cream frostings n decorations, so this time I just planned to make a chocolate frosting, first time I followed an version that was little gooey but tastes good and applied frosting in between (No need to apply frosting in between layers). Second time I tried the one given here, This is the perfect frosting I would say. The frosting sets quick n applying over the cake is also hassle free. I got the recipe from here and halved it.
Ingredients
Nestle Dark Chocolate Chip/Morsels – 8oz (3/4th of 10oz packet is enough for frosting 3 layers)
Heavy Whipping Cream – 1 n 3/4th Cup
Method
In a sauce pan place morsels n heavy cream over low heat(Pic 1), stir constantly.
When chocolates melted n combined well(Pic 3), keep stirring until gets thickened.
This may takes 20-22 mins(low heat) to get the rolling boiling consistency (Pic 4)
When you reached rolling boil then increase the flame to  medium and keep on stirring for another 3 mins, the final consistency should be as shown in picture 5.
Allow to cool in room temp for 15 mins n then refrigerate for 2 hrs to set.
For first 15 mins once (2 times) give a stir.
Check the frosting consistency by applying over the cake like in below pictures.
Main Cake Assembling
Can arrange four layers cake too but I layered only 3 and remaining one I made cake pops for the kids 🙂
Just mark two inner even circles over the cake using any plastic bowls or bottle caps (Picture 1).
When you assure it as correct measurement then press/punch it gently to get 3 layers from single cake.
Interchange the colors as shown in Picture 2.
Can trim the topmost/center bulge for even layer like I did in (Picture 2 white plate).
While stacking the cake, first bottom it with brown outer circle, then yellow outer cake, finally brown likewise (Picture 3).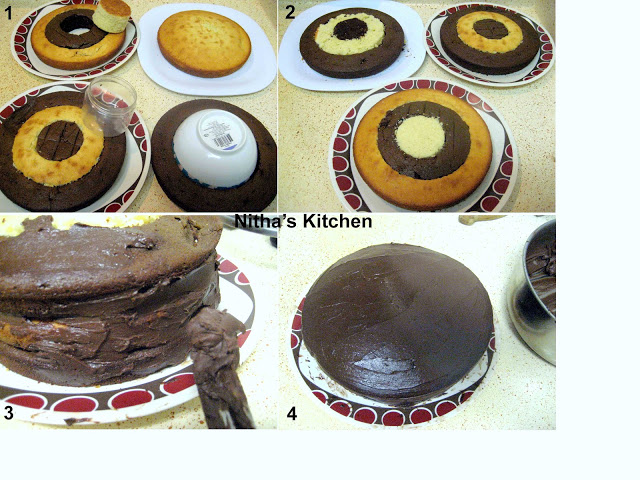 Apply frosting(Pic 3 n 4) n refrigerate at least 30 mins to set.
Serve chilled.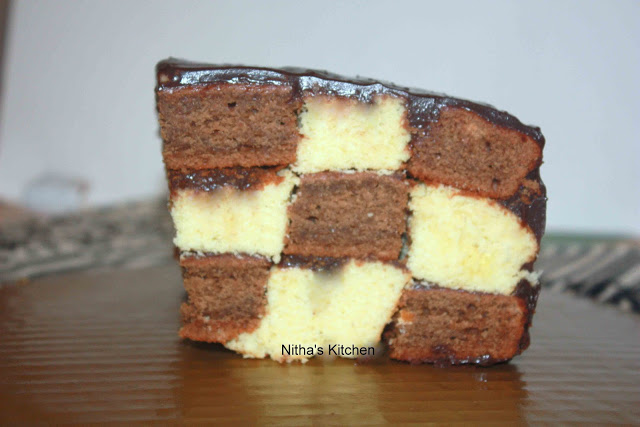 Notes:
Can layer 1 chocolate outer layer in between 2 white outer layer cakes n apply Whipped cream.
If you have any leftovers of chocolate frosting or whipping cream just check out my No Bake Chocolate Cheese Cake Recipe to use it effectively.