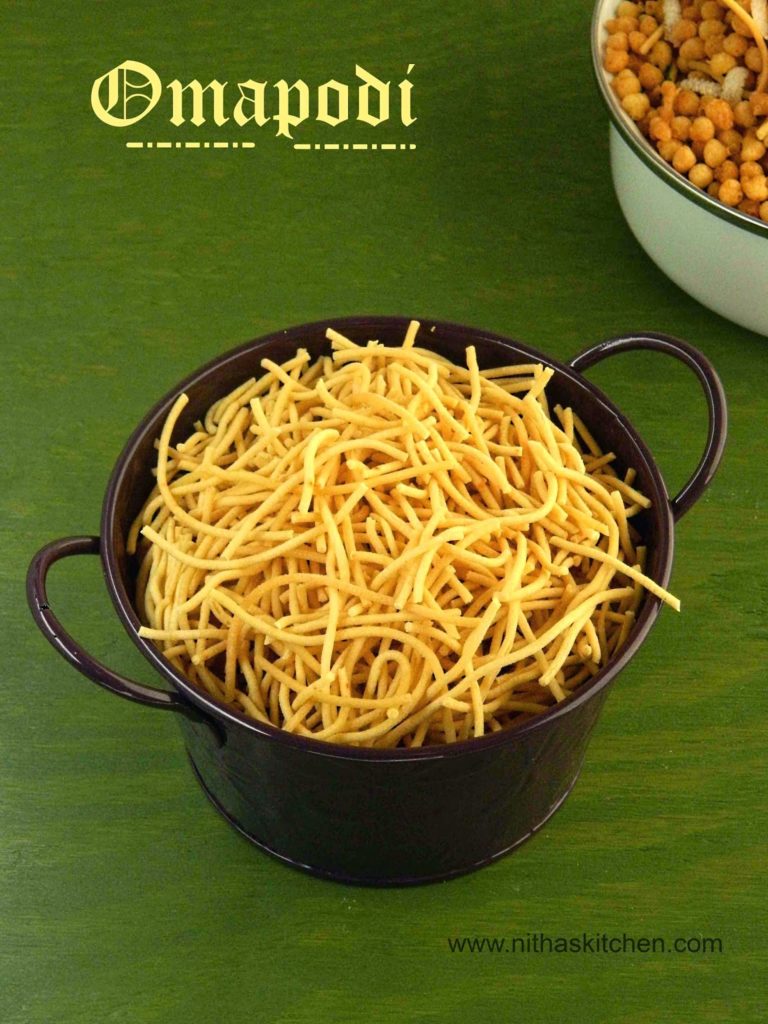 Today's Basic Omapodi Kaara Sev Recipe is a very easy snack can have as it is (plain) or goes well with Indian snack items like Mixture/Bhel Puri/Masala Puffed Rice/Misal Pav etc. This can be done very quicky but needs the special murukku achu/sev press to make this tiny savory strings :-). Now I am frequently making this sev at home as my kids love this a lot…

Ingredients
Besan/Gram Flour – 2 and 1/4 Cup (For 1 Cup of Besan 1/3 cup of rice flour is approx)
Rice Flour – 3/4th Cup
Red Chilli Powder – 2tsp or more
Butter – 3 Tbsp
Ajwain/Omam – 2tsp
Salt, Water and oil – As Needed
Method
Dry roast the ajwain with salt and powder it (see Note 1 & 3).
Mix all the ingredients except water and oil(Pic 1) and now it turns to crumbled mixture.
Sprinkle little water and form a soft/pliable dough as shown in Pic 2.
While mixing due to more gram flour it sticks in hand so at last add 2tsp of oil and coat it.
Heat oil for frying and make the achu/press ready, the exact press for omapodi is small holed as shown in the pic 3.
Add the dough to the press and rotate in circular motion over the hot oil by keep pressing with your thumb finger.
Within a min or 2 it cooks, flip and cook it for another minute(Pic 4).
Drain in paper towel and when cooled completely store in an air tight container (See Note 2).
Notes:
If you are not making fine omam powder it sticks in the holes when you press, so other option is can add boiled water to the plain powdered ajwain and filter, use only the water to mix with the dough.
This omapodi unlike Milagu kaara sev, no need to break while frying in the oil…
I usually keep this omam powder in stock to add a pinch in kids food so if making it fresh for this snack (in small quantity) then add the fried omam with few rice flour in jar to blend well.
Old Picture in the Right Side