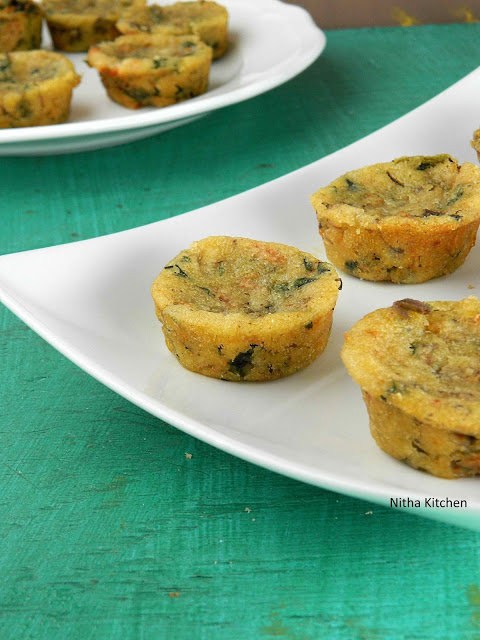 When I posted the egg based quiches in HBG (Home Bakers Guild) Facebook group few has been asking for eggless version of it thru personal message and in the post comment section. I tried the Egg Free Crust Free Mini Veg Quiche (eggless version) this week and it came out too good but for a moment I thought of postponing because of dull pictures. Sometimes weather do justice for such good recipe :-), never mind, for time being I decided to post it with those dull pictures and
hope to come up with better pictures when I make next time
. So don't underestimate the recipe its fool proof and yields 30 mini quiches, I used one 24 mini muffin pan and for remaining batter I used regular muffin pan (just added 1/3 in each) and topped those with leftover sautéed veggies. They turn out crisp and little one who hates veggies had it without any complaints 😉
Yields 12 Standard Muffins or 36 mini muffin bites as shown
Heavy Cream/Whipping Cream – 1 Cup
Whole M‎ilk – 1 and 1/3 Cup or more as needed (sooji absorbs liquid more so you may need another 1/4 cup milk to get right consistency)
Load of veggies – details follow
APF Flour – 1 Cup plus 2 Tbsp
Sooji/Semolina or Coarse Corn Meal – 1/2 Cup
Baking Powder – 1tsp
Salt – 1/2tsp (If using seasoned salt do eye ball it, cheese and other spice mix also has salt)
Pepper Powder – 1/2tsp
Italian Seasoning Mix or Seasoned salt – 1tsp (Optional)
Garlic Powder or Onion Powder – 1/2tsp each (Optional)
Fresh parsley, chopped – 2tsp or dry parsley of 3/4tsp
Parmesan Cheese Powder – 2 Tbsp (Optional)
Fresh basil, chopped (or other herb) – 2tsp or dry version of 3/4tsp
* Cheddar, gruyere, mozzarella, or other cheese – 1 n 1/4 Cup (prefer sharp/mild cheddar cheese)
*If you are in US then do try Mature English Cheddar available in Costco (shown below).
Veggies (Make sure the cooked stuff not more than 3 Cups and if you have any remaining do top it over as i did)
Chopped Banana Flower – 3/4 Cup
Mushroom – 1/2 Cup , chopped finely
Carrot – 1/2 Cup, shredded
Green Beans – 1/2 Cup
Fresh Spinach – 3/4 Cup, roughly chopped  (sometimes i add south Indian red spinach and manathakkali/black  night shade which works well)
1 Bell Pepper/Capsicum, chopped small (1/3 Cup)
Onion – 1/2 Cup onion, diced fine
Red Chili Flakes/Paprika – 2tsp (Optional)
Oil – 2 Tbsp
Feel free to add in whatever veggies you like, or have on hand. I used about 3-4 cups of chopped veggies in total. Prepare the veggies first and allow them to cool completely.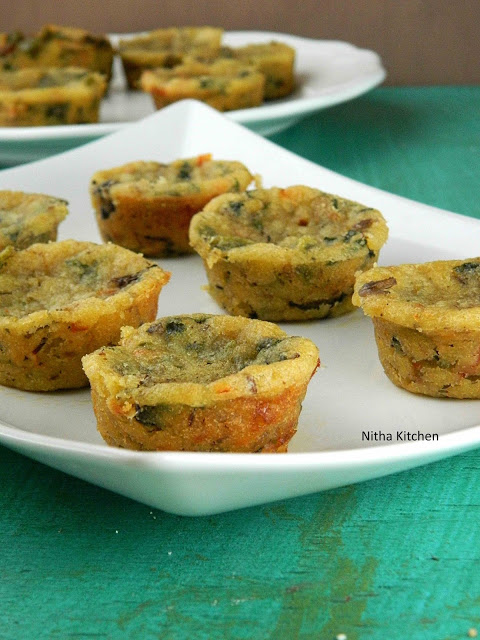 Filling Preparation
Wash the veggies well, and clean and soak the banana flower till you use (Pic 1).
Par dry the banana flower and spinach to remove excess water (Pic 2).
In a pan heat oil add chopped onion, bell pepper, Green Beans, Red chili flakes saute for a while till they turn slight tender.
Now add chopped mushrooms and shredded carrot and saute them for a minute or two (Pic 3).
Add chopped spinach and banana flower, saute till they shrinks and mixture turns dry (Pic 4).
Set aside and allow to cool, make the other stuffs ready.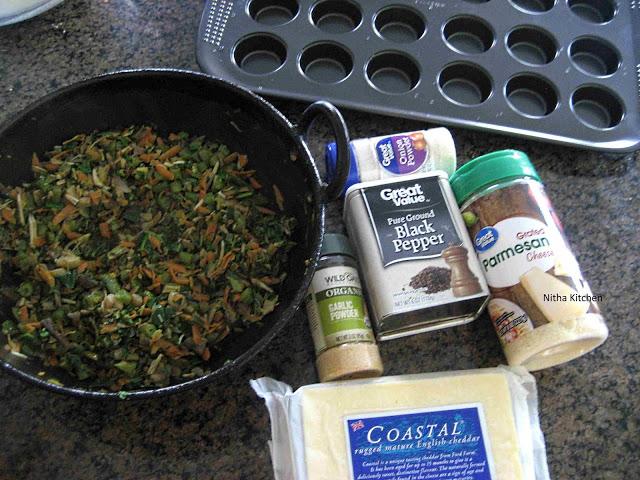 Quiche Preparation
Preheat oven to 375 degrees F., and thoroughly grease (butter, Oil or non-stick spray) a muffin tin.
In a mixing bowl add flour, salt and baking powder mix together.
In a large bowl, add semolina half quantity of milk and half quantity of heavy cream let it sit for 20 minutes then add the remaining heavy cream to it.
Add the flour mixture, seasoning spices whatever mentioned above, cheese powder(optional) and pepper powder, mix all together.
If the batter turns thick add remaining milk.
Now add the veggies mixture (make sure they are not hot) to the bowl, stir well to combine.
This is the time you have to check if the mixture needs more milk, if so add tbsp at  a time.
Stir 1 cup of the cheese to the mixture, and the remaining reserve it for topping.
Using an ice-cream scoop or 1/3 cup measure, scoop the mixture into the prepared muffin pan. Fill to about full of the height of muffin pan, then sprinkle a small amount of reserved cheese over each.
Place in the oven, and bake for 20-25 minutes, or until set and the cheese has just started to turn golden on top.
You may see slight bubbles here and there that is the right indication.
Remove from the oven and let cool for 20-25 minutes before running a butter knife around each muffin, and gently removing from the pan.
Enjoy while warm, or let cool completely before storing in an airtight container in the fridge.
Leftovers can be reheated for several seconds in the microwave or a few minutes in a preheated oven or toaster oven.
I am not satisfied with the pictures posted now,

I have to upload better pictures when i make next time

.
Better to use non stick pan for making crust free quiches, they come out easily without mess.
For egg based quiche do check
here
.