I tried this sundal kozhukattai savoury modak recipe with the yesterdays leftover from Vellai sundal/Yellow peas stir fry. It's really a good one for sugar watchers or savory likers….will move on to the recipe in detail…

Ingredients for sundal kozhukattai savoury modak Stuffing
Whole Yellow Peas/Vellai Pattani – 1/2 Cup (Replace with Moong dhal in this case soaking is not necessary)
Onion – 1 Medium Size (Optional) Green Chili – 2-3 Numbers
Mustard – 1/4tsp
Chana Dhal – 2 Tbsp
Shredded Coconut – 2 Tbsp
Turmeric Powder – 1/4tsp (Optional)
Curry Leaves – Few
Salt and Oil – As Needed
Method
Soak peas overnight or at least 5 hours and pressure cook with necessary water and salt for 3 hisses.
Drain the excess water and either you grind the lentil in mixie/blender to coarse/fine paste or leave it as it is.
Heat oil in a kadai/pan add oil when hot add mustard seeds.
After seeds splutter add chana dhal, and saute till it turns golden brown.
Add Chopped onions, curry leaves, green chili and saute till onion changes light brown.
Add the peas, shredded coconut and mix till most of the moisture goes off.
Allow to cool meanwhile prepare the outer rice covering.
Notes
Actually i made fine paste of green chillis and added.
Finally adjust with red chili/sambar powder if you need so..
Adding onion is up to you…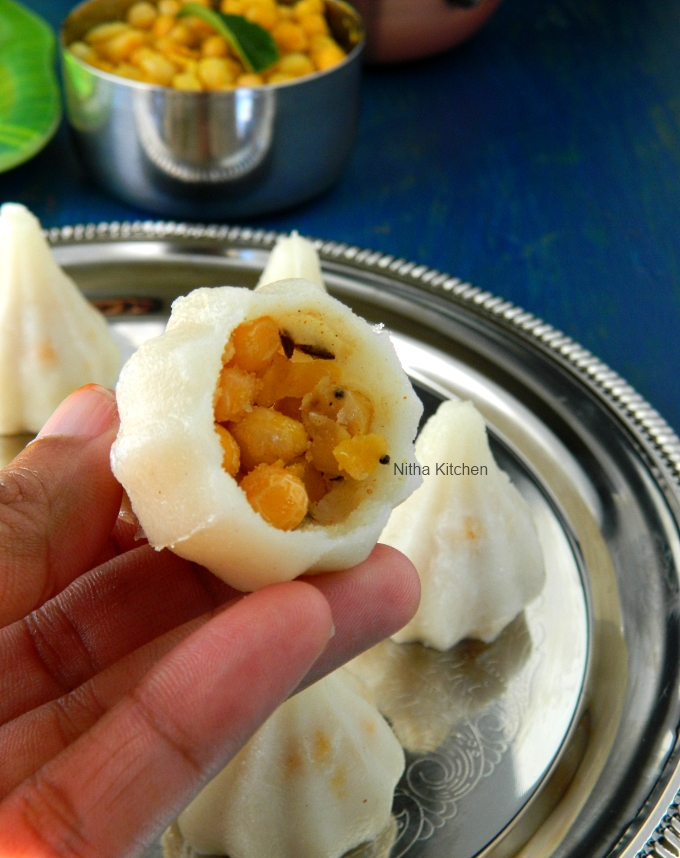 Ingredients for Outer Covering
Rice Flour/Idiyappam Flour – 1 Cup (I use rice flour)
Ghee – 1/2 Tbsp
Salt – 1/4 tsp
Water – 1 Cup

Method
Boil water, salt and ghee till bubbles appear.
Add this hot water in batches to rice flour (Refer below picture).
You may not need all the water I used only 3/4th cup.
Once the flours gather and forms dough, stop adding water, cover and leave it aside for 5 minutes.
After that add 1-2 tsp of oil and knead the dough, if needed you can sprinkle water at this point and make soft, crack less dough.
Make even lemon size balls out of it (8-10 balls).
Also make even balls from the lentil stuff prepared already.
Flat the outer covering, make cup shape and place the savory lentil stuff inside and cover it gently.
Check the pictures below which i uploaded already for Sweet Ellu pooranam/kozhukattai recipe.

Do the same for remaining dough and grease the idli plates with oil.
Place the stuffed modaks and steam it for 5 minutes or till modaks get glossy appearance.
I took this last picture very late in the evening.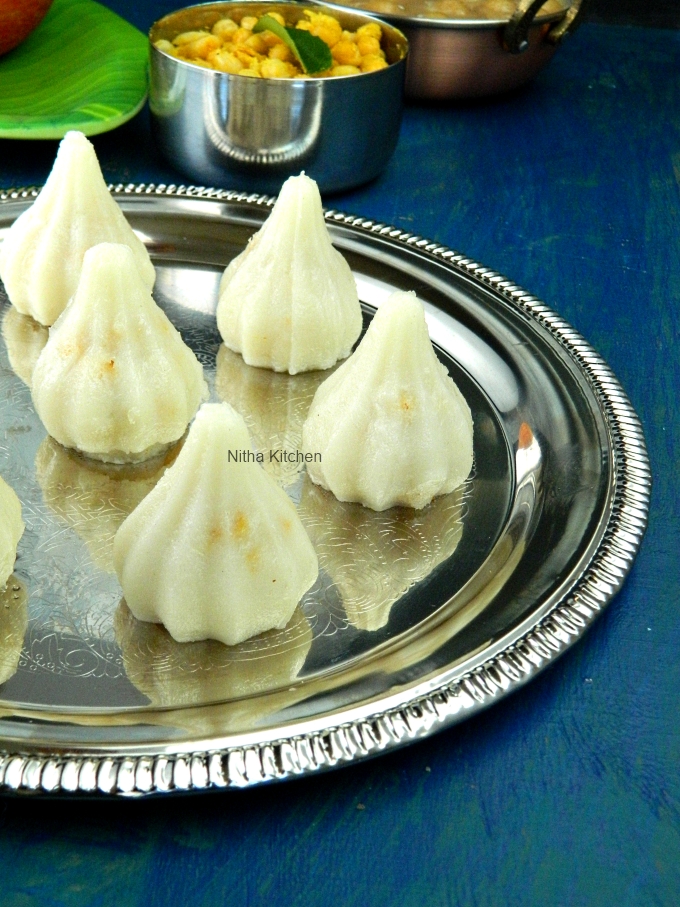 Notes
The outer covering may break because when you prepared the dough long time before filling the stuffs.
Also if it breaks then it needs more moisture ie sprinkle little water and knead it well.