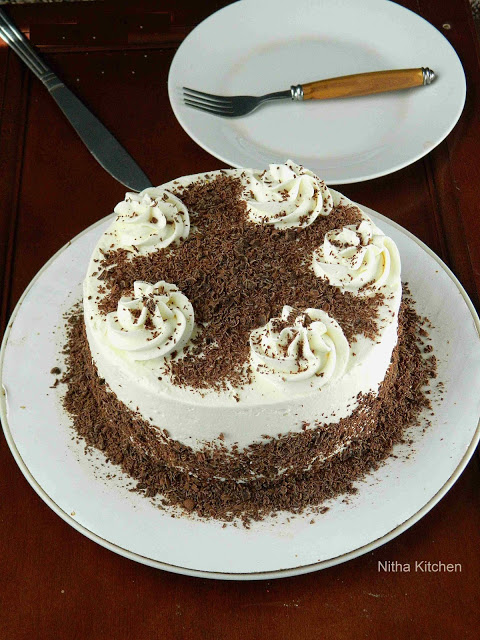 Few are waiting for this post and sorry for the delay, due to personal commitments I delayed this post since Friday. After posting the Tiramisu Sponge cake (no butter and no oil recipe) post and Homemade Mascarpone cheese Post, few visitors have requested about the icing I used in this cake, mascarpone cheese proportion for the filling and frosting so and so. I have made you to wait for a while , I apologize for it. Here are the answers for your queries, it is mascarpone icing that I used for filling and frosting. Will move in detail..


Ingredients
Since the cheese is made at home it does have lemon flavor to subtle that I increased vanilla extract. You can add coffee flavor by adding few tsps water mixed coffee granules (decation) in your cream if you wish.
Sponge cake – 3 layers
Heavy Cream – 1 Cup
Homemade Mascarpone Cheese – 1 Cup
Icing Sugar/Powdered Sugar – 1 Cup (or more)
Vanilla Extract – 2tsp
Shredded Chocolate bar For Decoration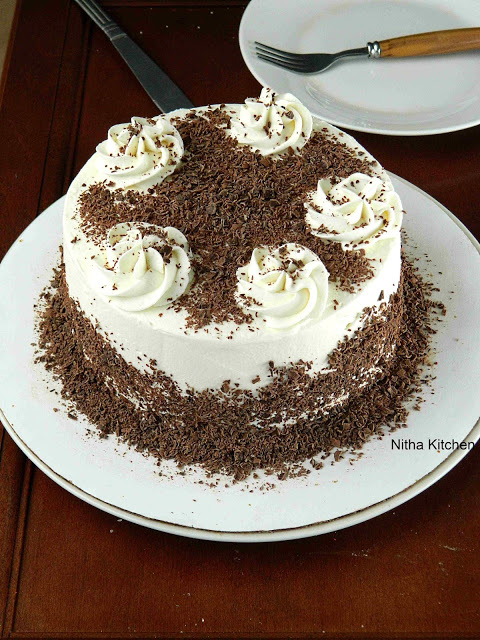 Coffee Syrup
Warm Water – 1/2 Cup + 1 Tbsp
Sugar – 1 Tbsp
Coffee Powder – 2tsp to 1 Tbsp for strong flavor
Just mix all together and keep aside.
Method
Whip the heavy cream to soft peaks not stiff.
Add the slightly whipped mascarpone cheese and icing sugar.
All blends in a minute or two later add vanilla extract and finally the cream gives stiff peaks.
Stop at that point, sorry for the unclear picture.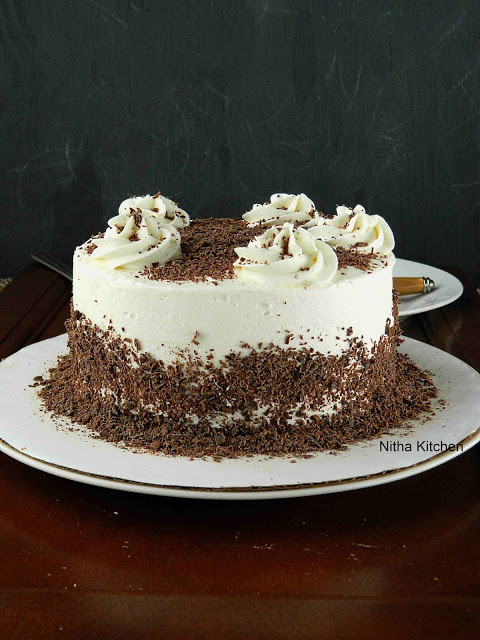 Cake Assembling
Now coming to the cake slice the 6″ cake to 3.
Add a tsp of cream to the cake plate.
Soak the one side of sponge with coffee syrup.
Gently place it over the cake plate coffee soaked side down.
Soak the other side of sponges with coffee syrup.
Now add dollop of mascarpone icing as a filling and even it.
Repeat the same for the remaining two sponges.
Finally add generous icing all over the cake and decorate it as shown in the picture.
I have used Wilton 1M tip.
Finally  have added some shredded chocolate that is not in the stepwise picture.
Enjoy the cake chilled.

I have the inner view of the cake in some other source will post it by the end of the day.