I have not started giving coffee for my kids so I postponed several years to make Tiramisu Cake at home.  But whenever I go for shopping I never forget to look at the Tiramisu aka coffee cakes placed at bakery section of those stores.. After moving to new place my job of admiring cakes never stopped. We are getting lot of chances to mingle with neighbors around in birthday parties and get together. Few months back I got a chance to make Tiramisu cake for a potluck. When I searched for Mascarpone cheese in near stores it wasn't in the regular cheese section (a month later I noticed them available in the specialty cheese case next to fresh deli section, jokes apart but they are more expensive). After a week search I planned to make cheese on my own, here's the trouble again when I looked for the recipe it says to prefer non-ultra-pasteurized or non pasteurized heavy cream. It's hard to get non pasteurized cream near by and within 8 miles there is no Whole foods as I believe non-ultra-pasteurized may be at whole foods market.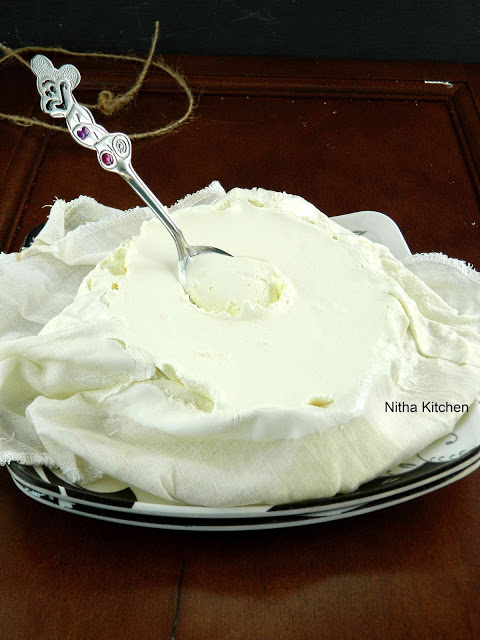 I didn't give up and finally tried cheese with ultra pasteurized one that's what i had handy. My first experiment was success anyways I made the cheese twice to confirm the proportion of ingredients work out well. It's super duper success and made 2 recipes with that homemade mascarpone cheese (will post the recipes soon). The one recipe is Tiramisu cake, just check the below picture made with this cheese till i come with new post.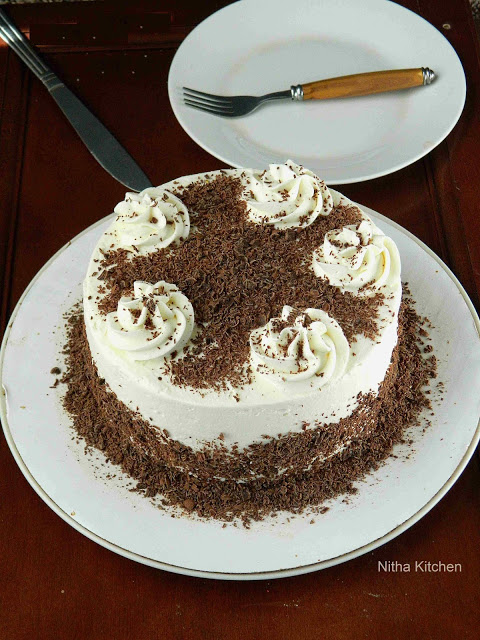 Now let's see an easy yet inexpensive method for making perfect textured mascarpone cheese at home. They are very quick to make (only resting time is long) and  you can save some bucks.. I have a video just to show the cream getting thickened after the lemon juice and tartar addition.
Ingredients
Ultra Pasteurized or Pasteurized or Non Pasteurized Heavy Cream – 2 Cups (any whipping cream aka full fat cream works)
Lemon Juice – 2 tsp (Freshly Squeezed from a lemon) or Vinegar
*Cream of Tartar – 1/8 tsp (A Pinch)
*I have used cream of tartar to be on safer side since the cream's ultra pasteurized, if its not available skip it and add one more tsp of lemon juice.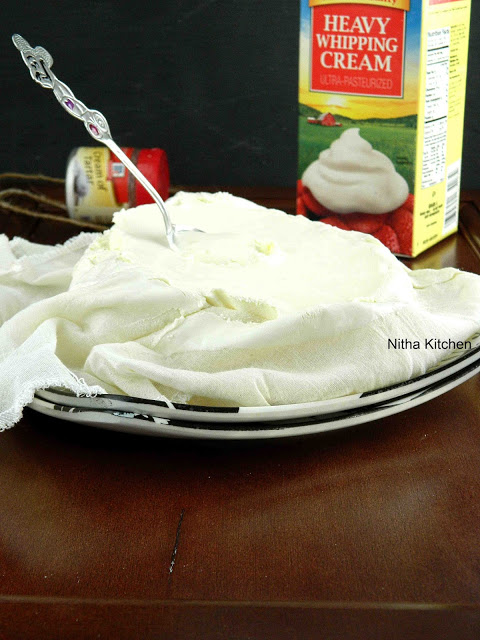 Homemade Mascarpone Cheese Preparation
Just coat the pan with softened butter and add heavy cream to it.
Bring to boil in medium flame.
When you see bubbles on the sides of the pan remove from flame and add lemon juice and cream of tartar.
Keep stirring and you will notice/feel the cream getting thick while you stir.
Look this process won't curdle the cream, just it thickens the cream.
Let stir for couple more minutes to the steam to escape.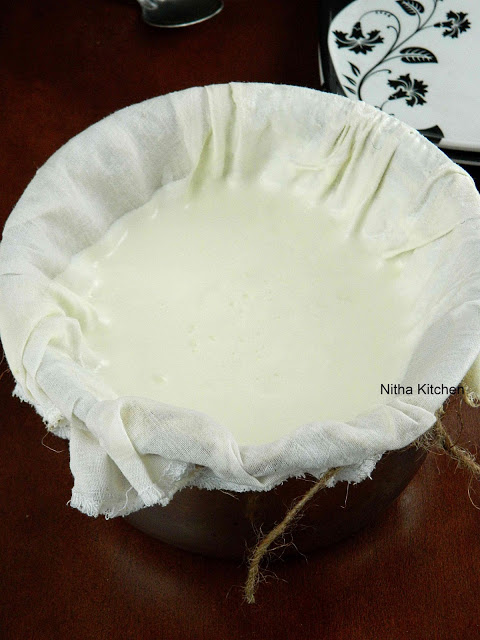 When cream cooled completely pour over a cloth (use a thick material or 2 layers, it should not strain much) tide well on a bowl.
Let them sit in refrigerator by covering the top with lid for 6-8 hours.
You can see a little whey water collected in the bowl and the cheese looks super perfect and airy in texture.
This homemade cheese can be used as the recipe calls and store in refrigerator for 2 days.
In unavoidable situation you can freeze, thaw several hours before use and blend in processor/mixie otherwise texture looks grainy.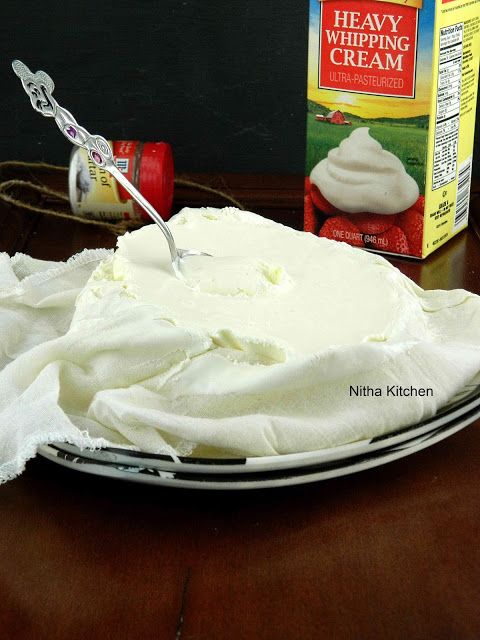 I have used the brand as shown in below..and never tried non dairy whipping cream.
Have got lot of queries with Indian brands, please do experiment with minimal quantity.
If you are benefited and the outcome is good please do give a comment so others will know.