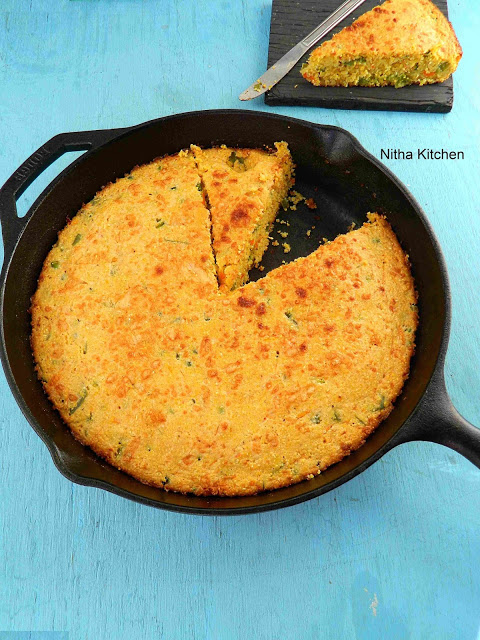 I didn't post couple of baking partners challenges on right time. Thanksgiving is approaching and when Swathi and Suja came up with skillet bread recipes for this month challenge, I have decided immediately to make the savory skillet chili cheese cornbread version and on time I am posting it :-). This is such a great savory cornbread with chili/capsicum, carrot and cheese mixture. Also I have increased the quantity to fulfill my large cast iron pan, if you have 8 inch pan then follow the ingredients given under "For 8 inch pan".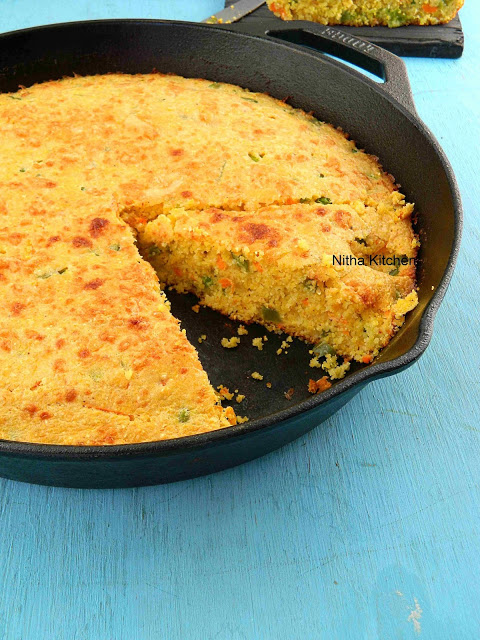 Ingredients
"For 13-1/4 inch cast iron pan"
Yellow Corn Meal/Makki ka Atta – 2 Cups
APF – 1.25 or 1and 1/4 Cup
Brown Sugar – 2tsp
Baking Powder – 2.5tsp
Salt – 1.25 or 1and1/4tsp
Eggs – 3 Numbers
Vegetable Oil – 1/3 Cup
Carrot shredded – 1 Cup
Garlic Powder – 1tsp (Optional)
Paprika or Red Chili Flakes – 1-2tsp (Optional)
Pepper Powder – 1/2tsp
Frozen Peas or Corn – 1/2 Cup
Buttermilk – 1.25 Cup or 1 and 1/4Cup
Capsicum – 1 Medium Size or Jalapeno/Green chili – As Needed
Milk – 3/4 Cup
Shredded Sharp or Mild Cheddar Cheese – 1.5 Cups
Recipe Adapted from HERE
"For 8 inch pan"
Yellow Cornmeal/Makki ka Atta – 1.5 Cup
All purpose flour- 1 Cup
Baking powder- 2 tsp
Salt- 1 tsp
Brown sugar- 1.5 tsp
Egg – 2 Numbers
Vegetable Ooil – 1/4 Cup
Carrot shredded – 1/3 Cup (optional)
Garlic Powder – 3/4tsp (Optional)
Paprika or Red Chili Flakes – 1-1.5tsp (Optional)
Pepper Powder – 1/2tsp
Green chili or Jalapenos – 3 ounce/ use 1-2 (or according to spice tolerance) or capsicum as needed
Frozen Peas or Corn – 1/2 Cup ( or cream style corn 1/2 can)
Butter milk- 1 Cup
Milk- 1/2 Cup
Shredded sharp or mild Cheddar cheese- 1 Cup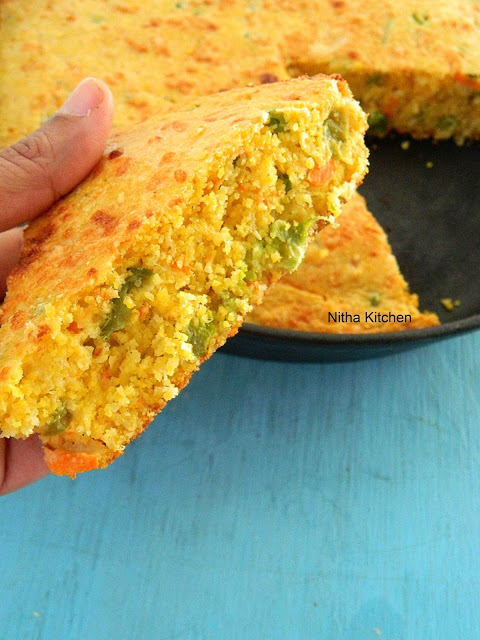 Skillet Chili Cheese Cornbread Preparation
Mix cornmeal, flour, baking powder, salt and sugar and set aside (Pic 1).
Preheat oven to 400 degree F, make the other ingredients ready (Pic 2).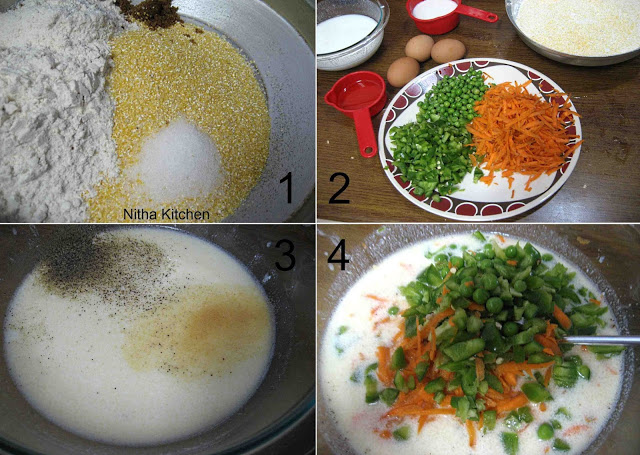 Lightly beat eggs until blended.
Add oil and butter milk and mix well to that add garlic and pepper powder(optional) as shown in picture 3.
Add half of corn meal mixture and let it rest for 5 minutes.
Mix in the veggies like peas/corn, capsicum/chilli and carrots mix well (Pic 4).
Add the remaining corn meal mixture and finally add shredded cheese(Pic 5) give a nice stir.
Meanwhile put the skillet on stove top and it gets hot add butter and pour in the batter(pic 6), this will ensure crispy edges.
Bake (Pic 7) in oven for 25-30 minutes or till toothpick inserted in the center comes out clean(pic 8).
And it will be lightly brown and crispy in the edges.
Note