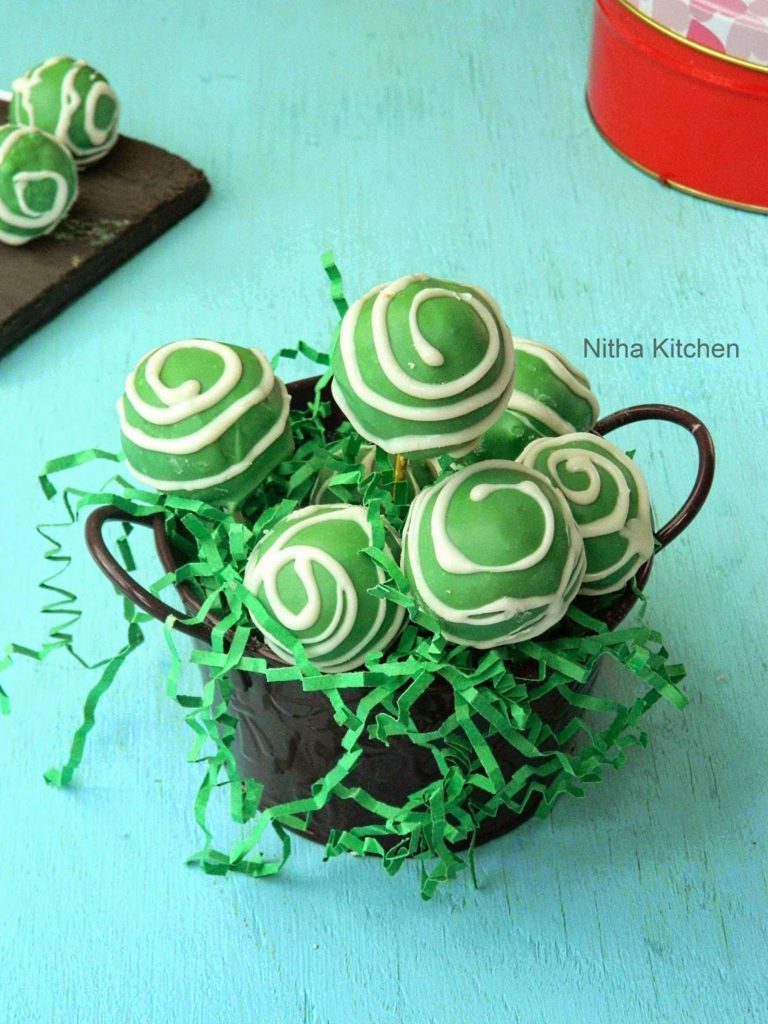 The Cake Pops are great hit among kids. Few months back I made these cake pops for my daughter birthday party (To match her Red dress with Green tie sash) at school with some cream less cookie cake. Though I clicked pictures in hurry that day, I took long time to share the recipe here with you all. Kids definitely enjoy these cake pops to core and try this for your kid birthday party or miniature parties at home…
Ingredients
Any Left Over Cake – One 8" Cake (Refer few cake links below)
Heavy Whipping Cream/Heavy Cream – 4 Tbsp or as needed (Not whipped cream)
Color Candy Melts (I use Wilton,Green or Red Rojo Color) – As Needed
Lollipop Sticks or
Wooden sticks
– As Needed (I used 4″/10cm length sticks,Wilton)
Sprinkles to Decorate – (I used green sugar sprinkles)
*Veg Shortening (I used Crisco) and Flavorless Cooking Oil (ie Veg Oil) –  As Needed* You can skip vegetable shortening and use only oil, in that case oil will take long time to dry and shelf life is short for cake pops, it will be sticky soon after a certain time.For Cake Recipe, click the below links…
1) 
Princess Cake
 Recipe
2) 
Basic Birthday Cake Recipe
 (Egg whites separated recipe).
3) 
Cardamom Flavored Tea/Bakery Cake
4) 
Eggless Butterless Orange Tutti Frutti Cake
5) 
Orange Chiffon Cake Recipe
5) 
Chocolate Cake Recipe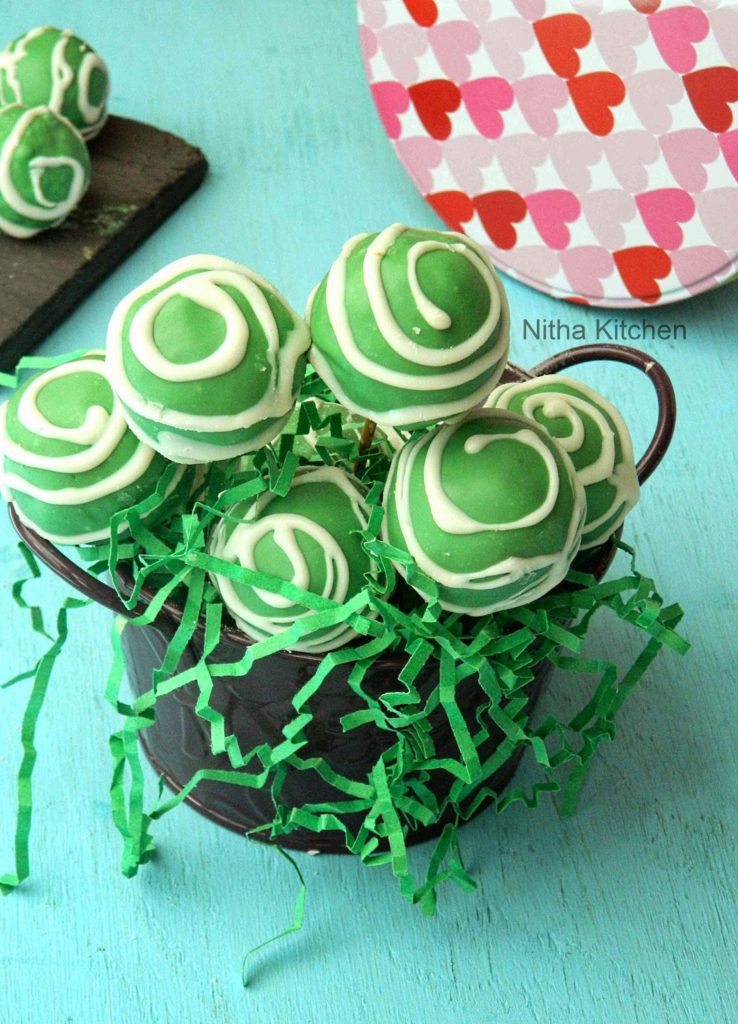 Method
Take the leftover cake (Pic 1) and crumble it without any big lumps (Pic 2).
Add whipping/heavy cream to the crumb cake (Pic 2) and make it moist to roll shapes (Pic 3).
Don't add too much cream, able to hold shapes without any crack/break (Pic 4).
Line a tray with parchment/wax paper and roll a small lemon size cake dough between your palms to make round shape (Pic 4).
Cover the rolled cake with plastic wrap and freeze it at least 2hrs or overnight.
Take the candy melts in a heat proof safe bowl(Pic5), using double boiler method (Steam melt) or over boiling water melt the candies.
Now add Oil  and vegetable shortening (Pic 6), food color (if needed) and bring to dropping consistency (Pic 6).
These melted candies dry out soon, so melt in batches/small quantity.
Bring the freezed cakes to room temperature 15 minutes before inserting the pop sticks.
Dip one end of the stick in melted candy and insert it gently in to the round cakes (Pic 7).
Insert the sticks half way through and keep it upside down in the same parchment paper (Pic 7).
Now dip the whole cake in to the candy melts with a help of spoon lift it up and tap gently to remove excess (Pic 8).
The chocolate coating will dry out in another 3-5mins, so before that add some sprinkles or melt some white chocolates and pipe it in ziploc over the cake pops.
Use any thermocoal or cake pop stand or whatever available at home to place the cake pops (Pic 9).
Recently Updated the Pictures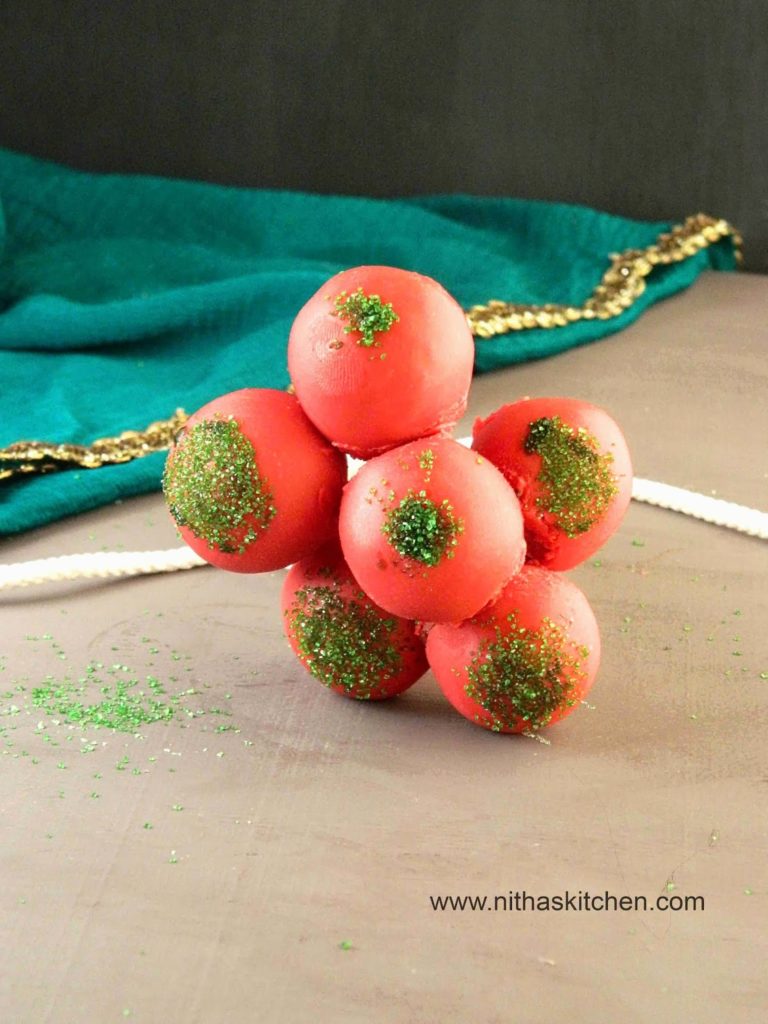 Notes
You may need to sprinkle whipping cream when you feel the cake dried out while making shapes.
The shaped cakes should not melt at any time before dipping in.
As a beginner you can take few at a time from freezer and dip it.
The cake pops once done n dried, refrigerate it to avoid the inner cake melting and coming separately from stick.
If you are looking for shaped cake pops then check the heart in heart cake pops recipe here.