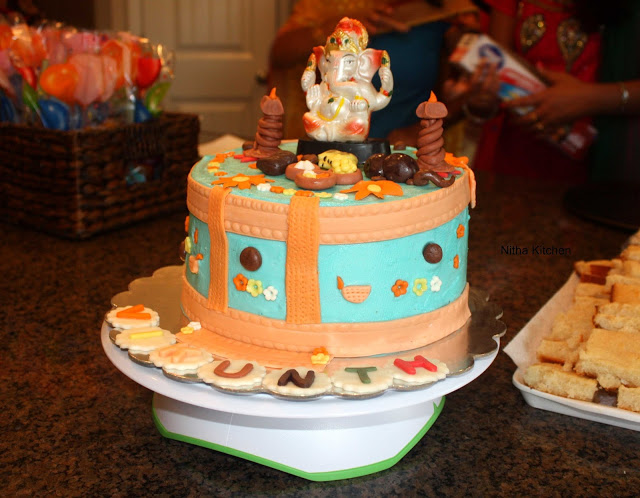 Ganesh Themed Vanilla Buttercream Cake : Days moving fast for me, kids are keeping me busy all the time, happy in cooking healthy foods to the family and moreover I feel complete when arranging all the food stuffs for their birthday parties. What does a home maker need more than it? This year for my sons 5th birthday when I asked him what he needs for his birthday, initially he asked me do make a superman cake and later he showed interest on Lord Ganesh Cake. You can find his bookcase full of god idols 🙂 he always makes pooja in his free time and a great devotee of Lord Ganesh, yup without any second opinion I decided to make such a cake for him. I found a cake design (adapted from itsy bitsy bytes) in google that I can make it, both kids were agreed over the design I chose. Within a short span I couldn't make the idol though other things I made it from scratch/fondant accents. I was happy with the outcome.
So today's post (its my 500th post) is going to cover the ideas about the Ganesh theme cake which i made with an eggless sponge cake recipe and few pictures and things that I clicked during his birthday party 🙂 A special thanks to my readers, family and friends who read and try my recipes consistently…due to personal reasons I am delaying to publish new posts though the daily views for recipes makes me happy and encourage to try and post more and more recipe…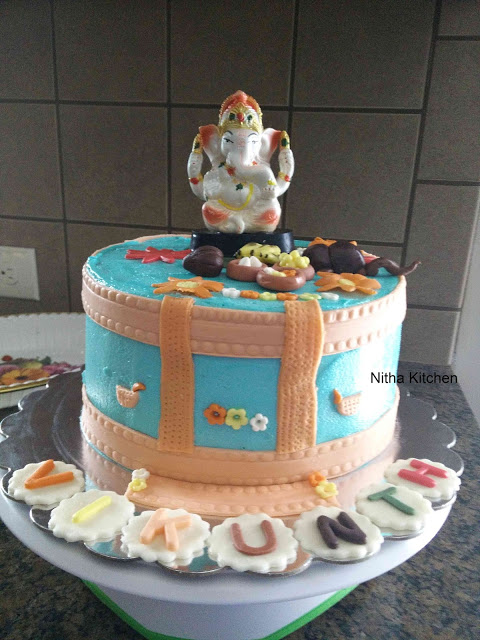 Ganesh Themed Vanilla Buttercream Cake
Ingredients For the Eggless Vanilla Sponge Cake
All Purpose Flour or Cake Flour – 2 Cups
Condensed Milk – 1/2 Cup
Thick Yogurt – 1 Cup
Unsalted Butter – 1 Stick or 8 Tbsp or 113 grams
Baking Soda – 3/4tsp
Baking Powder – 2 and1/4tsp
Salt – 1/4tsp
Vanilla Extract – 2tsp
Warm Milk to adjust batter consistency
I will be posting the picture of inner cake showing the texture soon. Pls keep checking…
This cake is something similar to the recent eggless almond sponge cake, so you can use that cake also…
For the American Basic Buttercream
Veg Shortening – 1/2 Cup
Unsalted Butter – 2 Sticks
Icing Sugar – 4 Cups
Milk – Few tsps
Vanilla Essence – 2tsp
Other stuffs I have Used/Needed For the Cake
Homemade Marshmallow Fondant
Ameri Colors
Some Flower Cookie Cutters
For homemade marshmallow fondant and coloring tips, do check my another post HERE.
I came up with an idea of modak cake pops and the modak mold i have is little large in size so i felt little difficult to coat the cake pops with candy melts. Thats why the finishing is not good as round cake pops. Here is the stepwise pictures for how i made the modak cake pops. You can check my 2 other posts for cake pops. They are very detailed post though…
1) Basic Round Party Cake Pops
2) Heart shaped Cake Pops

Step wise Modak Pictures

I have sculpted by hand the details like banana, coconuts, lamps, mouse, ladoos, modaks and flower trays as shown in pictures below. I have taken some pictures in mobile and some in camera and during night time so bear with the color changes…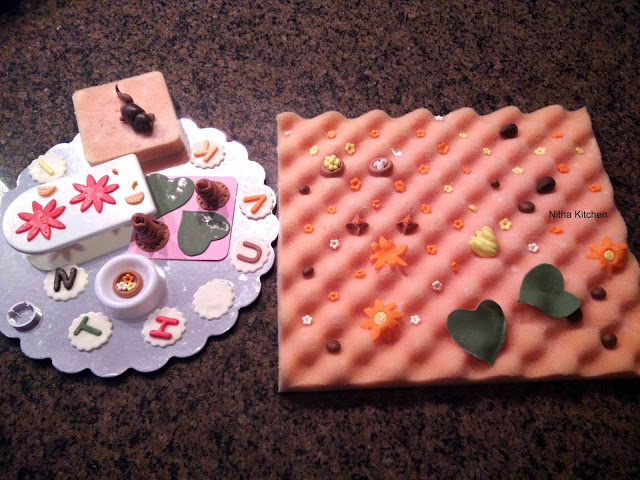 I have made some round cake pops too…
Party Pictures
Apart from that I have made pizza pinwheels from scratch (recipe soon), Basbousa (eggless semolina cake), Garlic Knots form scratch (recipe later), some Indian veg and non veg foods for 12 families…
The first step wise picture below is Unbaked Pizza Pinwheels.
Cake batter in the second Picture.
Clicked the third picture while working on Cake pops.

The fourth one is finished/dried cake pops ready to chill in ziplock till use.
The fifth and sixth pictures are the fondant accents that made for the ganesh cake theme :-).
Hope you all liked this post will come up with few more cakes i made after the diwali special posts.
and finally the cake on the party table 🙂
You can check more eggless bakes HERE.