Apple Kaju Katli : When I bake, especially my lil one who never allows them to cool, try to touch it, poke it and he just roam over the kitchen till he gets his bite :-). If you give a whole cake he gulps it in a minute of time :-). But my kids desire over Indian sweets is less and I can hardly count and say their likes. Ladoos and Adhirasam are most favorite of them, apart from few its hard to feed our wide sweet/desserts. Coming to today's recipe this is simple, ghee free yet attracts my kind off kids much :-). Yup it is Kaju Apple/ Cashewnuts Katli, So finally these attractive sweet is peeped up in my kids favorite list and daily after returning from school lil one asks me atleast 3 mini apples (ie apple kaju) to eat :-).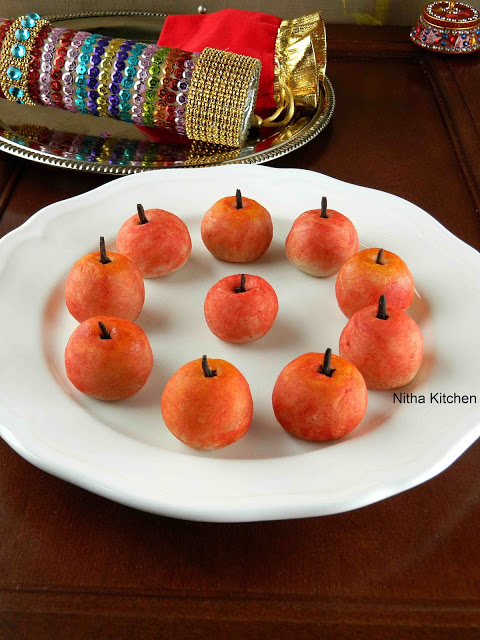 A long time back I have posted Almond Katli and Almond Pistachios Rolls in the blog, I have to mention that it is one popular recipe in my blog still. . This time I have just clicked pictures while coloring the Kaju apples but you can refer the Almond Rolls for more stepwise pictures…In the above pictures what you are seeing at the back drop is Krishna Flute I made for my son during Janmashtami, also i am going to share the birthday cake that i made for his 5th birthday soon in my next 500th post, so stay tuned :-).
Yields – 10-11 Apple Kaju Katli of Approximately 25grams each

Ingredients
Powdered Kaju/Cashew – 1 Cup (lightly dry roast whole kaju/cashew and when cooled completely powder it)
Regular Sugar – 1 Cup (For real store taste you have to increase another 1/4cup sugar and 2 Tbsps of water)
Water – 1/2 Cup
Rose Water – Few drops
Cardamom Powder – 1tsp
Corn Starch/Corn Flour – 1tsp
Food Colors – As you like (I have used Red and Orange Ameri food color, a drop each diluted in 2 drops of water)
Cloves – few for decoration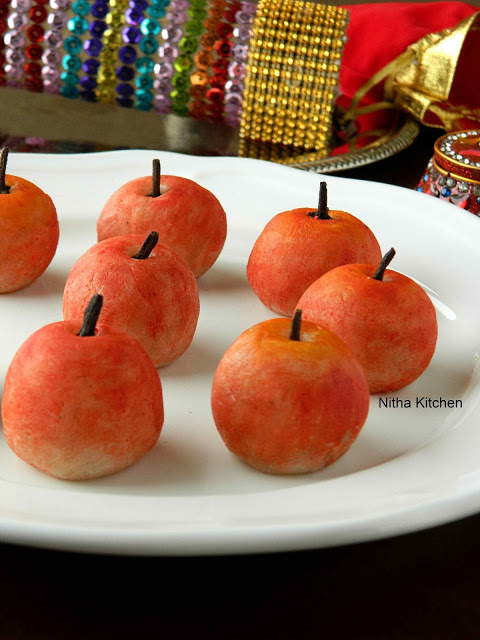 Apple Kaju Katli Preparation
Mix sugar and water in a wide pan/kadai and allow to cook in medium to high flame for 5-7 minutes or till the sugar gets thicken. Take 3 tsps of the sugar syrup and mix corn starch/corn flour in it, keep aside(we are not adding it now).
The sugar syrup has to cross the single thread consistency. The syrup should come to rolling boil and looks thick, I may update sugar syrup pictures when I make it again.
Now reduce the flame and add corn starch mixed with syrup, well powdered kaju, cardamom powder and finally rose water. Use a whisk or wooden spatula , mix it quickly to get lump free dough.
The dough gets thick and leaves the side of pan and that is the right consistency.
Let them cool to lukewarm (hand bearable) temperature at least.
Knead it gently to make round ball.
Take a small portion and keep covered the remaining dough to prevent from drying out soon.
Try making shapes from the small portion, when you keep on rolling with your palms, it becomes crack free and leaves oil from the cashew/kaju so don't worry if it dries.
Grease a plate lightly with oil or ghee (prevent sticking kajus at the bottom of the plate), arrange the apple kajus in it.
For plain kajus, level the dough in that plate and cut in to desired shapes using knife (who forget the diamond shapes :-))
How to make and color Apple Kaju Katli
Make rough round shape balls, Weigh them and make sure they are even in weight (optional)
Roll it to crack free ball, at the bottom give a shape with your two palms to change the shape lightly in to hollow and then make a small hole on the top by poking with wooden toothpick. Place/Insert a clove over that dent. Repeat this process for remaining dough (Pic 1).
I have made uneven bottom to give the effect of real apple 🙂
Choose the color, dilute it in a drop of water and for top I used orange (Pic 2) and remaining red color.
I have not used more than a single drop to color all of them.
So color it light and it will turn bright once they dry up (Pic 3 & 4).
I have left the bottom of them uncolored.
Notes
You can add boiled milk or condensed milk to smooth the dough if it gets too dry. But in that case the shelf life gets reduced also you have to refrigerate milk based katli after a day..
You can add food color in the sugar syrup itself but in that case it needs more drops of food color.