It has been ages I tasted Thinai Urundai Foxtail Millet Ladoo . Recently I got this millet in Korean super market and from that day calling my grandma and Aunt to know about this thinai maavu/ladoo recipe. While talking with my grandma she told that she had own cultivated sample millet thinai and 2 years back she used it during my cousins marriage. Yup this is a traditional recipe we make it particularly during any girls related functions like Puberty (Age Attending)/Marriage/Seemantham (Baby Shower) etc. Actually I forgot how it looks with husk, so I googled and found the picture
here
. Even amma/grandma everyone describing it with husk, they soak the husked millet for few hours then using stone pestle (Ulaikai/Ural) remove the husk. But I explained and showed the fine processed millet in skype, then what they suggested is today's recipe finally 🙂 This foxtail millet ladoos are great neivedhyam for Lord Muruga with honey even today I prepared this laddus with pure honey.
Ingredients for Thinai Urundai Foxtail Millet Ladoo
Thinai/Foxtail millet – 1 and 1/2 Cups
Honey – 1/4 Cup Plus 1 or 2tsp (Replace with Regular Sugar)
Cardamom Powder- 1 Tbsp (Usually powder with white sugar)
Ghee – 1 Tbsp (you can use more :-))
Cashew nuts- 2 Tbsp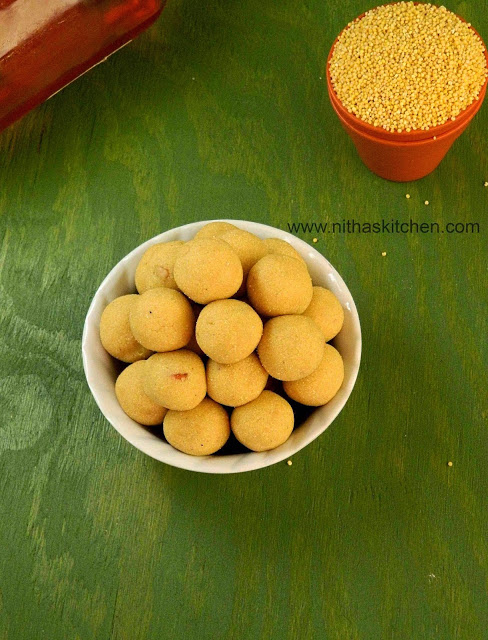 How to make Thinai Urundai Foxtail Millet Ladoo
Dry roast the millets for 5-7mins in medium to high flame till it attains nice aroma (Pic 1).
Allow to cool and grind to fine/coarse powder (Pic 1).
If using regular sugar powder along with millet itself.
In a kadai/pan add ghee n roast the nuts till golden brown.
In the same pan add the powdered millet flour, cardamom powder  and mix well for 1min, just the ghee flavor to spread all over the flour (Pic 2).
Put off the stove and allow to cool them before adding 3 tbsp of honey, mix well (Pic 3).
Don't add honey when flour mixture is warm, this makes the ladoo chewy.
If you want u can increase honey or Powdered white/brown sugar right now.
Make lemon sized balls out of it as shown in Pic 4.
Tastes similar to rava ladoo but hope u know the nutritious value in both.
In the first display picture I added more honey to suit my kids like peda, the below picture is the authentic thinai ladoo.

 
Notes
Can sprinkle milk and add few coconut pieces too but has to be consumed within 2 days.
The above preparation with honey can be kept in room temp for 4-5 Days.
Making fine or coarse powder is up to your desire, I made it to fine powder 🙂
Old Picture