We the whole family love any type of millet combined with usual idli dosa batter, so coming to Chola Paniyaram Sorghum Kuzhi Paniyaram Recipe this is one among the best of my millet varieties.
Millet is one of the best-kept secrets of our ancestors. During my childhood I saw many millet varieties cultivated in our land and now only yellow corn/makka cholam they are hardly cultivating. Millets are rich in protein, as well as rich in minerals like calcium, iron, potassium, magnesium and zinc. These millets are good for diabetes and gluten free. I often make these type of tiffin and will come up with more in future. I have already posted few healthy millet recipes,
Kambu/Pearl Millet Dosa Recipe
Kambang kool/Pearl Millet Porridge Recipe
Ragi/Finger Millet Spinach Dosa Recipe
Steamed Ragi/Kelvaragu Puttu/Sweet n Savory Finger Millet Recipes
Thinai Maavu/Foxtail Millet Ladoo Recipeand for more millet recipes do check this LINK…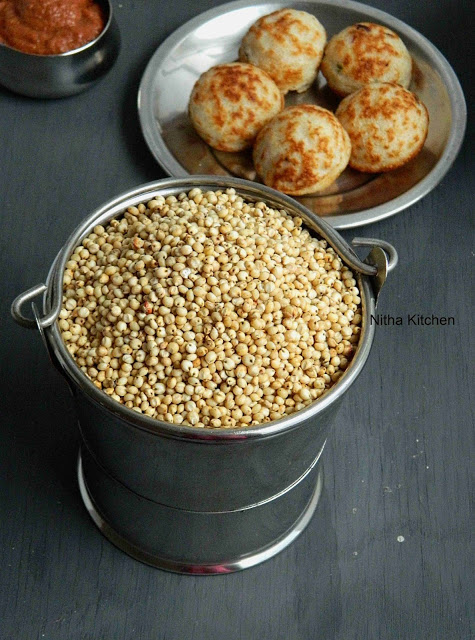 This Post is updated with new pictures
Chola Paniyaram Sorghum Kuzhi Paniyaram Ingredients
White or Red Cholam/Whole Sorghum – 1 and 1/2 Cups (you can use dry corn kernels as well)
Idli Rice – 2 and 1/2 Cups
Vendhayam/Fenugreek – 2tsp
Whole Urad Dhal – 1/2 Cup Plus 2 Tbsp (See Note 1)
Salt and Water
Method
Soak rice and sorghum together whole night or at least 8hrs (Pic 1).
Soak the Urad dhal and fenugreek separately for 3 hrs before grinding (Pic 1).
Grind the soaked stuffs separately as shown in pic and mix all together with salt (Pic 2).
Cover n allow to ferment in warm place for at least 6 hrs.
Once fermented (Pic 3), mix bottom to top well n take half of the batter make takda/seasoning with 1/4tsp Mustard Seeds, 2 tsp Cumin Seeds, 1 Chopped Onion (Shallot makes wonder),1-2 Green/Red Chili's and Few Curry Leaves (Pic 4).
Hope half of the batter is enough for single serve 3 adults family.
Heat the Kuzhi paniyaram pan and pour oil in each kuzhi/depression.
When hot pour spoonful of batter (batter sizzles when pan is well heated) till 3/4th in each.
Paniyaram/pan cake raises well (Pic 5) n can see bubbles on the top then flip it over (Pic 5) and again cook for few more mins till it reaches golden brown color.
This paniyaram goes well with tangy side dishes, I have served with Spicy red onion chutney.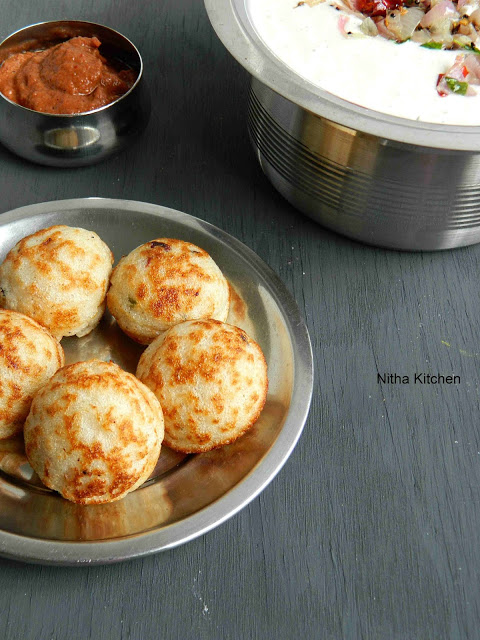 Notes
If using split urad dhal then increase the quantity to 3/4th cup.
The urad dhal should be of good qualtity for the above Rice+Sorghum measurement otherwise take 4:1 measurement or as you do for idli batter.
Can make Idli/Dosa from this batter too.