This healthy Radish Leaves chutney / thugayal doesn't consume more time to make and its a great companion with tiffin varieties and rice. I tried it for the first time and served with Kambu Dosa but later for kids I mixed it up with hot rice, ghee and papad . Both combo tasted great, it's such an exotic combination, also the chutney tastes great the next
day or after few hours of grinding because of the tangy tamarind included in it…
Health Benefits of Radish Leaves / Greens
Radish greens are high in fiber
rich in iron content
increases body immunity since its rich in iron and phosphorous
reduce blood sugar levels
used as detox to remove toxins from our body
Let's move on to the recipe in detail…
How to make Radish Leaves Chutney
Soak the tamarind for at least 15 minutes.
Pick the leaves (Pic 1) alone from the radish bunch and wash thrice.
Chop it roughly (optional) and keep aside.
Also get ready with the remaining ingredients (Pic 2).
Heat oil in a pan add dal, onion, cumin seeds and chili first (Pic 3).
Saute till dal and onion turns golden brown (Pic 4) then add chopped radish leaves (Pic 5) saute until wilted (Pic 6).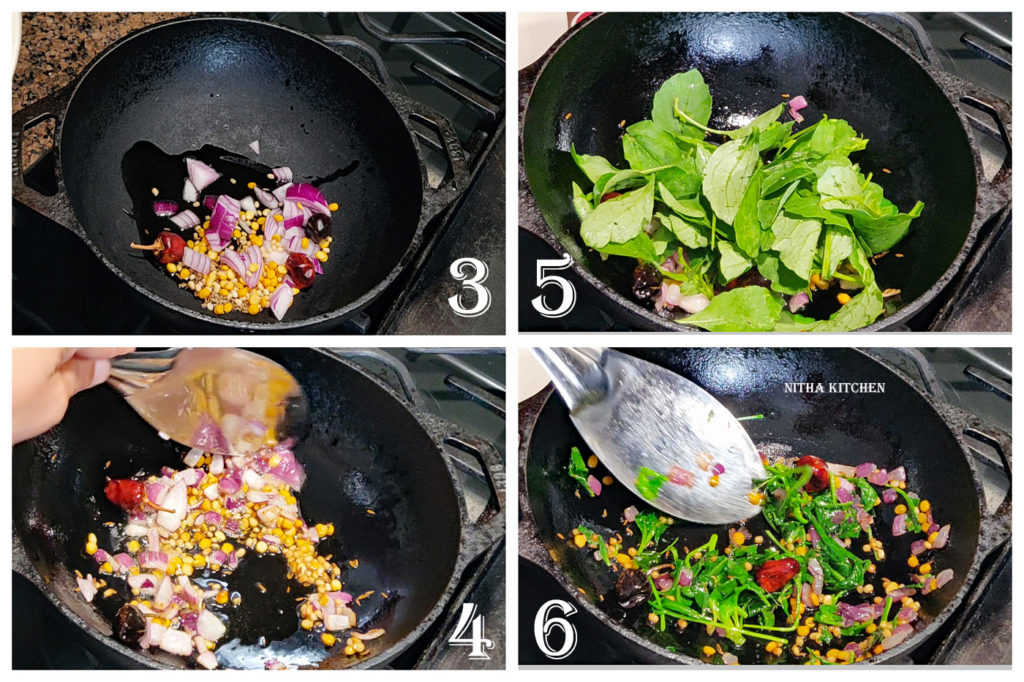 Add soaked tamarind (Pic 7) and remove from flame.
Finally add shredded coconut (Pic 8) and allow to cool this mixture completely.
Reserve few soaked tamarind and chili's before grinding.
Add salt and grind (Pic 9) with enough water to smooth and thick consistency (Pic 10) chutney/dip.
Add reserved tamarind and chili if needed…
Temper Mustard seeds and Curry leaves and garnish over chutney before serving…
Ingredients for Radish Leaves Chutney
Radish Leaves – 1 Cup – Loosely Packed
Onion Or Shallot – 1/4 Cup Or 5 Numbers
Chana Dhal & Urad Dhal – 1 Tbsp
Cumin Seeds – 1/2 tsp
Tamarind – 1 Small Lemon Size
Shredded Coconut – 2 Tbsp
Whole Red Chili – 3 Numbers
Whole Green Chili – 1 Number
Oil and Salt – As Needed
Notes
You will get leaves in a big bunch so use it two times.
This leaves can also be chopped and added in south Indian keerai kootu.
If you dont like the leaves taste much then decrease 1 cup leaves in to 3/4 th cup and add more coconut say 1/4 cup for this chutney.
Video Tutorial