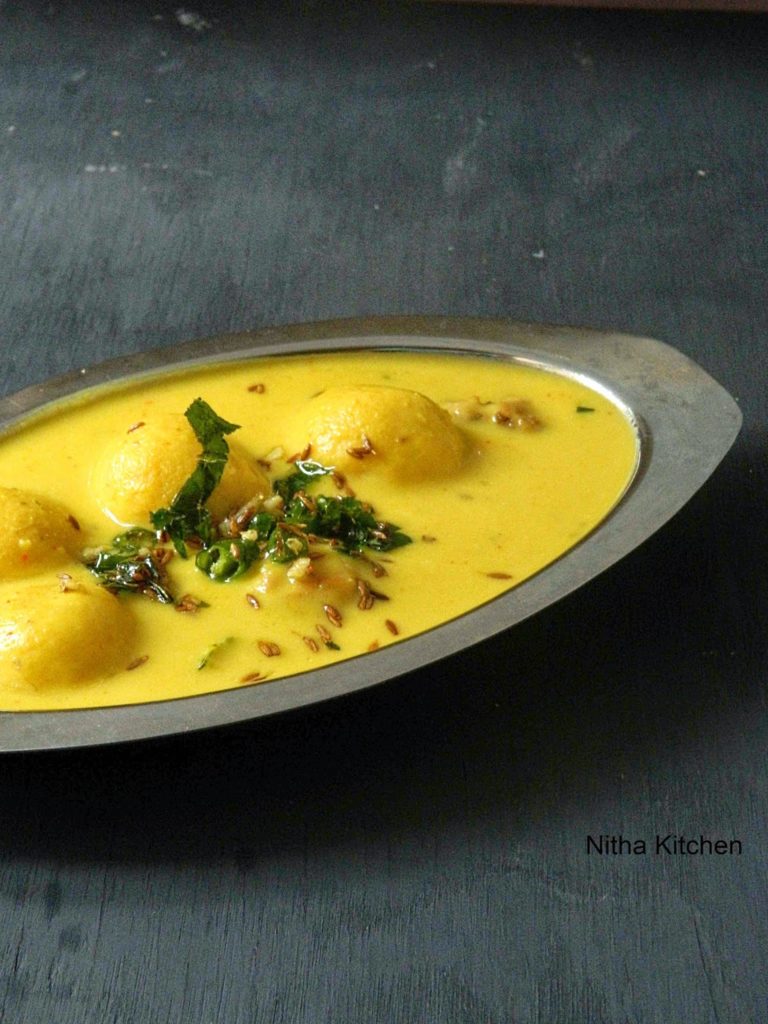 Kadhi Gole Recipe is a typical Maharashtrian dish. Kadhi is a very commen and popular dish in whole northern part of India. Its is specially eaten with rice and so called "Kadhi Chaval . There are different varieties of kadhi such as Gujrati kadhi , Mahrashtrian kadhi , Rajasthani kadhi , Punjabi kadhi etc according to the region. All kadhis are made out of yogurt and besan like dumpling with it. Kadhi gole recipe is also one kind of maharashtrian kadhi but the special thing in it from all other kadhis is the GOLE -i.e chana dal balls. This gole is same as our south Indian paruppu urundai that we make for kuzhambu and the kadhi is much similar to our mor kuzhambu with slight different texture.
Recipe Source :- SavoryIndian
Ingredients for Kadhi Gole Recipe
Chana Dal (Gram Dal) – 3/4 cup soaked at least 3 hours in water
Dahi/Yogurt – 1-1/2 to 2 cups
Besan/Gram Flour – 3 Tbsp
Green Chili – 2 Numbers
Ginger – 1/2 inch for dal and 1/2 inch grated for kadhi tempering
Garlic – 3 cloves
Kadi Patta/Curry Leaves – Few chopped
Oil/Ghee – 2-3 Tbsp for tempering
Red Chili Powder – 1/2-1 Tbsp
Coriander Powder – 3/4th Tbsp
Turmeric Powder – 1/2tsp
Mustard Seeds – 1/2tsp
Asafoetida – a pinch
Jeera (Cumin Seeds) – 3/4tsp
Sugar – 1/2 Tbsp (I skipped it)
Salt – according to taste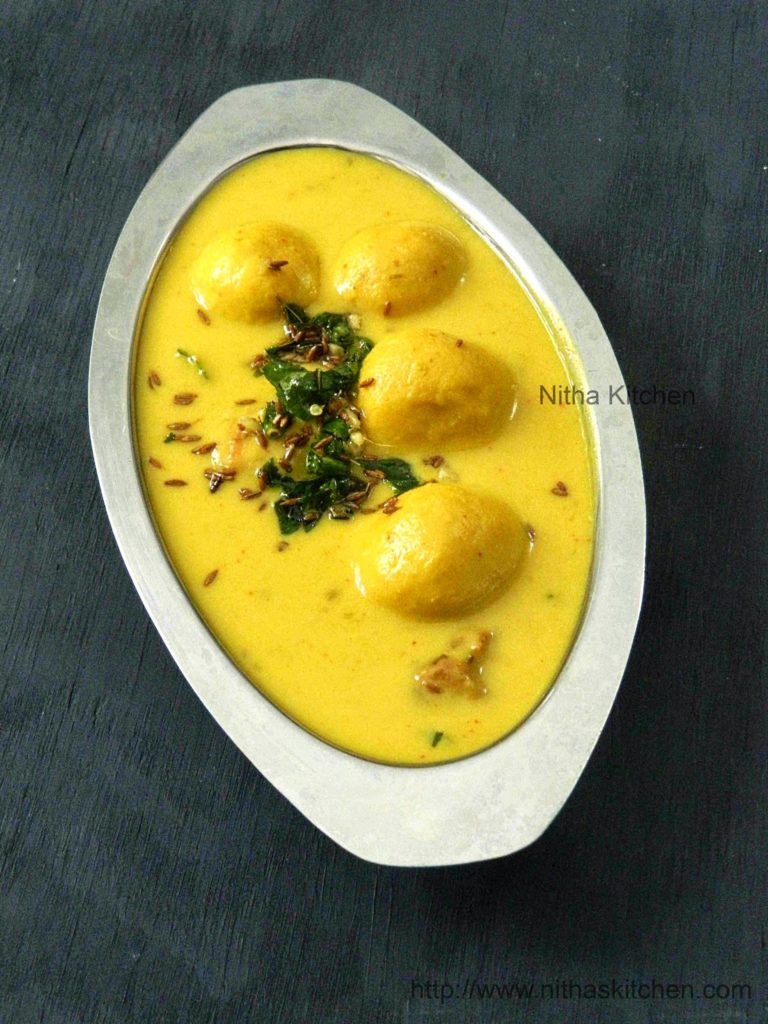 Kadhi Gole Recipe Preparation
Wash 3/4 cup of chana dal and soak it at least for 3 hours in water.
When it is fluffy,drain all the water from chana dal, spread on cloth to obsorb excess water and then transfer it to the mixer or grinder.
To the chana dal add 1 green chili+red chilli powder (if you wish), 1/2 inch ginger,3 garlic cloves and salt.
Put the lid and coarsely grind the chana dal, Do not add any water while grinding ,if needed add only few drops of water.
Once done take it out in a bowl and adjust salt according to taste to it, mix it well.
Now from the groud dal paste make medium size balls and keep aside.
I took 1/3rd of the dhal mixer mixed it with onion, deep fried and finally added to the kadhi, after removing from heat, this is optional i did for my kids (Stepwise Pic 4).
Better to use thick bottom pan to make this kadhi.
Mix 2 cups of yogurt with 3-4 cups of water, whisk it and make a very thin consistency buttermilk.
Add sugar and a tbsp of salt too as per your taste and mix everything well.
Now add 3 tbsp of besan (gram flour ) and whisk it so well or you can do it with your hands too and make sure there are no lumps in the prepared liquid mixture(Pic 1).
I have added all the powders like red chili, coriander and turmeric in the buttermilk mixture, you can either add right now or later in the tempering.
Once done turn on the stove and transfer the pan to a low medium flame.
Let it heat and cook, Keep on stirring occasionally .
Once the steam starts coming out of it, after that add 1/2 inch grated ginger to the kadhi and keep the kadhi boiling.
You can grind ginger with few curry leaves and add to the kadhi, i did so.
Now you can increase the flame to medium high and let the kadhi cook stirring in between.
Once the kadhi starts boiling that means it starts bubbling and rising up thats the right time to put the chana dal gole into it.
Remember here the timing is very important only in the boiling stage put the gole into kadhi other wise they tend to break .
Wen the kadhi is rising up on medium high flame gently drop the already prepared dal balls into the boiling kadhi in regular intervals(Pic 2).
Don't dump all at a time also don't stir for couple of minutes.
Once the balls are cooked they will start rising up at the upper layer of kadhi.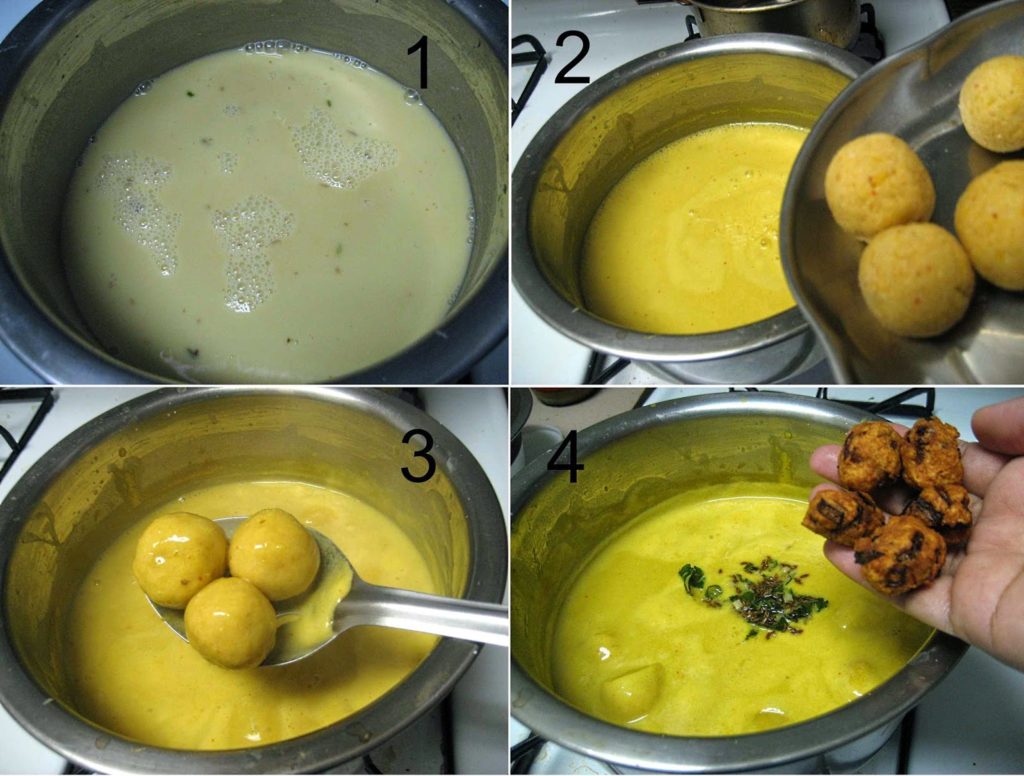 Let them cook under medium flame for 5-8 minutes also make sure that they dont stick to the bottom of the pan otherwise they may burn slightly from bottom.
Once gole are cooked lower the flame (Pic 3).
Now in a separate pan take oil/ghee, the typical maharashtrian kadhi is with ghee tempering.
Now to it add mustard seed , let them crackle and add one roughly chopped green chili and curry leaves.
To it add cumin seeds and few grated ginger, pinch of hing (asafoetida) and all powders if you have not added earlier in kadhi and turn off the gas.
Now add this tempering to the prepared kadhi(Pic 4) and mix well.
Its optional for the gole to prepare one more tempering like above.
In above stepwise picture 4,  i am adding the deep fried same chana dhal balls.
Now our kadhi and tempering for gole are ready to serve.
Serve it with hot chapati or rice, i served it with zero oil chapathi.
While eating you have to separate the gole into another plate ,break them with hands or spoon add the prepared tempering on it mix and then eat.
You can eat them alone or with chapati choice is yours.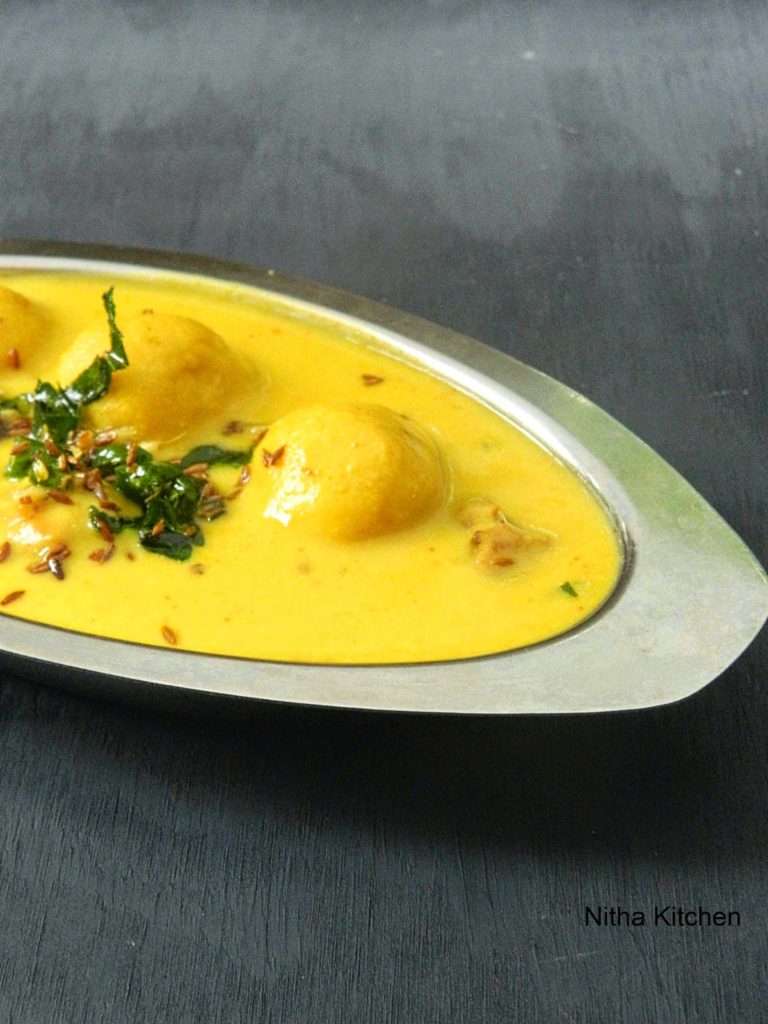 Notes to nail Kadhi Gole Recipe
Use a thick bottomed and deep pan for this kadhi so that the gole don't stick to the bottom of the pan and there is some space for kadhi to rise.
Remember the timing is very important for dropping the chana dal balls into kadhi .only in the boiling stage you can put the gole into kadhi other wise they tend to break and dissolve in the kadhi.
While stirring the kadhi do it very gently so the gole won't break.
The Weather was so cloudy while i went out to click kadhi pictures here is how it looked that day!!! I will give you better pictures next time.