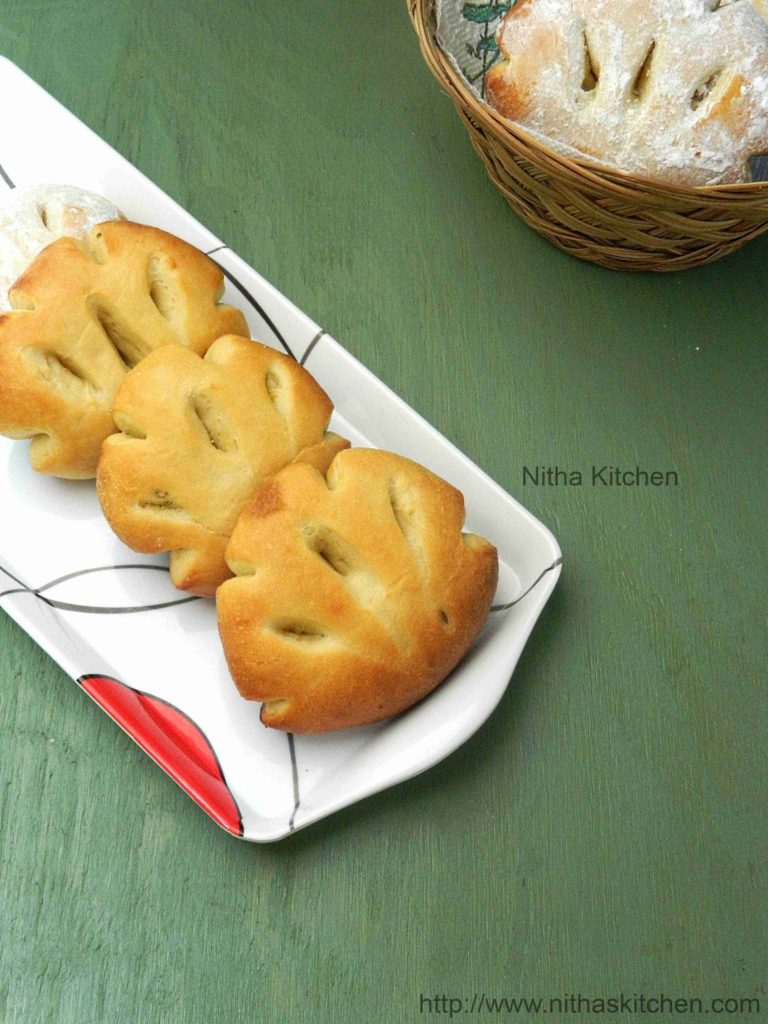 The Gibassier(pronounced zee-bah-see-ay) from the Provence region is a buttery textured French breakfast bread that is flavoured with candied orange peel, orange blossom water and aniseed, and topped with a sprinkling of plain or vanilla sugar. The Gibassier is also the name for large cookie from Lourmarin in particular that's about a foot long, is made with olive oil and oval shaped like a leaf. It is shaped somewhat the way one shapes a fougasse and delightfully soft and delicious. Gibassier can be shaped and made as one big round loaf, or larger or smaller single serve breads. Whatever size they come in, they are slashed/ snipped decoratively before they're baked and this makes them even more irresistible. Gibassier is one of the 13 traditional French Christmas desserts that are traditionally served after Midnight Mass to signify Christ and his 12 aposltels at the Last Supper. Thanks to Aparna's, We Knead To Bake (WNTB) for introducing me to this delicious and authentic bread 🙂
Recipe Source :- Adpated from Ciril Hitz's Baking Artisan Pastries and Breads
Yields :-  12 large Gibassier
Ingredients
The pre-ferment has to be made the night before the Gibassier are baked. So plan it accordingly.
For the Pre-ferment (Biga):
1 1/2 cups bread flour
1/2 cup milk
1/16 tsp instant yeast
For the Dough
Bread Flour – 3 1/4 Cups
Eggs – 2 Numbers
Olive oil – 1/4 Cup
1/8 cup orange blossom water*
1/8 cup warm water (or orange juice) **
All the pre-ferment/ Biga from above
Granulated Sugar – 1/2 Cup
Salt – 3/4tsp
Instant yeast – 1 + 3/4tsp
Butter, slightly soft*** – 75gms
Anise seeds – 1 1/2 to 2tsp
Chopped candied orange peel (I used dried apricots) **** – 1/2 Cup (i skipped)
Orange zest (use 2 tsp if using dried apricot) – 1tsp
For Glazing and Dusting the Gibassier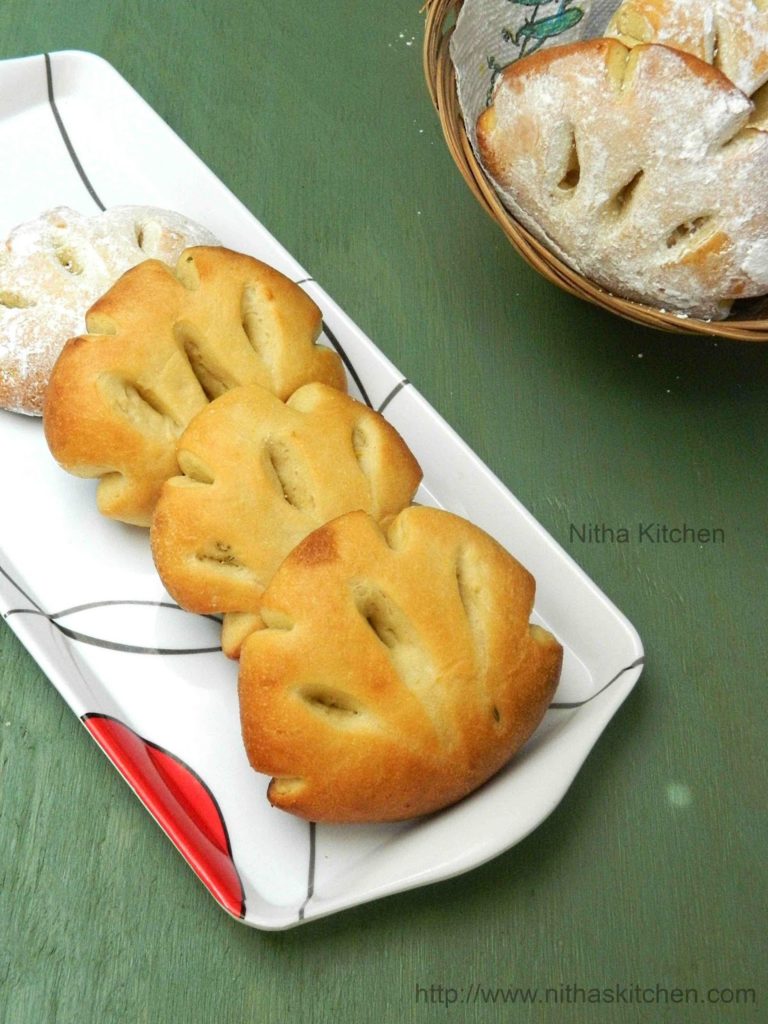 1/4 cup to 1/3 cup clarified butter (ghee)
Vanilla sugar or castor sugar
*What gives this bread its signature aroma is the orange flavour and orange blossom water makes all the difference. It is difficult to replicate with substitutions, so if you cannot find it, you may leave it out altogether. In this recipe since orange is an important flavour, you can can use 1/2 tsp orange extract instead, if you have it. Otherwise you can substitute the 1/8 cup water with unsweetened orange juice.
**If you are using apricots instead of candies orange peel, replace the 1/8 cup water with warm unsweetened orange juice.
***It is important to use butter that is just beginning to soften. The butter should be somewhat cold but just soft enough for you to press down with your finger. If your butter is too soft you might have greasy Gibassier.
****You can make your own candied orange peel if you want to. https://www.youtube.com/watch?v=OWr4kDoYNsQ&noredirect=1
If you don't like cadied peel, you can substitute it with chopped dried apricots. But then remember to use warm orange juice instead of warm water for a stronger orange flavour.
Method
The day before gibassier are baked/previous night, mix together the ingredients for the pre-ferment into a slightly stiff but smooth dough. Add a little more milk if your dough is too stiff.
Scrape the dough into an oiled bowl and cover loosely.
Let it stand, at room temperature, for about 14 to 16 hours.
At the end of this time, the dough would have risen and have a fermented look (Pic 1).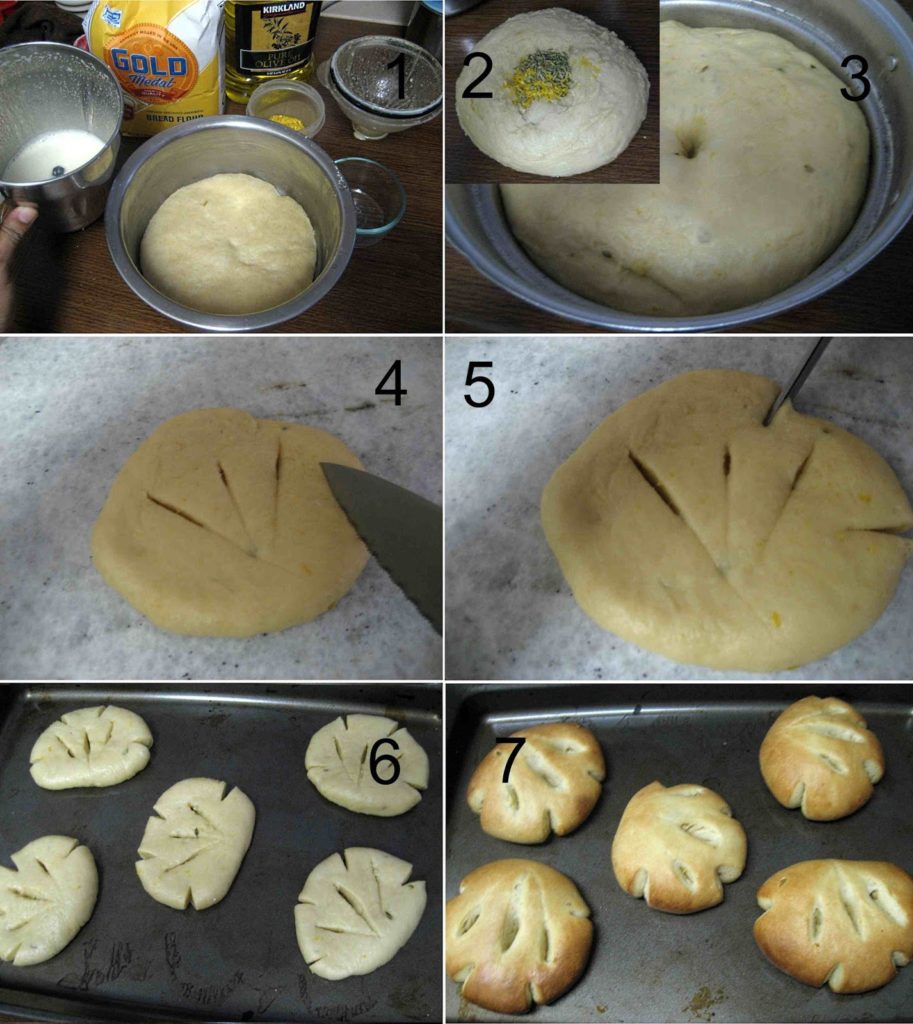 The next morning, make the dough for the Gibassier (Pic 1).
You can do this by hand, but it will require some effort as the dough can get a bit sticky,so using a kitchen machine or a food processor will make things easier.
Put the eggs, olive oil and Orange Blossom Water in the processor bowl and run a couple of times to mix well (Pic 1). Then add the warm water/orange juice and mix.
If the water is too hot, the mixture will curdle because of the eggs!
Now add the pre-ferment (tear it up into chunks first so it will mix easily), bread flour, sugar, salt, yeast, and knead until the dough is smooth.
Now add the butter in chunks (3 or four times) and knead until the butter is incorporated into the dough before adding the next chunk.
Knead well until the dough is soft and supple.
Add the chopped candied orange (or apricots) if using, aniseed and the zest and knead till incorporated (Pic 2).
Shape the dough into a round and place in a well-oiled bowl turning it to coat well.
Design the bread
Cover loosely and allow the dough to double in volume. This should take about 2 hours.
When done(Pic 3), turn the dough out onto your working surface.
Divide it into 12 equal portions, shape each into a round and let the dough rest for about 15 to 20 minutes. Then shape and flatten each round into a semi-circle or oval(Pic 4).
Make three cuts in the semi-circle, one in the centre and two on either side of this cut from the straight edge to the arch of the semi-circle (see Pic 4), by pushing your implement straight into the dough.
Making sure the cuts open up into neat slits.
Then using scissors, make 4 snips along the arched side at equal distance (Pic 5).
Lift the Gibassier dough and transfer it to a parchment lined baking sheet(optional if using non stick) making sure to stretch it a little so the cuts open up well and the slits also spread a bit (Pic 6).
Repeat with all the balls of dough, and let the shaped dough rise for about 30 to 45 minutes till a little puffy.
Baking Process
Then bake them at 180° C (350° F) for about 10 to 15 minutes till they turn a golden brown on top (Pic 7).
Take the Gibassier out of the oven and brush them while still hot, with clarified butter/ ghee. Immediately press the brushed side down lightly (or sprinkle with sugar instead) into vanilla sugar or castor sugar. Then let them cool on a rack.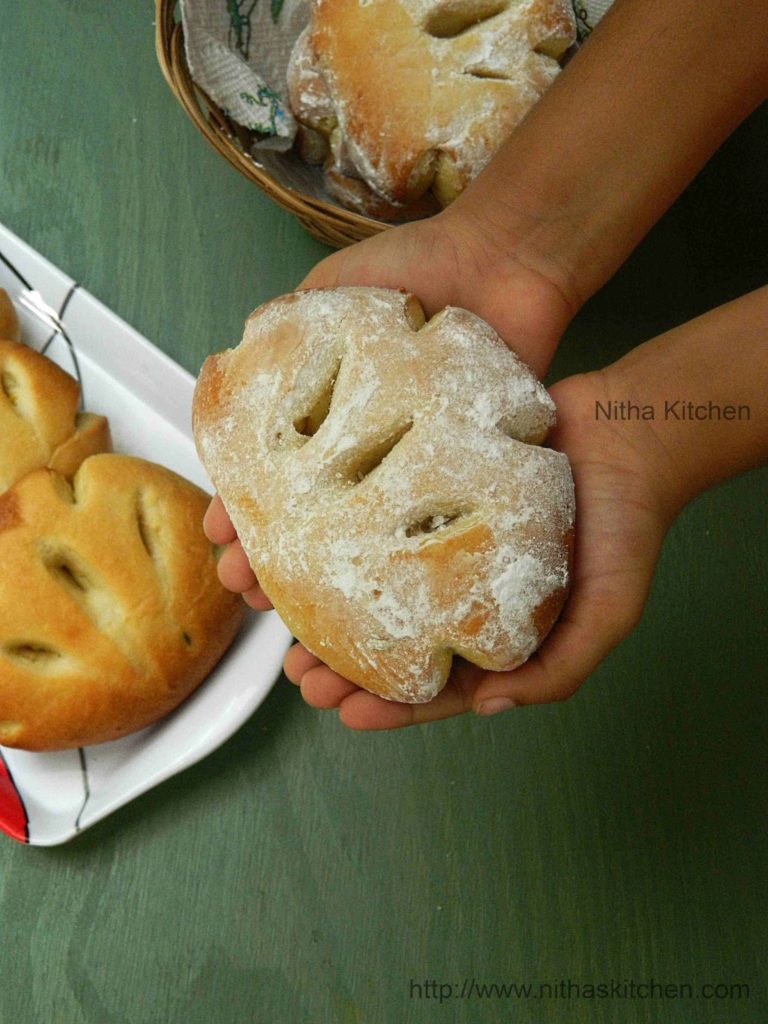 Serve them slightly warm or at room temperature with coffee or tea.