Learning international recipes is of course a pleasure indeed. The Chinese Moon festival (Mid-Autumn Festival) will be celebrated on Sep 17th 2013, during Full moon on that night. This is the second grandest festival in China. Also this Pandan Spiral Moon cake is the recipe of that Moon day which is light, fluffy cake of Malay origins flavored with the juice of Pandanus amaryllifolius leaves. Instead of pandan juice, you can use green color but I used blue food color for a change…This is my first experience in making this recipe for International food challenge organized and hosted by Saras and Shobana. Thanks to both…Saras has given four recipes
1) Cantonese Wonton Noodles Soup with Chinese Scallion Pancake
2) Cantonese Sweet and Sour Stir-fry  or  Cantonese Savory Glutinous Rice Dumplings/Zongzi
3) Spiral Moon Cake
4) Wonton Noodle Soup ~ Non vegetarian version
and i choos spiral moon cake but planning to make another one in future.
Prep time: 15 minutes + 30 minutes for rolling the pastry
Resting time:  20 – 30 minutes
Cooking time: 20 minutes for sweet potato
Baking time: 30 minutes
Yield: 10 moon cakes
Adapated from HERE
* Prepare the filling for the Moon Cake first
Ingredients
Sweet potatoes/Sarkarai Valli Kilangu/Korean Yam (Purple ones preferable) – 300gms (Start with about 400-500g sweet potatoes unpeeled)
Milk Powder – 1/4 cup
Ghee or butter – 1  Tbsp (I used Butter)
Sugar – 1/4-1/2 cup (depends on how sweet your sweet potatoes are)
Cardamom Powder – 1tsp (Optional)
All Purpose Flour/Corn Starch/Flour – 1 n 1/2 Tbsp (Optional but i added to prevent stickiness of the dough and to make perfect balls)
Salt – 1/2 tsp
* Grams to Tbsp/Cup conversion are approximate and not exact, so adjust will less/more while kneading the dough.
Method
Boil/Pressure cook sweet potatoes by cutting in to halve and for 2 hisses.
Peel and mash the sweet potatoes using potato masher.
Add the rest of the ingredients to the mashed potatoes and mix till it forms a paste (Pic 1).
Cook it on stove top till it thickens ( or microwave for 10 minutes, Pic 2, Stir in between).
Roll out into 20 balls. Put aside while making the pastry dough.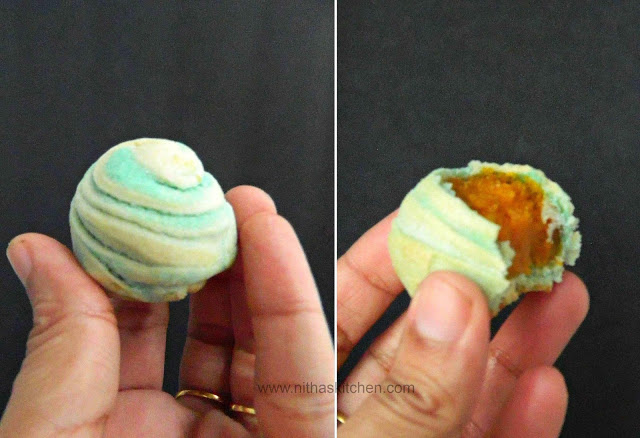 For the Moon Cake Dough
Ingredients for Making Water Dough

Unbleached all-purpose flour/Maida – 200 grams (1.6 Cups)
Powdered/Icing sugar – 28 gms (2 Tbsp)
Cold butter – 80 gms (5.5 Tbsp)
Salt – A pinch
Water – 80 gms (5 Tbsp)
* Grams to Tbsp/Cup conversion are approximate and not exact, so adjust will less/more while kneading the dough.
Method
For the water dough, sift flour, sugar and salt.
Then cut butter into flour mixture using fingertips or pastry blender until mixture resembles breadcrumbs.
Add in water and mix to form a soft, non-sticky dough. If it is sticky, you will need to add a bit more flour to get it to be the right texture.
You should be able to form a soft pliable ball that won't stick to your hands. You don't have to knead it.
Cover and set aside to rest for 20 mins.
For Oil Dough
Unbleached all-purpose flour/Maida – 180 gms (1.5 Cups)
Salt – A Pinch
Oil – 90 grams /5 Tbsp (I used Veg Oil)
Pandan essence/food color/Vanilla Essence – ½ tsp (I used blue gel type food color)
Method
Sift flour and salt.
Then, make a well in the centre of the flour and add in oil and pandan essence.
Draw in the flour from the sides and mix to form a soft even colored dough,  , if it's too sticky, add more dough till you form a soft ball that doesn't stick to your hands .
Do not over-mix. Cover and set aside for 20 mins.
You may need more oil if using gel type of food color.
How to get the spiral moon shape/Rolling the cake
Preheat oven to 175°C or 350° F.
Divide both the dough (Water/wet dough n Oil dough) into 10-12 equal balls.
You need 20-24 sweet stuff balls prepared first, apply oil and roll it as shown in pic 1 below.
Taking the wet dough, flatten and wrap oil dough in it (Pic 1 below).
Pinch to seal edges (Pic 2, Step 1), With the sealed side facing up, roll into a rectangle (Pic 2, Step 2).
Roll up like a snail to form a 'cylinder'(Pic 2, Step 3), turn the cylinder 90 degrees (Pic 3, Step 4), with the end facing up.
Roll again into a long thin strip (Pic 3, Step 5).
Using a sharp knife or a pastry cutter, cut the cylinder in the middle into two pieces (Pic 3, Step 6&7).
With the cut side facing down(Pic 4, Step 8), flatten the dough, making the edges slightly thinner than the center (Pic 4, Step 9).
Now very important thing is flip the beautiful moon layer out.
Wrap the filling (Pic 4, Step 10) in another side n pinch to seal with out pulling too hard, otherwise the layers will tear.
When you pinch, you will find that the bottom looks ugly-don't worry about it.
Then slightly make round, two much of working tends to disappear the spiral shapes (Pic 4, Step 11).
Place sealed side down on lined baking tray and bake at 350°F for about 24-30 mins (Depends on the size you roll) until the top and bottom are a light golden brown.
Notes
Make the Filling Sweeter than you might think.
Because the outside is rather flaky and hardly sweet at all, it helps to make the filling quite sweet so that the overall pastry is balanced.
The dough will dry out over time and be less easy to work with, so work fast or less you need to apply oil when rolling the final dough ie before you place the filling.
I made it in small size for kids sake but more the dough/size, you will get more spiral effects.
Do check this link to roll spiral moon cake…