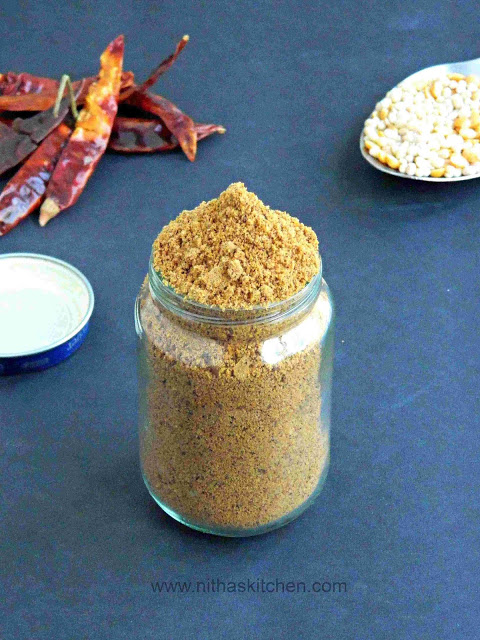 Loads of Milaigai podi (South Indian Lentil/dal powder) version are there. This is my own version and wanted to post quite long time…Definitely this tastes like restaurant podi n better in room
temperature for more than a month. My H survived with this podi (one among
several podis I made) for almost 3 months when I went for long vacation. As oil is
used to fry the dals, to be on safe side you can refrigerate after 2-3 weeks of use. Also use fresh spoon every time and store in air tight container. Mix this podi in oil and serve it as side dish for idli/dosa varieties, good to go with rice and also you can make podi idli or dosa with this same podi. For kids grind it with less red chilis in one batch and grind the second batch with more chilis for adults, store them separately :-). I will post some basic recipes in coming weeks. You can skip sesame/garlic if you don't like.


Ingredients for making Idli Milagaai Podi
Chana Dhal – 1/2 Cup
Whole/Split Urad dhal – 1/2 Cup
Sesame Seeds – 1/4 Cup
Pepper Corns – 1 n 1/2tsp (Optional)
Red Chili – 5 or More Number
Garlic 1-2 Number (Optional)
Curry Leaves – Few
Oil – 2tsp
Salt – As Needed
Method
Dry roast the sesame seeds without adding any oil till it splutters or turns golden brown.
In the same pan add few drops of oil and fry the red chilis.
Fry till its crisp then remove it(Pic 1), add the remaining oil n chana dal (Pic 1), saute for few minutes like 3-4 minutes.
Everything should be fried in medium flame.
After 3-4 minutes add Urad dhal, Red chili, Pepper Cons, Whole garlic and Salt along with chana dhal and keep stirring for another few more minutes.
All should turn nice golden brown, that the right stage to remove from heat (Pic 2).
Now add dry curry leaves and mix it couple of times even after removing from heat.
Spread it over paper towel to drain excess oil and to cool.
When cooled completely grind it for fraction of seconds.
When half  done add fried sesame seeds to it and blend all together to coarse powder (Pic 3).

Adjust salt and store it in air tight container.
Notes