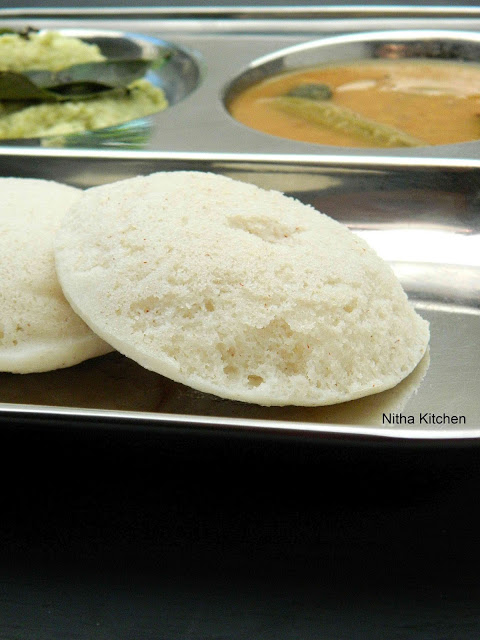 Varagu Arisi Samai Idli Dosa Batter : Kids mostly like idli/dosa kind of foods, you can mix millets in your regular idli dosa batter that reaches them well in their daily food. I have several versions of idli dosa batter using millets do check the link HERE to find more recipes of mine. I usually go with the below two versions to grind Idli Dosa batter when i have Kodo Millet and Little Millet at home. You can use at least any one available millet to make these healthy idli dosa. Both looks more or less similar as shown in picture below (correct me if i am wrong).



Ingredients (Version 1 , Mixie Version)
Varagu / Kodo Millet – 1 Cup
Samai / Little Millet – 1 Cup ( make any Millet of 2 Cups)
Idli Rice – 2 Cups (replace with millets)
Urad Dal – 1 Cup
Fenugreek/Venthayam – 2tsp
Salt and Water as needed
Ingredients (Version 2, Grinder Version)
Varagu – 1.25 Cup
Samai – 1.25 Cup
Brown Rice/Mappillai Samba – 1 Cup
Idli Rice – 2.5 Cups (replace with millets)
Urad Dal – 1 and 1/4 Cup
Fenugreek Seeds/Venthayam – 1 Tbsp
Varagu Arisi Samai Idli Dosa Batter Preparation
Soak idli rice/brown rice for 8 hours.
Soak both the millet for at least 5 hours before grinding (Step wise Pic 1 shows two variety of millet).
Usually millet may have mud and stone kind of impurities, so remove those also wash thrice (Pic 2) or more time before soaking them separately.
Soak the urad dal and fenugreek, 3 hours in prior to grinding (Pic 3).
Grind the rice and millet together to coarse texture in wet grinder (you can use mixie too in that case grind them separately).
You can check this link to know how to grind the idli dosa batter in mixie.
Grind the dal separately to smooth and fluffy.
Add enough water while grinding and finally add salt and allow to ferment for 6-8 hours (Pic 4).
The thick batter (Pic 4) you can use it for making idli and dilute some water and make crispy dosa.
I usually use cloth for making idlis (Pic 5), idli cloths are well available in departmental stores, I got it from Kannan Departmental store, Coimbatore.
Same way grease the idli pans with oil and pour the batter (Pic 5).
Steam it for 7-9 minutes or as needed, when you insert toothpick or curry leaves twig it should come out clean that's the right indication, switch off the flame and wait for 2-3 minutes before removing it off (Pic 6).
Sprinkle some water over idlis and gently remove it from the idli plates.
Store it in hot pack till you serve.
You can make paniyaram with this batter in appe pan.