Today I am here with a delicious Persian style soft and juicy chicken kebab recipe. I would like to thank Savitha and Saras for giving an opportunity to explore Persian cuisine. These saffron flavored kebabs are not spicy and should be marinated for 6 hours or overnight with yogurt for better taste. Let's move on to detailed post…
Recipe Source :- Turmericsaffron
Ingredients
Boneless Chicken/Preferbly Chicken Breast – 1 Pound (around 450 gms, cut into cubes)
Onion, grated – 1 small onion
Plain Thick Yogurt/whole milk yogurt – 1/2 Cup
Extra Virgin Olive Oil – 1-2 Tbsp
Fresh Lime Juice – 1-2 Tbsp
Powdered Saffron dissolved in 1 Tbsp of hot water – 1/2tsp (You can use turmeric instead)
Salt – 1tsp (mix of regular and kosher salt works well)
Black pepper – 1tsp (original recipe calls for whole pepper but I used powder)
Red Pepper Powder/Chili Powder – 1/2tsp (Optional, but i use)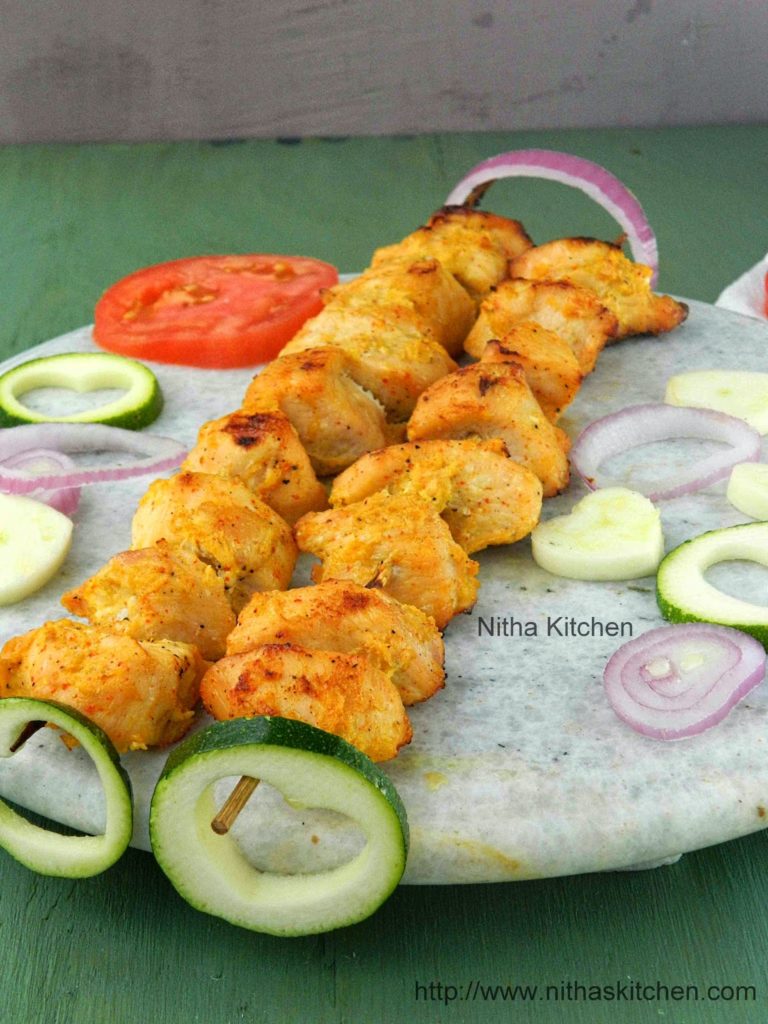 Method
In a bowl combine the yogurt, onion, olive oil, lime juice, liquid saffron, salt and pepper and chili powder.
Blend well into a smooth mixture, adjust the seasoning with lime juice and salt and pepper.
Pour the mixture over the chicken in a large bowl, making sure that all the pieces are fully covered with the sauce.
Cover with plastic wrap and refrigerate for 6-8 hours.
Meanwhile soak the wooden skewers/bamboo sticks (if using) for 30 minutes before start baking.
You can use any grill method to cook here i used oven to bake it.
Preheat the oven to 400 F.
Thread the chicken pieces on to skewers, cover the baking sheet with aluminum foil and place the skewers on the hot grill and continue grilling until chicken pieces are well cooked.
Don't cook till dark brown, just take it of when they are lightly browned, that ensures moisture in the chicken pieces.
Serve warm with rice, yogurt, salad, fresh herbs and pickles.
Or you can make a joojeh kabab sandwich with warm bread, lettuce, tomato and onion slices with a dollop of yogurt and cucumber dressing.