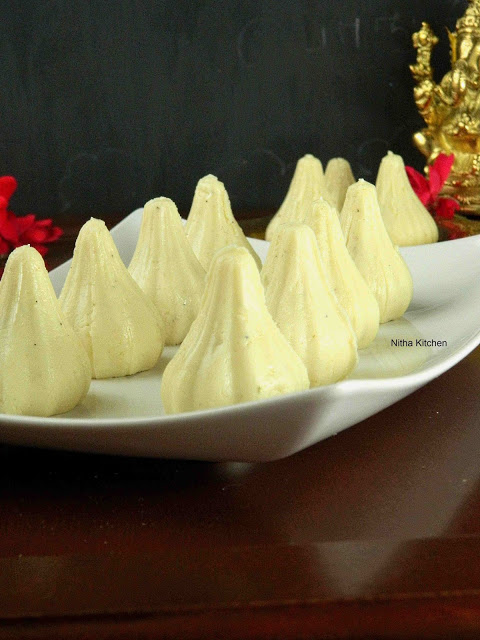 Doodh Peda Modaks : I have started preparing Ganesh Chaturthi special recipes to offer to my Ganesha idols and also obviously to feed my blog :-). Today's Doodh Peda Modaks recipe is such an easy to make a sweet in 10 minutes and also with fewer ingredients. It takes little more time for shaping as modaks, instead you can go for rounds if you feel making modak shape is time consuming…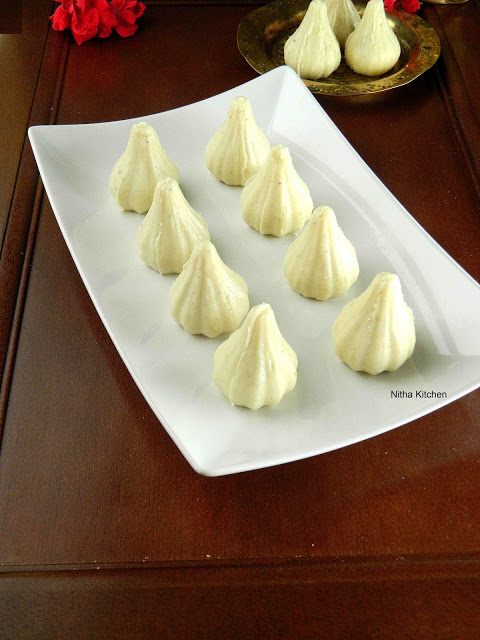 Ingredients for coarse Milk Powder
You can see the listed ingredients in Stepwise Picture 1
Coarse Milk Powder – 1 Cup
Condensed Milk – 1 Cup
Milk – 1/4 Cup (If using Fine powdered milk powder you can skip this milk)
Butter – 3 Tbsp
Cardamom Powder – 2tsp (Homemade – Powdered at home along with regular sugar, stepwise Pic 1)
Optional Sugar – 1/4 Cup
Modak Mold
Ingredients for Plain Milk Powder
Milk Powder – 1 Cup
Condensed Milk – 3/4th Cup
Butter – 3 Tbsp
Cardamom Powder – 2tsp (Homemade – Powdered at home along with regular sugar, stepwise Pic 1)
Optional Sugar – 1/4 Cup
Modak Mold
Yields – 10 -12 Modaks as shown in pictures

Doodh Peda Modaks Preparation
Measure and keep the ingredients ready (Step wise Pic 1)
Melt butter in a wide pan/wok (Pic 2) and grease the melted butter all over by gently turning the wok by holding the wok handle with mittens.
Switch off the flame and add milk, milk powder and Condensed milk to it (Pic 3).
Use whisk so you can stir easily without big lumps.
If your milk powder is of fine texture then immediately you can start cooking ie you can skip the resting period.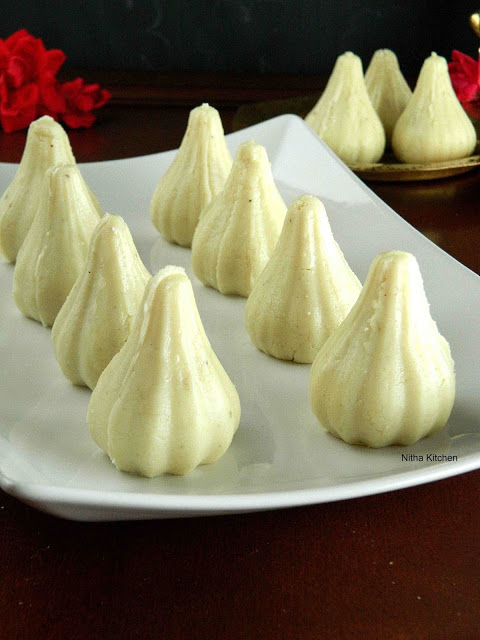 My milk powder is little coarse texture so I let them soak for a while (Pic 4).
After 5-8 minutes of resting time(optional), cook this mixture in medium flame till it rolls to big mass and the mixture leaves the side of the pan (Pic 5).
Allow to cool for a while.
When the mixture is warm start kneading the dough to soft and crack free dough texture.
If you want you can add few tsps of ghee while kneading.
Still the dough is warm, grease the mold with ghee or oil, take a portion of peda dough and start making shapes (Pic 6).
During the whole process cover the remaining dough, so it prevents drying out soon.
If it gets dry you can warm the mixture with tsps of milk and make the modaks.
Once done with making shapes you can garnish them with powdered pistachios (optional) and serve.