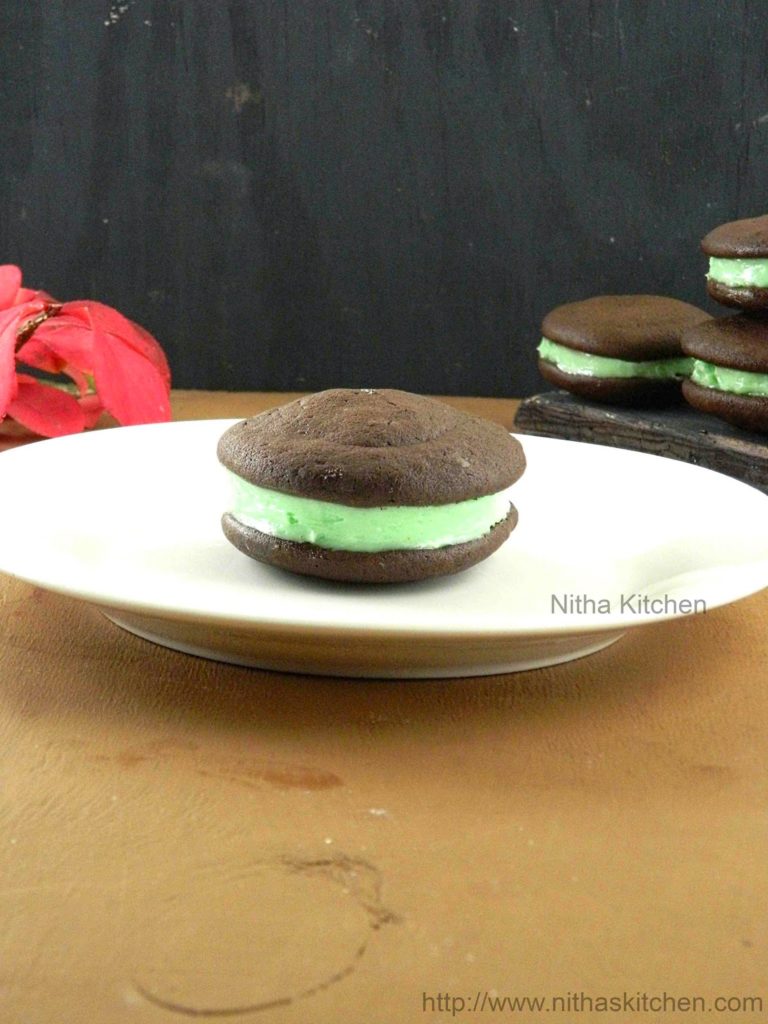 For this month baking partners challenge Anitha has suggested 2 recipes for whoopie pies, one with pumpkin and other with cocoa. I picked chocolate and this is my first try with whoopie pies. Thanks Swathi for challenging us every month with new recipes, it's such a great opportunity for us!!!
Ingredients
All Purpose Flour  –   1 ¾ Cup
Butter                    –   ¾ Cup
Unsweetened Cocoa powder – ¾ cup
Baking Powder – 1tsp
Baking Soda     –  ¼ tsp
Salt                  –   ¼ tsp
Sugar               –   ¾ Cup
Egg                  –   1 Number (You can skip egg and instead of 1/4 cup buttermilk take 1/4 cup of yogurt)
Buttermilk        –    ¼ Cup
Vanilla Extract  –   1tsp
Lukewarm Coffee or Water – ½ cup
Recipe Source: Joy of baking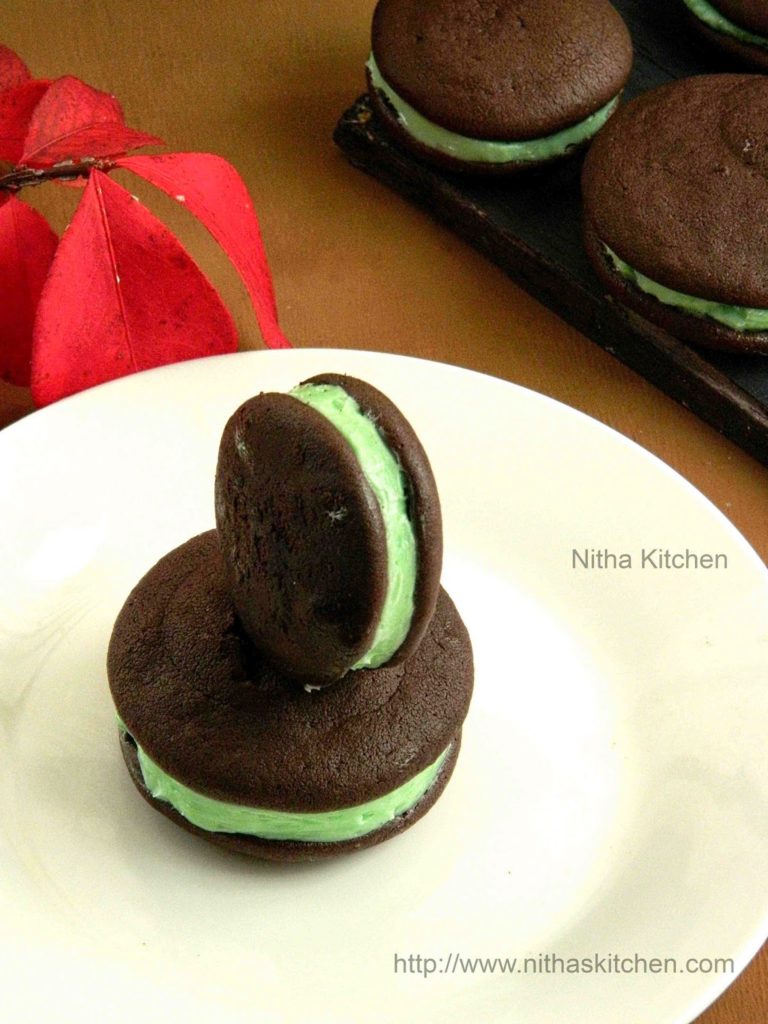 Method
Preheat the oven to 350 degree F. Grease or line baking sheet with parchment paper.
In a mixing bowl, sift together all purpose flour, cocoa powder, baking powder, baking soda and salt (Pic 1).
In a mixing bowl using electric hand mixer or stand mixer beat butter and then add sugar beat (Pic 2) still creamy and fluffy.
Add an egg if using and beat well.
Then vanilla extract and beat until combined.
In warm water or milk you can mix instant coffee powder (For 1/2 cup i used 1/2 tbsp strong coffee powder) and keep aside (Pic 3)
Mix the buttermilk and water or coffee in a cup.
Now add the flour mixture and buttermilk in three additions to the creamed butter mixture starting and ending with the flour (Pic 4).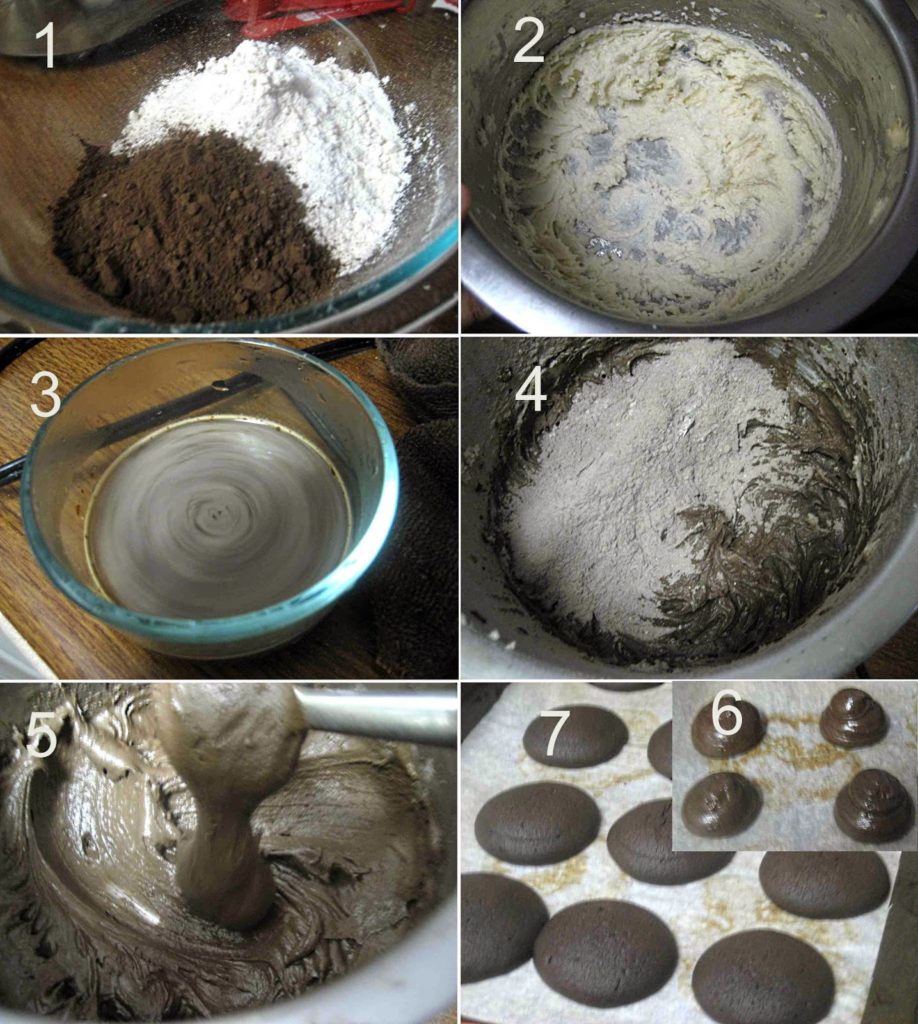 Refer Pic 5 for batter consistency.
Drop tablespoon of batter into a prepared baking sheet, spacing about 2 inches apart.
Here I piped the batter into baking sheet using round large tip (Pic 6), later with moistened finger or back of the spoon shape the cookies.
Bake for about 10 -15 minutes or until the top of the cookie spring back (Pic 7). Remove from oven and cool it on wire rack.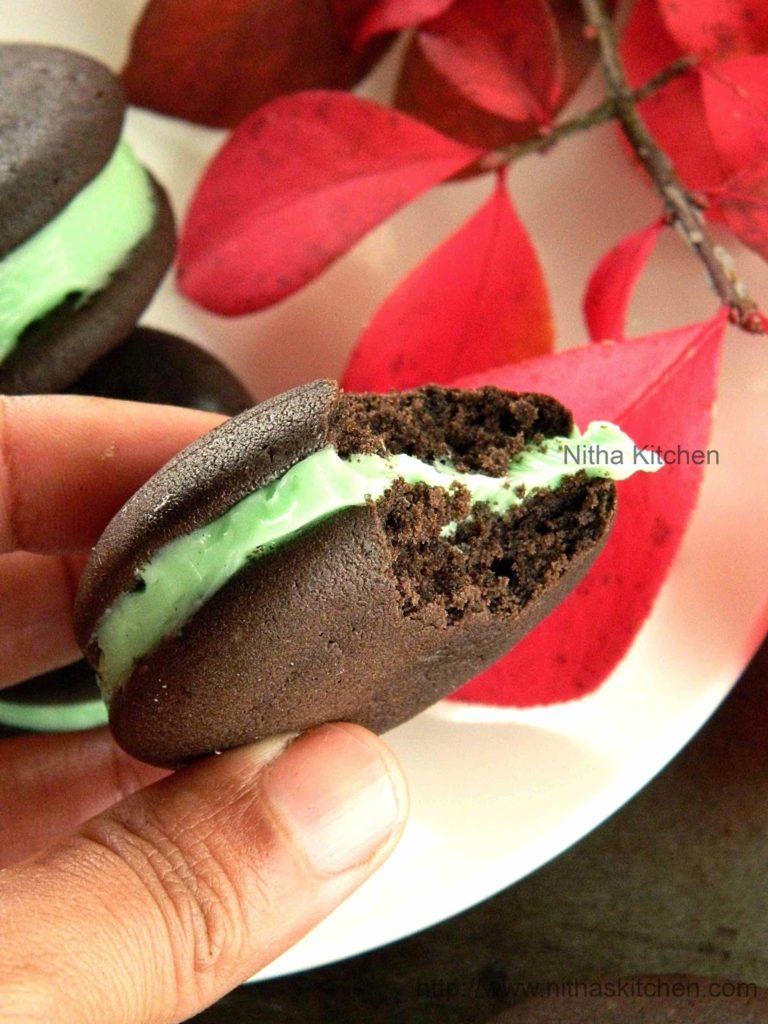 For Assembling
I used leftover green Swiss meringue butter cream that i made for a birthday party, till i post that recipe you can either use Vanilla Custard Filling i did for Choc Eclairs Recipe or Basic Butter Cream, just spread a tablespoon of filling on the flat side of the cookie. Top it with another one ie sandwich.