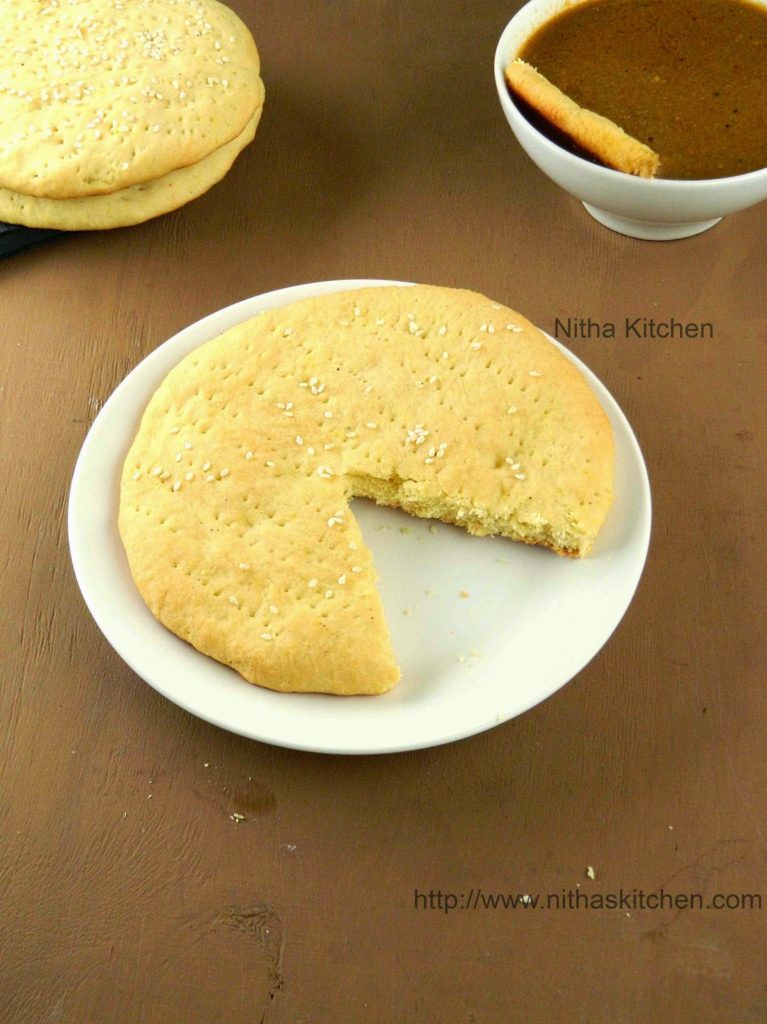 Sheermal or Shirmal is a saffron-flavored slightly sweet traditional leavened flatbread that is found in various countries on the Asian sub-continent. It's a Naan-like milk bread, apparently of Persian origins, and it is suggested that the name comes from the Persian word for milk which is "sheer". This cardamom flavored flatbread seems to differ slightly depending on where it is made. Lucknow Sheermal garnished with raisins, others like to use slivered almonds, poppy seeds or sesame seeds (what i used here) to top their Sheermal.
I understand that Sheermal is usually eaten as it is with tea for breakfast, or served slightly warm as part of a meal with a mutton curry called Nihari/ Nehari or spicy kebabs. It can also be served with Khurma/ Qorma, vegetable curries, etc. The egg gives the dough a little extra richness, texture and flavour, but you can leave it out if you don't use eggs. Traditionally, this is a bread that is cooked in a tandoor, but the oven also produces quite good Sheermal. Thanks Aparna (We Knead To Bake) for the recipe choice and detail explanation.
Yields :-  This recipe makes 4 Sheermals of approximately 4" diameter.
Ingredients
All Purpose Flour – 2 1/4 Cups
Active dried yeast – 1tsp
Sugar – 2tsp
Lukewarm Water – 1/4 Cup
alt – 3/4tsp
1 Egg, lightly beaten
Ghee – 1/4 Cup
Milk – 1/2 Cup or more, as required for kneading
Kewra water (screw pine essence) or rose water or Cardamom Powder –  1tsp
A few strands saffron soaked in 2 tbsp warm milk or Sesame seeds
Melted butter, for brushing
Method
Mix the yeast into the warm water with sugar and set aside for 5 to 10 minutes till it is frothy (Pic 1).
Knead the dough either by hand or with a machine.
Put the flour and salt in a bowl.
Add the beaten egg give a gentle mix(Pic 1) and then yeast mixture run the processor a couple of times to mix well.
Then add the ghee (Pic 2) in two lots to this and again pulse a couple of times till it looks like fine crumbs.
Now add as much milk, and finally the kewra (or rose water/cardamom powder) and knead until you have a very soft and slightly sticky dough (Pic 3).
Transfer this to an oiled bowl, cover with a moist cloth and let the dough rise till doubled in volume (Pic 4) (about 1 to 2 hours).
Remove the cloth and knead the dough again. Shape into a ball, lightly coat all over with a little ghee, cover with a damp kitchen towel and let it rest for about 15 to 20 minutes.
Divide the dough into 4 equal portions(Pic 5) and using your fingers, press out each portion into a round of approximately 4" diameter (about 1/8" thick, Pic 6).
Use your rolling pin, but it's quite easy to do with fingers as well.
Using a fork, dock (prick holes) the whole surface of the dough rounds(Pic 6).
Place the rounds on a parchment lined or lightly greased baking tray(Pic 7).
Brush them all over, generously, with either saffron-milk solution or with melted butter and sprinkle some sesame seeds.
Bake at 180°C (350°F) for about 10 to 15 minutes till they turn a lovely golden brown.
Do not over-bake them and after out of the oven, immediately brush them lightly with melted butter or more ghee.
Serve warm, here in the pictures i served it with mutton curry.
Note
This video gives a good demonstration on how to make/ shape Sheermal.