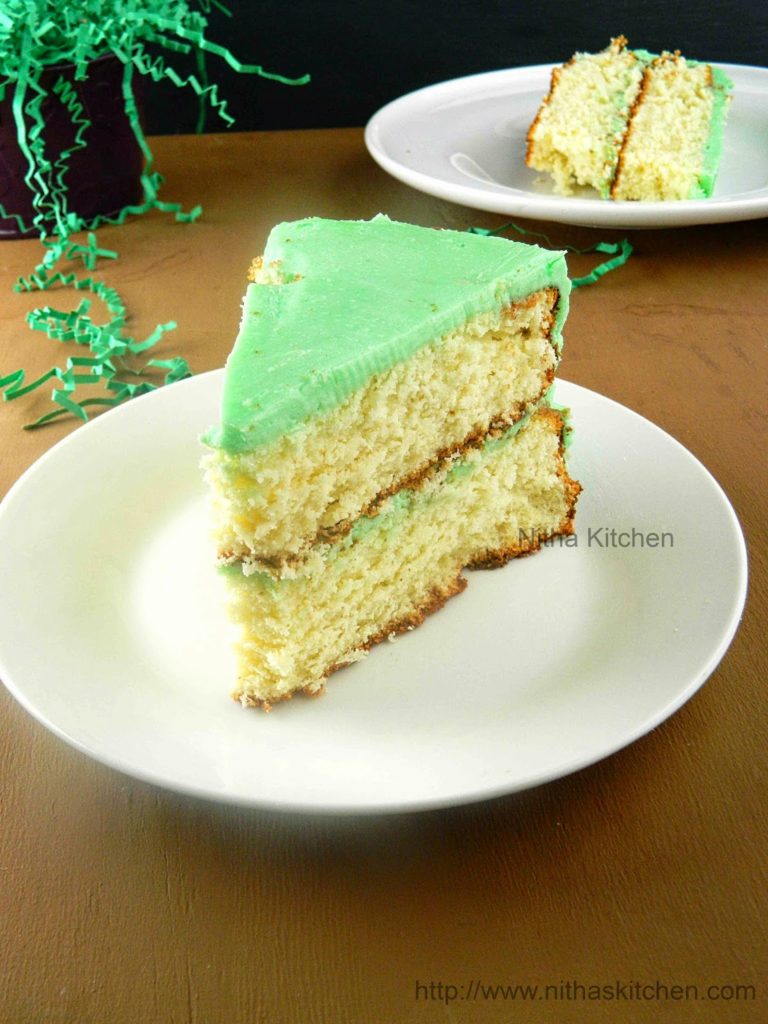 You may aware of few recent posts like Homemade fondant figures, Wooden pattern cake board etc…Yup today's post is related to the same birthday cake hopefully I post and reveal the jungle theme cake pictures in my next post :-). I have planned earlier to frost the cake with Swiss meringue buttercream since it is lightly sweetened and stable when compared to other buttercream recipes and finally topped the cake with few fondants works. That plan worked well and let move in to the step wise tutorial of Swiss Meringue buttercream (SMBC) recipe today!!!
I made 2 tier cake one with 2 layer 8 inch and 3 layer 6 inch cake, for the whole cake this quantity of cream fits me because i lightly sandwiched in between layers and all over the cake better you can take 12-4 cups of cream for 2 tier cake and while making the cream divide into batches for the cream to hold the bowl. When comes to stability say at 10 in the morning i whipped the cream and till evening 9pm (i experimented till) the SMB cream applied over cake stayed in room temperature without any mess.
Yields ~ 8 Cups
Ingredients
10 Egg Whites (300 gms) at room temperature
2 and 1/2 Cups unsalted butter (568g) at room temperature
2 Cups + 2 Tbsp –  Granulated Sugar (424 gms)
Pinch of salt
Vanilla Extract or Bean paste – 4 Tbsp (60g)
Method
Put an inch or two of water in a saucepan heat in high temperature till it attains a boiling level then immediately bring it to simmer.
Place egg whites, sugar, and salt in a heatproof (I use glass bowl in Pic 1 below, you can use your stand mixer bowl).
Place on the saucepan with the simmering water(Pic 3), making sure the bowl doesn't touch the water.
Whisk egg whites slowly but constantly (Pic 2) so the egg whites heat up but don't cook (if you do end up with scrambled egg whites, just discard and start again.
Whisk until a thermometer reads 160 degrees (F) or when you touch with your finger it should not bearable and sugar dissolves completely (Pic 4).
When it reaches this stage take the bowl off the saucepan (be careful bowl is hot) and start whipping it (Pic 5).
How to Whip the Swiss Meringue Buttercream
Start turning your mixer to med-high speed (Pic 6) leaving it there until you see all the steam escape. Once you don't see any more steam, turn up mixer to very high speed.
Let this mix for about 12 minutes approx.
Your egg whites should be mixing up nicely at this point and the outside of the bowl should start to cool down.
If after ten minutes your bowl is still warm, keep mixing, your bowl should feel about room temperature.
Pic 7 is the stage after 6 minutes of whipping.
Once your egg whites are thick and glossy (pic 8), and the outside of the bowl has cooled down, put in your butter.
You can put the butter in by chunks or by pieces (Pic 9).
Whatever you prefer, just make sure the butter is room temp, or only slightly chilled.
Your meringue will go through many stages: soupy, curdled, and then miraculously silky and beautiful, please refer note section for trouble shoots.
Don't panic if you're watching the frosting and it looks like it wont come together, it simply takes time like in Pic 10, approx 12-14 minutes in your hand blender.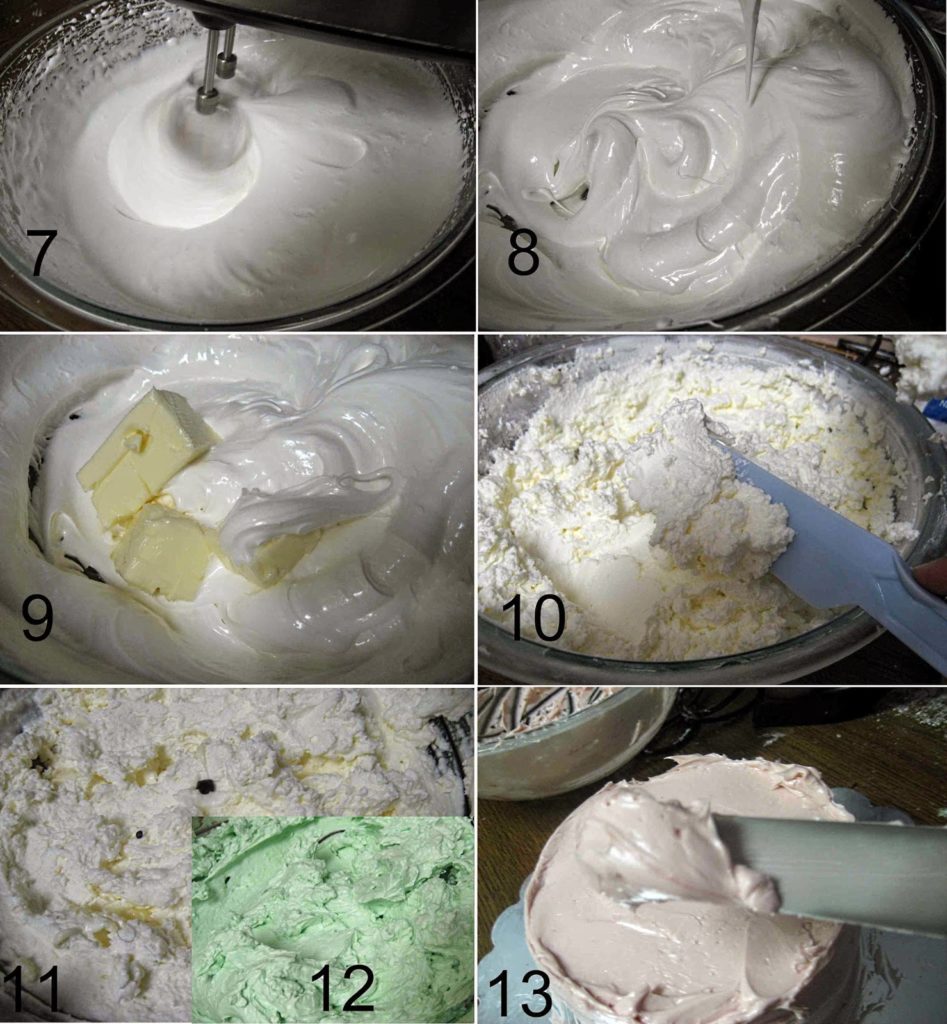 Once it's silky and smooth, add the vanilla bean paste or extract and stir until combined.
You can add your favorite color right now (Pic 11 and 12, you can see fluffy perfect cream).
Pic 13 shows smooth pink colored SMB cream that i apply over cake.
In the below picture the base cake is completely frosted and i have placed some straws to top up with another cake.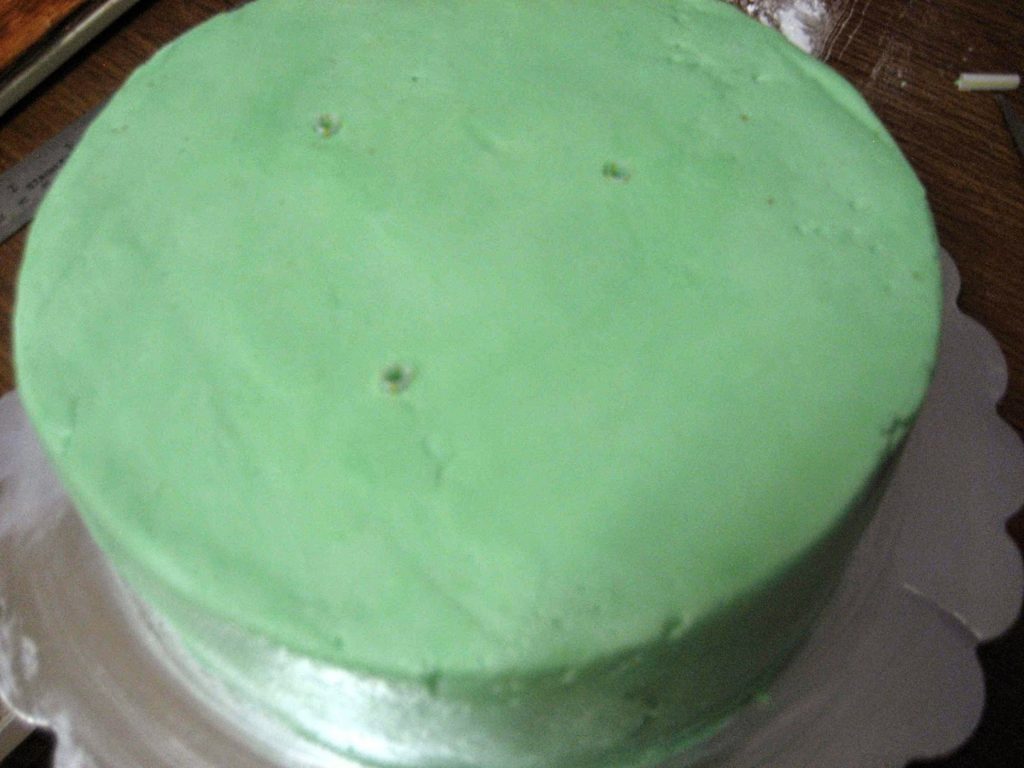 This one is almost completed 6″ pink cake with swiss meringue buttercream.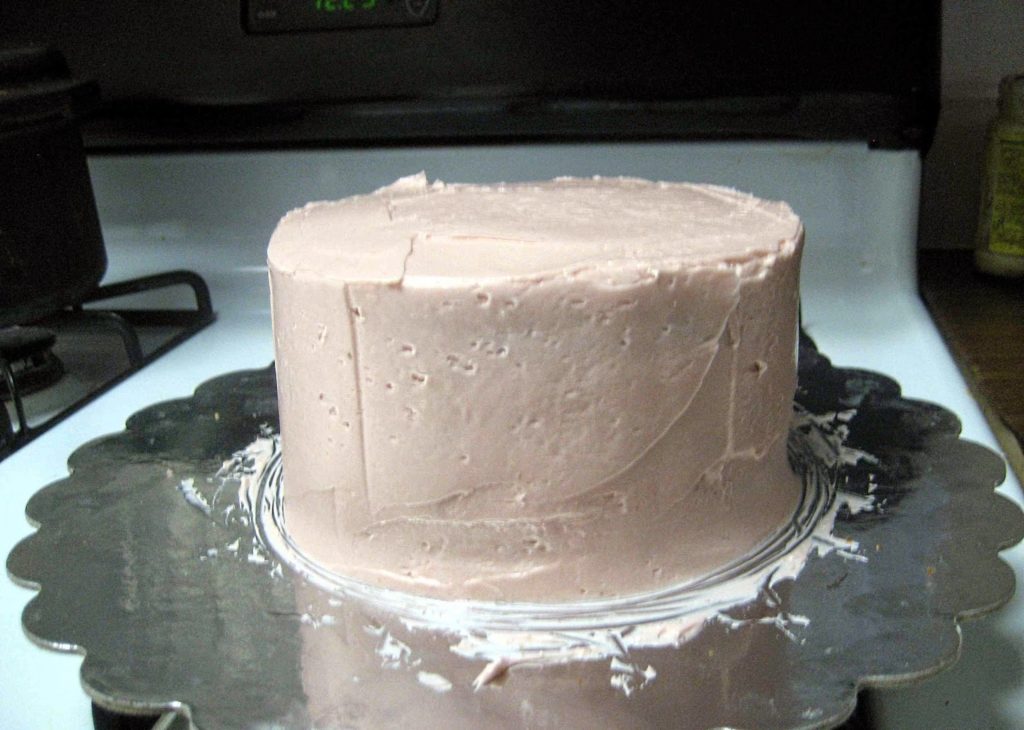 Notes
When making Swiss Meringue Frosting, use a stainless steel, ceramic, or glass bowl. A plastic bowl stores built up grease, resulting in un-whipped egg whites
When you're separating the whites from the yolk, avoid getting even a bit of yolk in your egg whites, as this will deflate the meringue. Feel free to use pasteurized egg whites from the carton as well, remembering to also let them come to room temperature.
When your buttercream is curdled than the reason is becoz of cold butter no fear just continue whipping the cream.
When your buttercream is runny even after you have added all the butter then the reason might be over beaten cream that got warm or the butter was at room temperature for long time.
If you are at this stage nothing to worry just refrigerate the cream for 15-20 minutes and then take it out and whip for few minutes in low speed, cream changes glossy and perfect.
How long can we store the whipped meringue and how to reuse it
You can store Swiss meringue buttercream in an airtight container in the fridge for up to a week or in the freezer for about 2 months.
Take it out to come to room temperature and then re-whip the frosting for a few minutes before using.
Personally, we like to use the buttercream right after making it because the consistency is nice and smooth, anyways you can store it if you need too.
After few days i clicked the last 2 pieces of cake that remained!!!