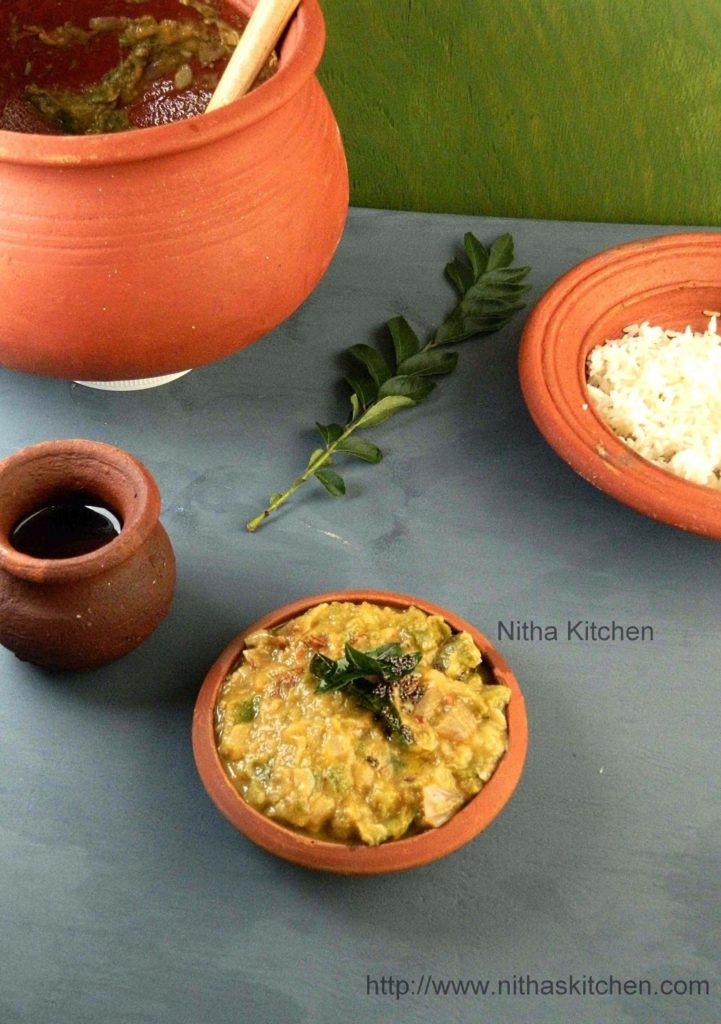 Today I am here with an authentic kongu style Peerkangai Kadaisal Masiyal Recipe , a signature recipe of my Grandma. It's a simple, healthy and delicious dish which can be prepared in few minutes of time when you use pressure cooker. I love this masiyal to core so my grandma makes it often. I still remember her way of cooking this kadaisal in mud pot (lil time consuming process), nowadays I make this masiyal in the same way ie using clay pot. This Ridge gourd dish goes very well with rice+ghee combo, also it is a best accomplishment with dosa or idli…If you don't have mud pot do try the same by sauteing the ingredients in a wide pan and then pressure cook the stuff for 2 hisses with 1/2 cup water.
Recipe Source :- My Grandma

Ingredients for Peerkangai Kadaisal Masiyal Recipe
Peerkangai – 1 Number (Approx 12″)
Onion/Shallot – 8 Numbers
Tomato – 1 Number (Medium)
Green Chili – 1-2 Numbers or More
Cumin seeds – 1tsp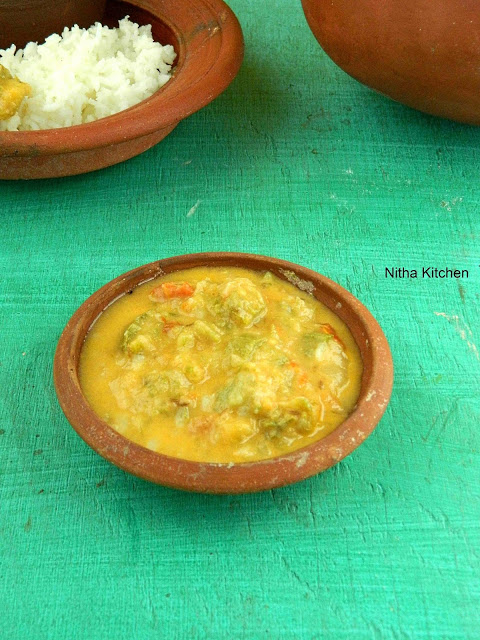 To Temper
Curry Leaves – Few
Oil – 2tsp
Mustard Seeds – 1/2tsp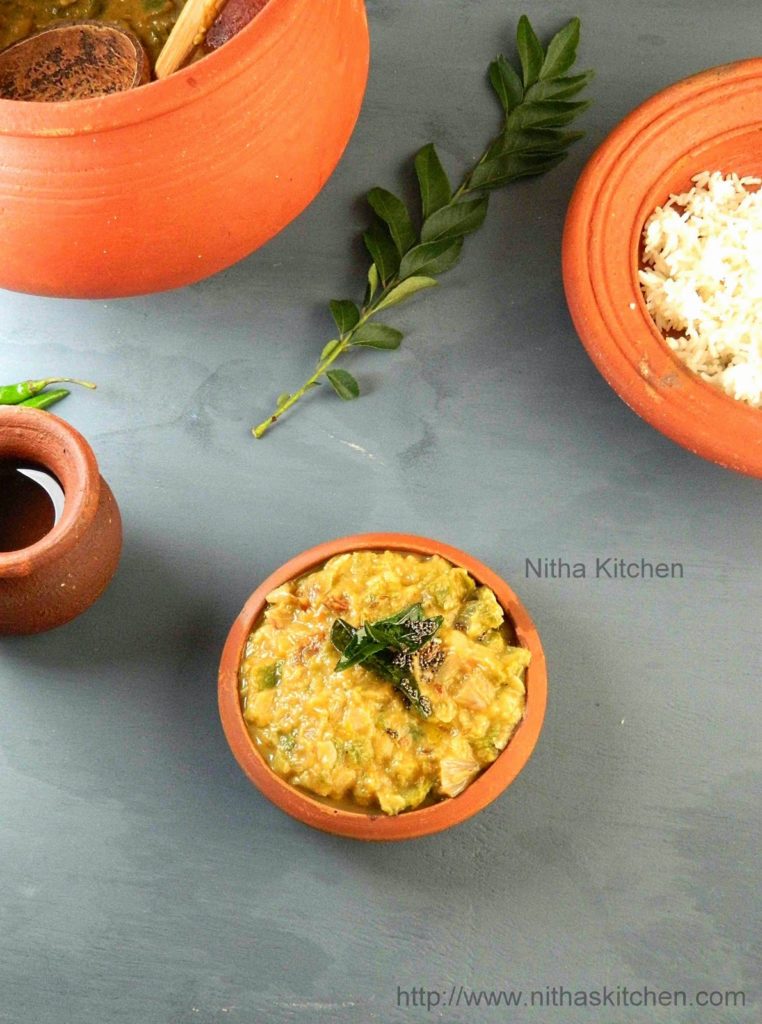 How to make Peerkangai Kadaisal Masiyal
Peel the skin, clean and chop the peerkangaai in to cubes.
In a kadai/pot, heat oil add chopped shallot/onion, cumin seeds,green chili and saute for couple of minutes (Pic 1).
Now add chopped tomato, salt saute till tomato mashes well.
Finally add peerkangaai(Pic 2), sprinkle some water and cover it with a lid.
Cook in medium flame and sprinkle water whenever necessary(Pic 3), you can pressure cook too…
Also use masher and mash it on and off to cook soon.
When the veggie cooked and turns soft and juicy, remove from heat(Pic 4).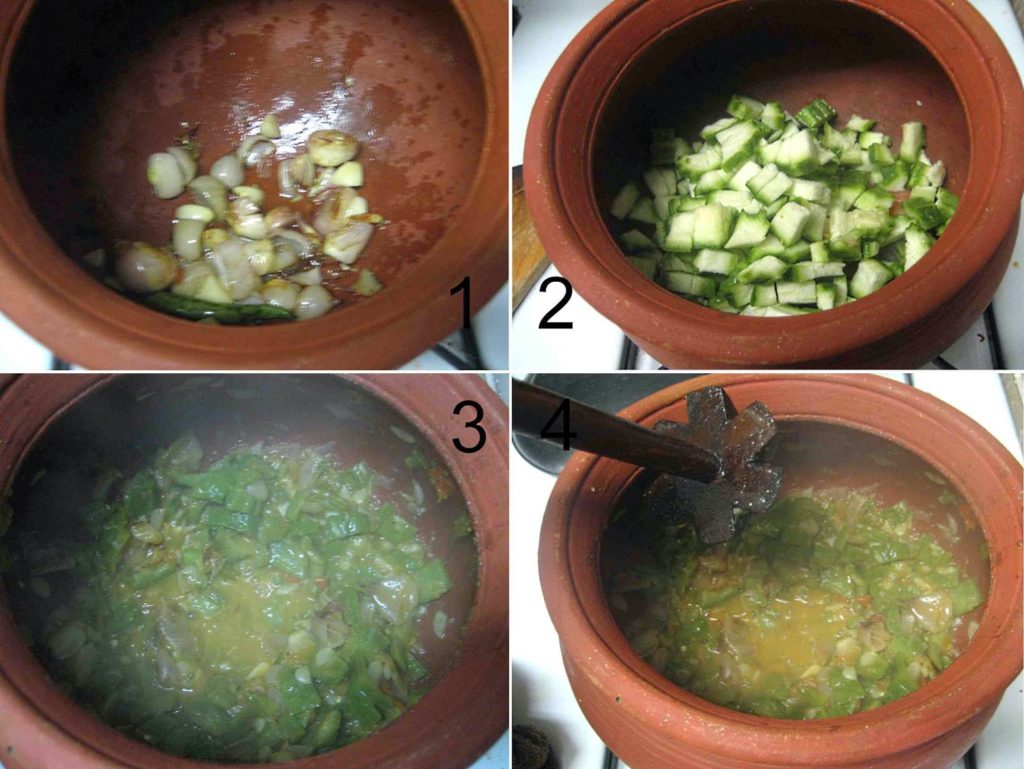 You can use potato masher/Mathu(Pic 4) to mash it otherwise use blender to make in to a smooth paste.
Temper mustard and curry leaves, garnish over it.
Serve masiyal with Rice or TiffinVarieties.
Note
Addition of Green chili and tomato gives the best taste to this masiyal so never skip nor alternate these too ingredients…