Ajwain Leaf (Hindi) /Karpooravalli/Karpuravalli (Tamil)/ Omavalli (Malayalam)/Kattumaruva (Kannada) is most probably found in Indian homes especially in many places of South India. This leaf has various medicinal properties, particularly its an excellent cure for cough and cold. It has similar flavor of oregano and hence you can find this herb in South Indian Pizzas as well. Adding this leaves to rasam/soup helps us to recover from wheezing and bronchitis related issues. My mom too have this herb plant (pics below) in her backyard and a day before we left hometown she made Pakoras/Fritters using it.
Karpuravalli leaves are dipped in besan flour/coated with bajji batter and then deep fried. Coming to the Bajji mix either you can get it in stores as ready mix or you can make it from scratch. Today's recipe details it from scratch. Also for step wise picture of batter consistency and more, do check this Palak Bajji Recipe which I posted earlier. Its a perfect tea time snack especially during rainy season…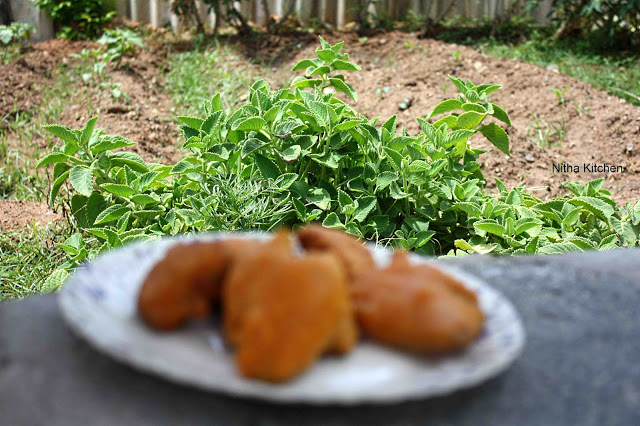 Both pictures shows the Karpuravalli plant, also she has planted Brinjal, Okra, few green leaves and Tapioca. Everything takes few weeks to grow up…
Ingredients
Fine Gram/Besan Flour/Kadala Maavu – 1 Cup
Rice Flour – 3 Tbsp
Karpuravalli/Ajwain Leaves (Discard Stem) – 13-15 Numbers or As Needed
Red Chili Powder – 2tsp or more
Asafoetida/Hing – 1/4tsp
Baking Soda – 1/8tsp
Salt and Water – As Needed
Oil – As Needed to deep fry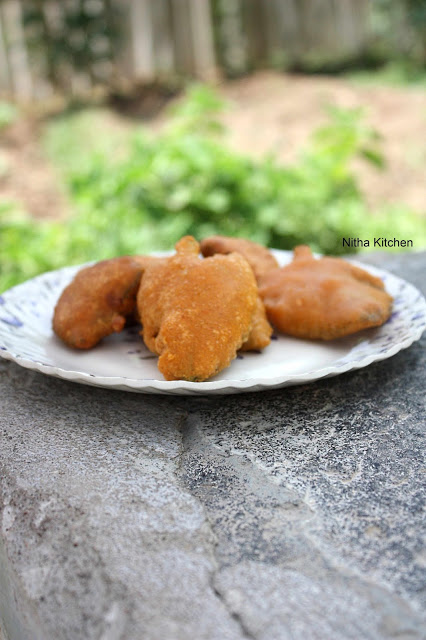 Method
Wash the leaves twice or thrice, Wipe the excess water and keep it ready.
Prepare the bajji batter if you are making it from scratch.
Mix all ingredients except oil, water and leaf mentioned in "Ingredient" list.
Add water and ensure its lump free batter.
Check the batter consistency and salt, if it goes runny you can adjust the batter by adding few tbsps of gram flour.
Start heating the oil in wide pan.
Increase the flame and make sure its hot enough by testing with few drops of prepared batter.
When drop added in oil it should pop up immediately.
Dip the herbal leaf one by one and drop it in hot oil.
Add 3-4 bajjis at a time.
It puff up immediately, then flip another side and cook for few seconds or till bajji turns nice golden brown.
Remove it from hot oil and drain excess oil by placing it over paper towel.
Serve the hot bajjis with Coffee or Tea.