It gives immense pleasure to prepare food with Home/Farm grown ingredients and it's also very close to heart. Today's Ellu Urundai Til Ke Ladoo recipe is one among it and I cherish the moments whenever I see those blog posts. Last time when we were here for vacation, I clicked the sesame plants (shared those pictures below) and now by the time we arrived here, Parents finished the harvest and I could
click only the pictures of the dishes we made from it. This sesame seed is white with a mild mix of black one, as shown in the picture below.
This is the recipe we follow traditionally and learnt it from my grandma/Patti.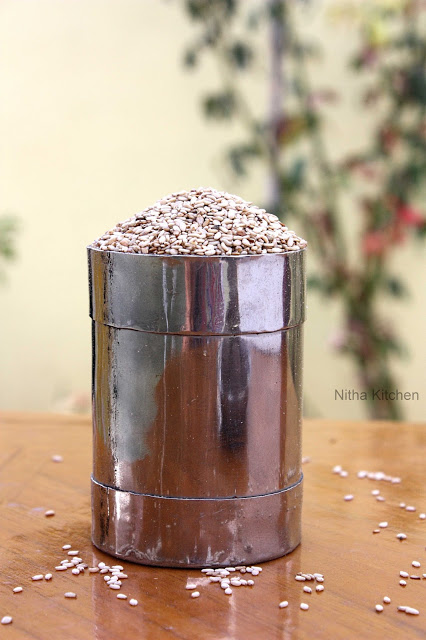 Ingredients
Ellu/Sesame/Til – 1 Cup
*Ragi Flour – 1/3 Cup
Brown Sugar Jaggery / Palm Jaggery – 3/4 Cup (you can reduce the sugar to 1/2Cup)
Cardamom Powder – 1tsp
Dry Ginger/Sukku Powder – 1/2 /tsp (Optional)
* Ragi Flour needs steam cooking instead of that you can use any Nuts powder like Roasted Peanut Powder for a quicker version.

Ellu Urundai Til Ke Ladoo Preparation
Since I used our farm grown sesame seeds, we cleaned it up well and i am going to explain it in next few steps.
Wash the sesame seeds twice or as needed until water looks clear and remove stones and mud if any (Pic 1).
Spread over cloth and dry under sunlight well for at least 5 hours (Pic 2).
Now you get good one like/as packed in stores and sometimes the store bought ones too have stones and mud so check it before you use.
Dry fry the sesame seeds till it crackle and turn brown.(Pic 3)
Cool them completely and grind it to nice powder better not too oily as shown in Pic 3 & 4.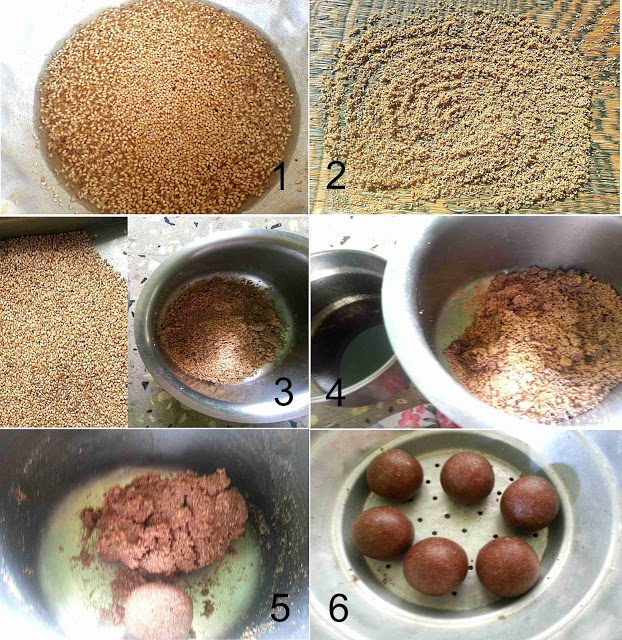 If you like to add sugar in ladoos just mix or grind the sugar along with sesame seeds.
Otherwise make syrup by adding little water say 5 Tbsp, filter it (Pic 4), again boil till it becomes a thick syrup.
Wet the ragi flour without any traces of dry flour and it looks crumbly.
Add a clean cloth over idli or steaming plate then spread moist ragi flour and steam in boiling water for 10 minutes.
Check this link to learn how to steam Ragi with step wise pictures
Once Ragi is cooled completely add it to powdered sesame mixture.
When syrup cooled completely sprinkle it over sesame ragi mixture.
Also add cardamom powder (Pic 4).
Mix everything well and the dough should be little sticky (Pic 5), so if needed add more syrup and that's way it increases shelf life.
Now make big lemon size balls out of it (Pic 6).
This stays good in room temperature for 3 days.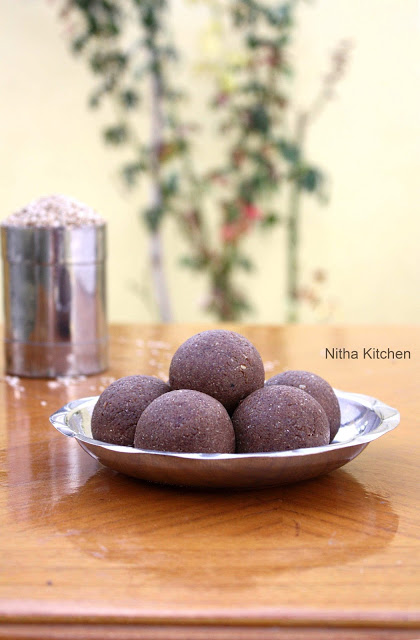 Notes
Ragi flour once steamed it increases in volume.
Always reserve sugar syrup and if needed sprinkle while making ladoos.
Instead of steaming you can fry the ragi flour in 2 tbsp ghee.