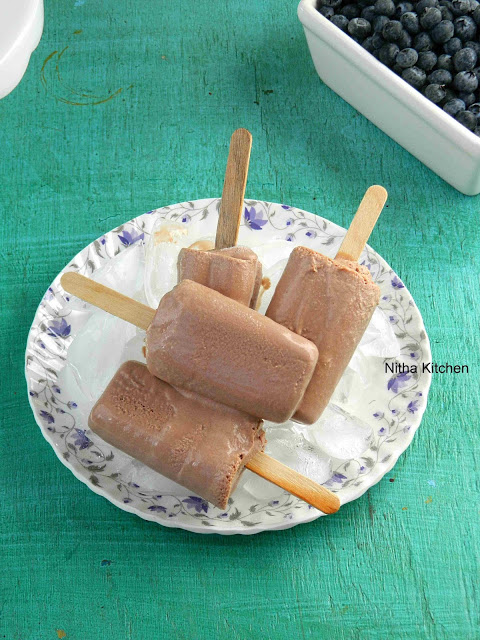 For the first time ever I took a month break from blogging due to personal reasons. Everywhere the summer is in peak and today I chose to post a frozen treat that is much needed by everyone now 🙂 So herecomes the easy peasy nutella popsicle recipe that you can make with just 3 ingredients 🙂 Ingredients for Summer Treat Nutella Popsicle Recipe
Whole Milk – 1/3 Cup
Heavy Cream or Whipping Cream – 3/4 Cup
Condensed Milk – 1/4 Cup (Optional)
Store bought Nutella – 1/2 Cup (You can increase or decrease Nutella as you prefer)
Zero Sugar
Nutella Popsicle Recipe Preparation
Boil the milk and bring it to room temperature (Pic 1).
Once milk cooled completely, just blend all the ingredients in blender (Pic 2).
Make sure the heavy cream is chill enough.
Also don't blend for a long time, just a fraction of seconds is enough…
Pour it in the Popsicle molds (Pic 3 & 4), cover it properly and store it in freezer for 1 hour.
After an hour insert the wooden sticks if you prefer to add in.
Now again store in freezer for couple of hours.
Before serving bring the popsicles to room temperature for at least 5 mins.
At the back of molds run in under tap water, you can remove the popsicles easily out from molds now.
That's it gently pull the stick out from the molds.