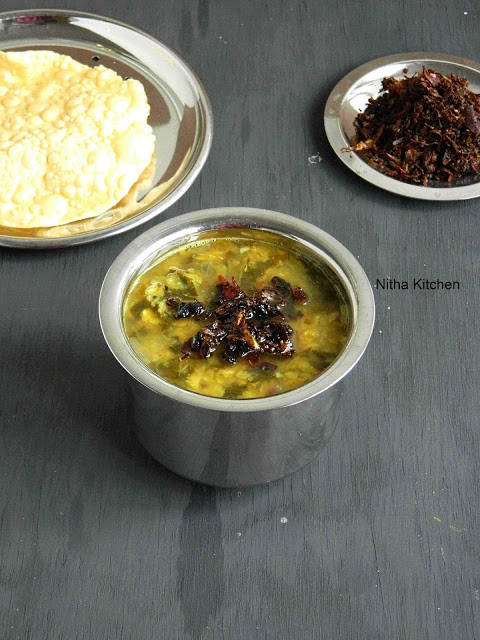 Today I am here with a healthy post ie Pulicha Keerai Paruppu Masiyal aka Gongura Pappu. After ages I got Gongura/Sorrel leaves in an Indian Grocery. At the moment when it caught in my eyes, I flew with joy. Immediately I started planning what to make with it. The bunch was very big so I made 3 dishes like Gongura Pappu, Gongura Rice and Gongura Chutney/Pachadi using it. Wish I get gongura often 🙂
A Few Information about Gongura and How healthy it is?
Gongura/Sorrel Leaves is also called as "Pundi Palle" in central Karnataka and Pulicha Keerai in Tamil. Gongura is a very rich source of iron, vitamins, folic acid and anti-oxidants essential for human nutrition. According to Wiki, Gongura comes in two varieties, green stemmed leaf and red stemmed.The red stemmed variety has more sourness than the green stemmed variety.
Ingredients for Pulicha Keerai Paruppu Masiyal
Toor dal /Tuvar Dal/ Kandipappu / Tuvaram Paruppu – 3/4 Cup
Sorrel Leaves/Gongura Leaves/Pulicha Keerai – 1/2 from Big bunch or 1 medium bunch
Onion – 1 large, chopped finely
Garlic cloves – 4- 5 Numbers
Red or Green Chili's – 4-6 Numbers
Turmeric Powder – 1/2tsp
Salt and Oil – As Needed
For Tempering/Tadka
Ghee/Oil – 1 Tbsp
Mustard Seeds – 1tsp
Red Chilis – 2 Numbers
Curry Leaves – Few
Garlic cloves – 2-3 Numbers, thinly sliced or slightly crushed
Asafoetida/Hing – 1/4tsp
Onion Vadam/Vengaya Vadagam – Few (Optional)
How to make Pulicha Keerai Paruppu Masiyal | Gongura Pappu
Pick the leaves form the bunch and wash it thrice or more times to clean thoroughly and keep aside (Pic 1 & 2).
Make the other ingredients ready.
Soak the dal with enough water.
In a pan/kadai add oil and saute Cumin Seeds, Red Chili, sliced Garlic and chopped Onion.
Once onion becomes translucent, add chopped Sorrel leaves/Gongura and salt (Pic 4).
Continue sautéing in medium flame till leaves shrinks a bit (Pic 5).
Then add it to soaked toor/tuvar dal (Pic 5) and pressure cook for 4-5 hisses in medium flame.
Once cooked (Pic 6), gently mash it.
In a pan/kadai add oil/ghee and temper the ingredients one by one.
Add it to the dal finally and serve it with hot rice and papad (Picture below).