Homemade Asafoetida Powder : This is my way of making Hing powder at home using compound hing block which takes less than 20 minutes to prepare. This Perungayam powder / podi is a must in home since I cook daily something with dal / lentils / dried beans / legumes which are rich in protein/fiber and also they contribute excessive gas production. So I use a pinch of hing/asafoetida powder in those dishes to neutralize the gas and for easy digestion. This Perungaya powder is a must in Indian cooking and have this either in instant form or homemade in their kitchen pantry like salt and sugar 🙂
I packed few packets of compound hing for my new US life. First time I didn't know how to make Homemade Asafoetida Powder using compound hing / Katti perungayam. I called my Mom to learn and she suggested to dry in sunlight or else heat in in kadai. As we don't get proper sunlight, I heated and struggled a lot to break it. I trained well after powdering another few packets, so I wanted to record this in the blog. Also recently updated this 2013 year post with Video Tutorial (at the end of this post). Till now I am using homemade asafoetida powder only. Hope this is going to be a very useful post for you all.
Why Compound Hing is better than Powdered Hing
The resin/gum in compounded hing is very less.
The powdered hing has lot of starch and artificial flavors as per the wiki details
You get lot of aroma/flavor in compound hing when compared to instant one.
To more about hing please check here.
Ingredients for Homemade Asafoetida Powder
Compound Hing/ Asafoetida/Solid Hing – 1 Packet
Salt – 1/4 tsp
Method
Hing comes in sealed packet, reseal (Pic 1) and at this time it is slight tender (in summer) and sometimes it is hard.
You can't split it as it from the package.
So heat the whole/compound hing in a pan at low-medium flame (Pic 2).
Flip it and heat the other side too, after 1-2 minutes, you can see white spots here and there(Pic 2).
The hard hing is getting tender in heat. At the same time it becomes chewy and flexible in texture (Pic 3).
Now the first step is to split it in to tiny pieces.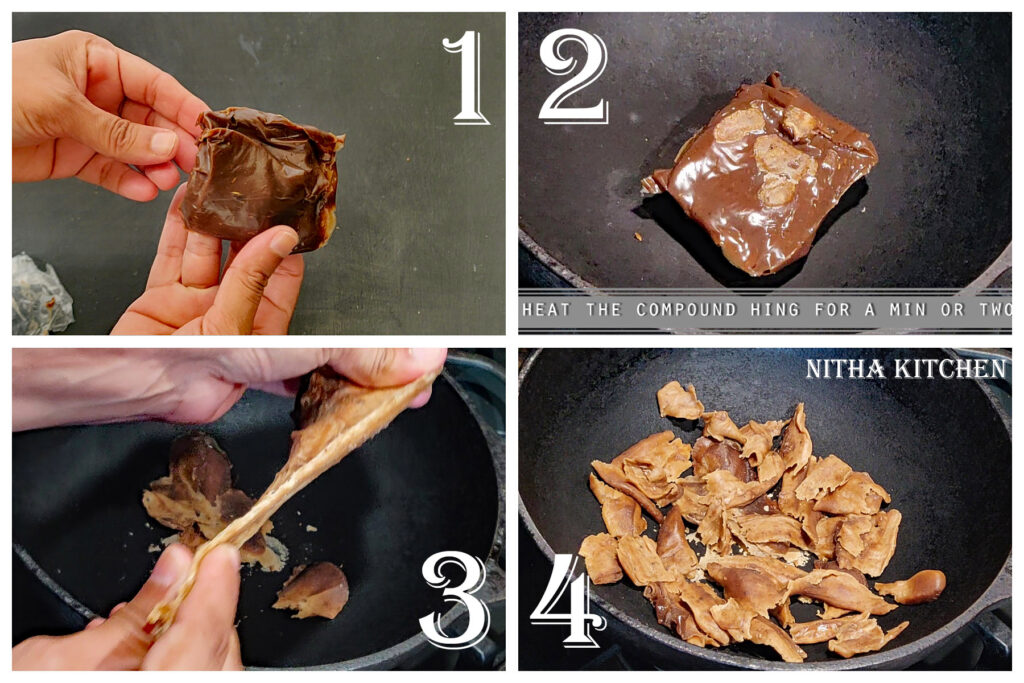 So when hand bearable do stretch (Pic 3) and split it (Pic 4).
Again heat the pan, now the hing may join back (Pic 5) but the heating purpose is to change its brown color to white (Pic 6).
In Tamil we say "Nalla Poriyanum", (Pic 6).
So try to flip while sauteing and once it changes its natural package color do remove from heat (Pic 6).
After few mins when hand bearable temperature is attained split it in to pieces as shown in Pic 7.
Don't allow to cool completely, if happened its tough to split in that case do reheat to work with it.
Again dry fry the tiny bits (Pic 8), so each and every piece should change it original color.
Actually the hing puffs/increases in size up as shown in Pic 6,8 & 9.
Once done (Pic 10) saute few minutes after removing from heat with salt (i used cast iron pan) to saute it.
Now you feel the hing pieces are crispy (Pic 9 & 10).
If not do dry fry few more minutes in low medium flame.
The entire process has to be under medium flame.
Allow to cool completely (Pic 11) and powder it well in mixie/food processor as shown in Pic 12.
Store it an air tight container for shelf use (retains freshness for several months).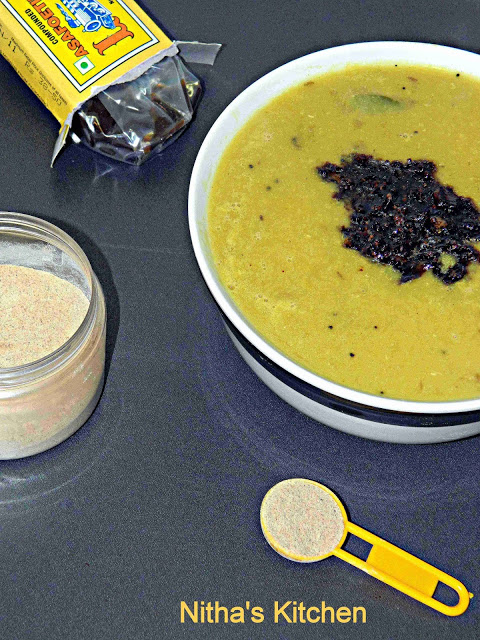 Video Tutorial
Notes:
Check the expiry date before buying, the compound hing is expensive when compared to powdered version.
A pinch of hing can be used in any type of Sambar/Rasam/non veg recipes etc.
Here I have served with Kongunadu special Uppu Paruppu (Dhal Gravy) recipe.
I am not here to compare the ingredients mentioned in the package and review which brand is best but if you are using powdered or instant asafoetida this katti perungayam / compound hing is better than that in flavor and taste…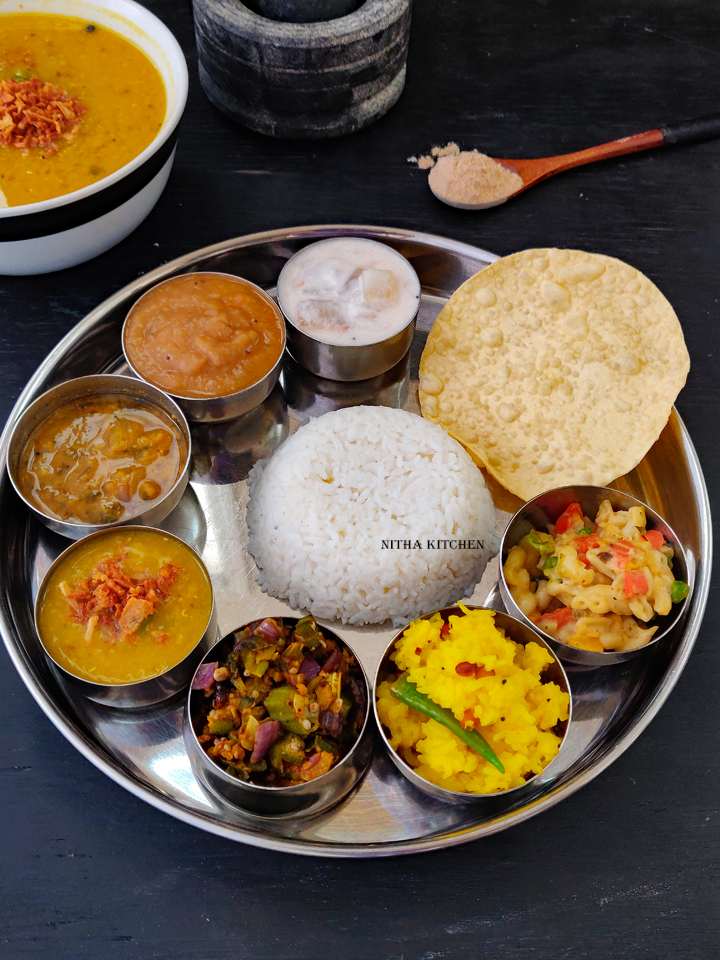 Lemon Rice
Bottle Gourd Bajji (Recipe Later)
Moong Dal & Spinach / Gongura Pappu
Ponni Boiled Rice
Appalam and