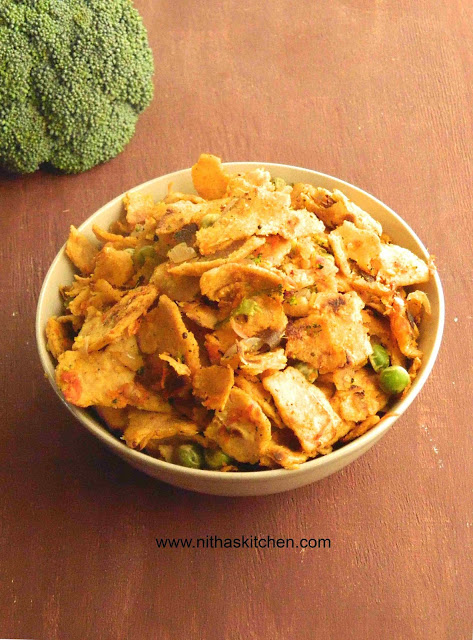 I hate plain chapathi, for health concerns take those but like stuffed varieties much. I have few stuffed chapathi recipes in my space…Whenever I make plain chapathi for my H lunch box, I usually get some left overs and kids sometimes eat n sometimes not. So I refrigerate in ziploc bag and make veggies mixed stir fry for lunch or dinner. Also kids hate raw Broccoli, so I stuff in this stir fry with other vegetables. Try this healthy version not only with leftovers also you can make this with fresh chapathis as well. If you are an egg/meat eater then mix with it. I don't add milk/butter while kneading the flour for chapathi (if I have whey water I use it up). Today I prepared Chapathi and used other ingredients which are vegan friendly so I am sending this to Vegan Thursday happening at Priya sis place…
Ingredients
Cooked Chapathi – 4-5 Numbers (Medium Size)
Assorted Veggies – 1 Cup Grated  (I used Carrot and Broccoli)
Green Peas – 1/4 Cup
Tomato – 1 (Medium Size)
Onion – 1 Number (Large Size)
Green Chili – 1 Number (Optional)
Curry Masala Powder/Garam Masala Powder – 1n1/2tsp
Red Chili Powder – 1tsp or More
Mustard Seeds – 1/4tsp
Chana and Urad Dhal – 1 Tbsp
Salt n Oil – As Needed
Method
I grated the veggies to very tiny as shown in Picture 1
Make the chapathis in to very small pieces and keep aside.
Heat oil and add mustard seeds and when it splutters, add chana and urad dhal.
When dal turns brown add chopped onion and green chili.
Saute till the onion changes color and then add chopped tomato (Pic 2).
Add salt and cook till it mashes well.
Now add peas, grated veggies, masala powder and saute till veggies cooked (Pic 3).
Keep some tomato moisture for the leftover chapathis to turn soft.
Finally add chapathi pieces(Pic 4) and give a gentle stir.
Adjust salt and spices right now (Pic 5).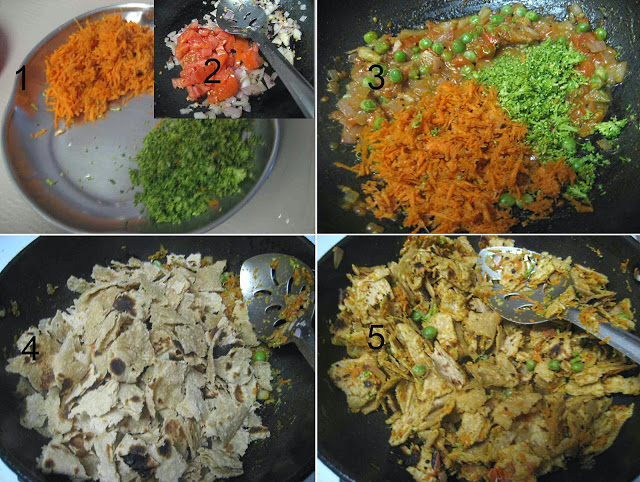 Can be eaten as it is, otherwise Yogurt Raita is enough.
Paratha Recipes