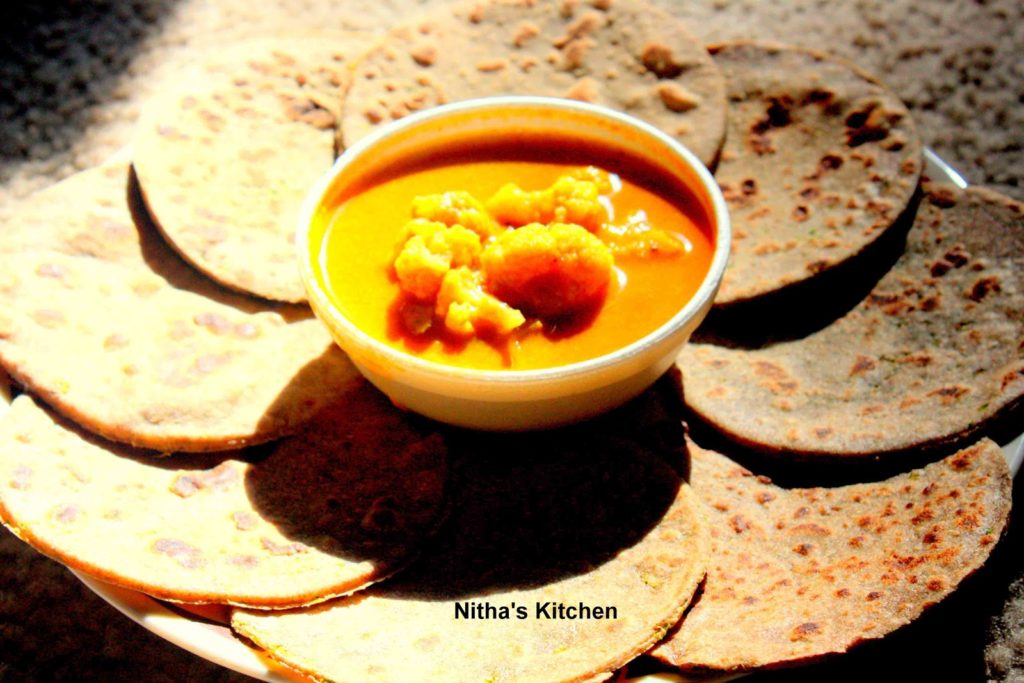 Rye flour is rich in fiber and low in gluten. I came to know abt it from my friend. Few months back,we had a chat in messenger, she told that her try with my avocado paratha came out very well. She also suggested to try parathas with this flour.To know more about this flour click here. I searched in regular super markets, couldn't find it n came back to her. With her help I found an organic version in Whole foods/Amazon. Today on this Thanks giving day, from the bottom of my heart I thank all of my dear readers. Please keep reading n encouraging with ur positive feedbacks…
Ingredients
Rye Flour – 2 Cups (Or Replace with Whole wheat/Multi grain flour)
Whole Wheat/Multi Grain flour – 1/2 Cup
Whey Water/Milk – 1 Cup (Or replace with plain water)
Salt – As Needed
For Stuffing
Broccoli – 1 Flower
Red Chilli Powder – 1tsp
Garam Masala powder – 1tsp
Salt
Method
Mix all the dry ingredients, sprinkle little milk and prepare a soft pliable dough (See note).
Bit sticky n stiff by its nature when compared to other flours, so can add a tsp of oil while preparing the dough.
Rest it covered for 30 mins, meanwhile prepare the stuffing.
Grate the broccoli, and saute well with salt,red chili and garam masala powder till all moisture evaporates.
When cooled completely stuff it to the rolled dough as shown below.
Here I have explained three ways of making this paratha, choose your way 🙂
Method I
Roll two thin layered chapatis and place the stuffing in between these two layers, well cover/seal it before cooking.
Method II
As usual, the poornam/filling we do for Opputtu/Kozhukattai (Pictures 1 & 2 below).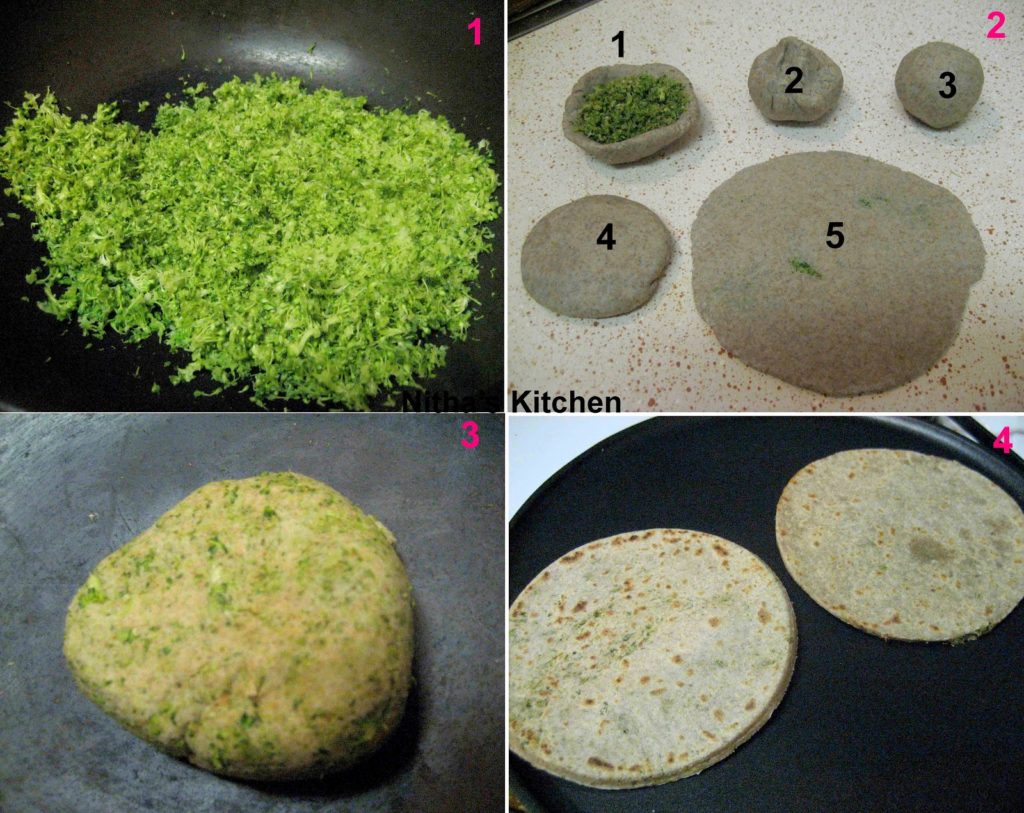 Method III
Just mix the broccoli mixture with dough and roll it, this is the simplest way among this three (Last Pictures 3 & 4 above)…
Hope the pictorial explains all in detail. Served with cauli flower kurma…
Notes
Since this rye flour is low in gluten, I have added other flour to give some elasticity for making parathas.
Whey water is the liquid remaining/obtained after the milk curdled/Homemade Paneer process.
The rye flour I used is not too dark or white, looks n tastes like ragi flour what we get here…
Can use Wheat/Multi Grain flour for making this parathas.