Banana flower/blossom is rich in fiber content and other vitamins. It's also good for diabetics also it regulates women issues. For making this Vazhaipoo Poriyal Banana Flower Stir Fry , you no need to immerse in buttermilk or water, can prepare instantly. The ingredients for this poriyal is same as making other poriyals/curry but many of your question is how to clean and use the banana flower. I know most people hesitate to buy this flower because of not having clear idea of how to clean the banana flower. I have the answer for you. Don't think this is time consuming process, clean it in your leisure time which takes not more than 20 minutes.

Ingredients
Banana Flower – 1 Number (Medium Size)
Onion – 1 Number
Sambar Powder/Red Chilli Powder – 1 tsp
Whole Red or Green Chilli – 1-2 Numbers
Turmeric Powder – 1/2 tsp
Curry Leaves – 1 sprig
Mustard Seeds – 1/2 tsp
Chana Dhal – 1 Tbsp
Split Urad dhal – 1 Tbsp
Oil – 1 Tbsp
Shredded Coconut – 2 Tbsp
Method
Wash the whole flower in running water.
Peel the petals/red skin, now you can find array of fresh flowers, grab the whole, repeat doing till you reach the end bud (Picture 2).
At the end, u can see white pulp instead of red, in the whole flower try to remove the edible part from the pulp which will be tiny in size and keep it separately.
You can make this a day/night before and store in refrigerator, but once you chopped you have to use it immediately.
The flowers which are big in size has the bitter/odd part, so start taking that 2 parts (shown in the Picture 1).
At one stage u can't remove either one or both of those parts from the tiny flower, if so take them out.
Also that won't give much bitter taste so just chop and add them to the poriyal as it is.
Now heat oil in pan, temper the ingredients one by one, add sambar powder,onion,whole chili's, turmeric and salt, now simmer the flame.
Take of bunch of  banana flowers and chop it randomly (Picture 3), now add to the sauteed onions.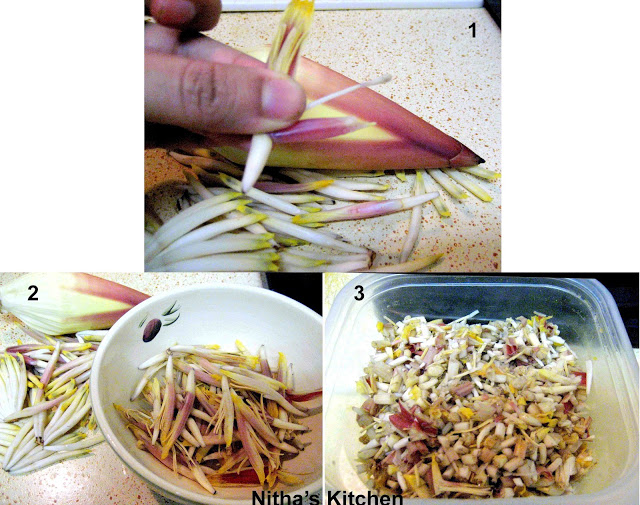 Don't chop and leave it in the cutting board for longtime, that makes the flower to turn black color.
I usually chop them simultaneously and add to the pan/kadai but you can chop it earlier and keep it in water or buttermilk filled pan till use.
Sprinkle some water and cook covered in medium flame, will cook in 5-7mins of time.
At last add coconut and serve hot with your favorite Sambar/Rasam.
Note:
Apply oil to ur hands to get rid of stickiness and our skin color changing to black.
Old Picture
2. If you delay to make poriyal then immerse the chopped flowers in buttermilk/water till you use.
3. Remove the edible parts in your leisure time and refrigerate it in a ziplock bag for the next day use, that simplifies your work.