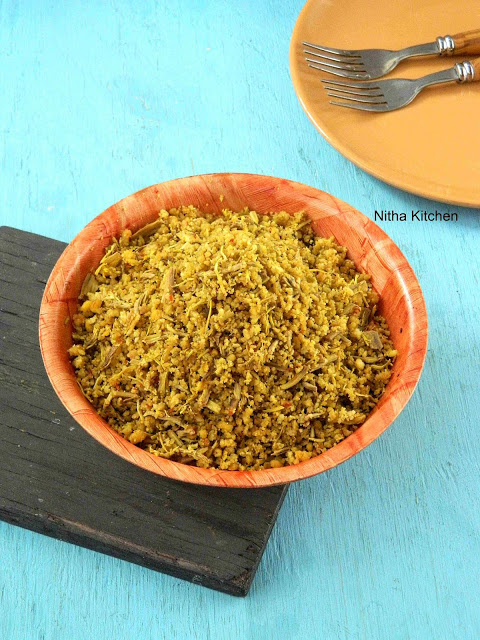 Paruppu Usili is an authentic dish from Tamilnadu cuisine, this Vazhaipoo Paruppu usili reminds me the old days… I came to know and tasted it for the first time in Chennai through my neighbor aunty. I definitely want to mention her in this post. She is a very caring person and helped me in all ways. I love their oonjal, remembering the days I did relax in it. Sometimes she comes home and prepares voluntarily her Brahmin specials like Paruppu usili, Kozhukattai neivedhyam etc. She keeps me engaged and I have learnt a lot from her. Wish life has a rewind button…
Ingredients for Vazhaipoo Paruppu Usili 
Chopped Vazhaipoo – 1.5 Cup
Chana Dal – 1/4 Cup
Fennel Seeds – 1/2tsp
Whole Red Chili – 3-4 Numbers
Toor Dal – 2 Tbsp
Curry Leaves – Few
Hing – 1/8tsp
Oil – 1-1.5 Tbsp
Mustard Seeds – 1/4tsp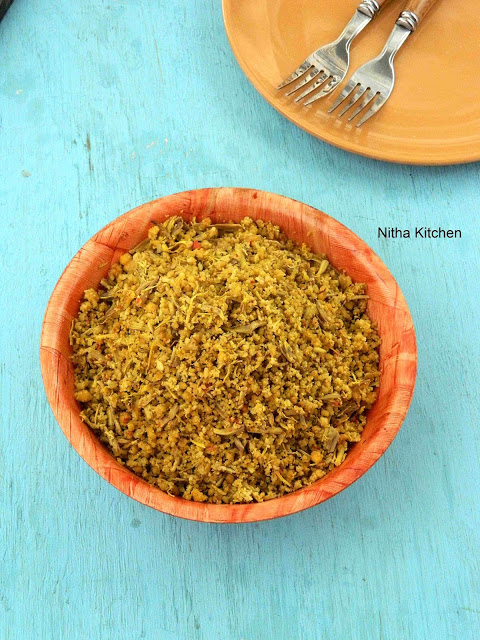 First soak the dal for usili and start cleaning the banana flower.


How to Clean and Cut Vazhai Poo/Banana Flower
I already mentioned how to clean and use banana flower in vazhaipoo poriyal/stir fry recipe, anyways giving the explanation again here.
Wash the whole flower in running water.
Peel the petals/red skin, now you can find array of fresh flowers (Pic 1), grab the whole, repeat doing till you reach the end bud.
You can make this a day/night before and store in refrigerator, but once you chopped you have to use it immediately.
Also at the end, u can see white pulp instead of red outer layer in the whole flower, try to remove the edible part from the pulp which will be tiny in size and keep it separately.
The flowers which are big in size has the bitter/odd part, so start taking that 2 parts (shown in the Picture 2).
At one stage u can't remove either one or both of those parts from the tiny flower, if so use the whole flower.
Also that won't give much bitter taste so just chop and add them to the usili or poriyal as it is.
Once done with removing the odd parts (Pic 3), you can either immerse them in plain water or buttermilk to avoid discoloration, but immediately chopping and using it in dish doesn't need anything, i usually add them as it is.
Vazhaipoo Paruppu Usili Preparation
Soak dals, red chili and fennel seeds for 1.5 hours at least.
Meanwhile you can clean and get ready with vazhai poo.
Later drain excess water from the dal, pat dry and grind it along with soaked red chili and fennel seeds (Pic 4).
In oil greased plate place the ground dal mixture and steam in the idli pan for 3-5 minutes or till its done (Pic 5).
Allow it to cool for a while (Pic 5) and then grind it in the mixie to coarse texture (Pic 6).
In a kadai/pan add oil, temper mustard seeds, chopped curry leaves and hing.
Now add chopped vazhaipoo, turmeric powder and salt.
Saute in medium flame till vazhai poo turns tender.
You can sprinkle little water and cover it, if its not cooked well.
Once done add the coarse steamed dal (Pic 5), adjust salt and if needed you can add red chili powder right now for more spice.