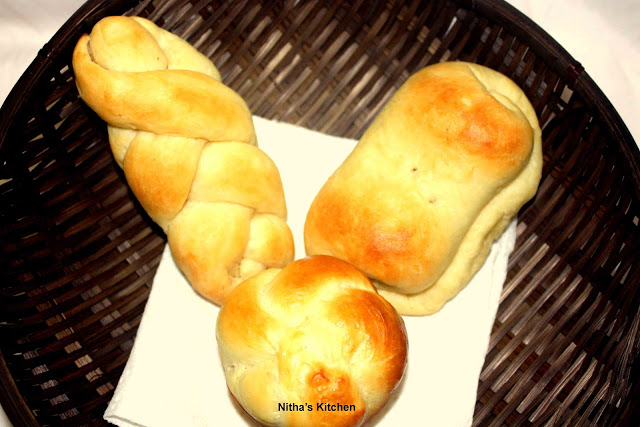 This is the first time I entered in Baking Partners challenge and this month challenge given for us was to make dinner rolls with eggs or eggless, as Thanksgiving Day is approaching. Swathi, creator of monthly baking event shared us 7 types of dinner roll shapes and asked us to try at least 3 among them. She explained the challenge in detail. I tried both egg less and rolls with egg version. Today I am posting egg less version with stuffed lion house rolls, braided roll using maida and multi grain flour, tomorrow will publish the other one. The
original recipe without egg had potato flakes, I used cooked potato instead. The rolls were so soft, tasted buttery and was so delicious. We the whole family enjoyed it n prepared it 2 times before posting here. I have given the tastier n healthier recipe in detail from scratch, will move on to the recipe in detail.
Ingredients
APF/Maida – 1 and 1/4 cups
Multi Grain/Whole Wheat Flour – 3/4th Cup
Dry active Yeast – 1 and 1/2 tsp
Sugar – 1/2 tsp
Salt – 1 tsp
Butter – 4 Tbsp
Boiled Potato – 1 Number
Regular Milk – 1 Cup
Method
In warm milk add yeast, sugar n salt, mix just to dissolve yeast.
Add butter, halve of the boiled potato n flours (APF+Multi grain flour)
First mash the potato well n then mix all other ingredients.
Knead to soft pliable dough, if needed add more milk n salt.
Rest the dough in warm place for 45-60 mins or till it doubles in size.
Meanwhile prepare the stuffing.
For Stuffing
Remaining Potato (1/2 No.)
Peas – 1/2 Cup
Sambar/Red Chilli Powder/Chili Flakes – 2 tsp
Salt – As needed
Oil – 1/2 Tbsp
Heat oil add sambar powder then add mashed potato n peas , saute well in medium flame for 4-5 mins. The stuffing is ready.
By this time dough will ferments n ready to roll, punch the dough to release the air, then make desired shapes.
I have made 3 shapes out of it,
1) Lion House Shape – I followed this video, but I stuffed potato peas masala as shown in the picture below.
2) Braided Shape – I followed this video, but I have used 3 strands.
3) Clover Shape – Make round balls, cut in to 4 equal parts and place three in muffin pan as shown in picture 4, for video click here.
I have experimented chocolate cup cakes. shown above in the muffin pan which posted here.
Otherwise just roll to simple round balls.
After making shapes, grease the cookie/muffin pan with oil/butter and place the rolled buns.
Again rest it for 30 mins, brush the top with milk+butter mixture.
Preheat the oven to 400°F and bake for 12 mins or buns turn light golden brown.
After taking out from oven, immediately apply butter on top…
Serve with your favorite spread, We had it with fat free cream cheese…
Tomorrow I am going to post egg based dinner rolls with different shapes, stay tuned…
Note:
Taste wise , the plain buns are similar to our authentic south Indian soft round buns…