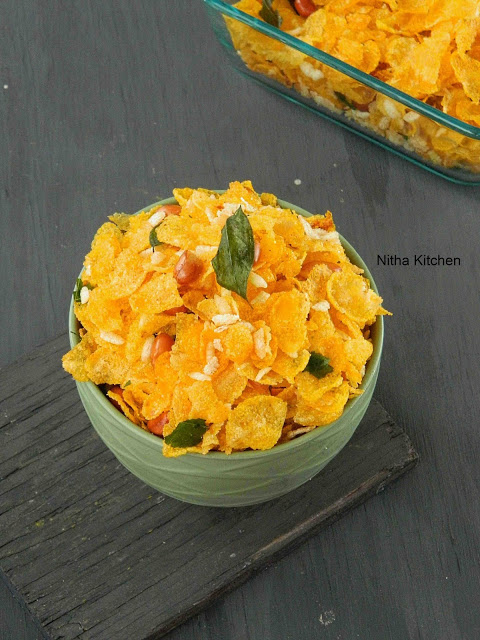 Cornflakes Mixture has been waiting in the draft since from Diwali and after all holiday bakes/Christmas posts I thought this would be the right time to release it. This is a perfect tea time snack and if you are concern about oil you can either bake them or add small quantity of the prepared mixture/chivda with puffed rice/murmura and make it lighter and healthy snack. Coming to Corn Flakes I have picked it from Indian grocery, it is named as Dried Yellow Corn Flakes aka Corn Poha/Makka poha/Maize Poha or Makai poha (you can refer the step wise Picture 1 below), but unlike the breakfast cereal cornflakes, these are not ready to eat.
Ingredients for Cornflakes Mixture
Corn Flakes Cereal – 2 Cups
Broken Cashews – 1-2 Tbsp
Poha – 1/4 Cup
Peanuts – 1/3 Cup
Dalia/Pottukadalai (roasted split gram/chana dal) – 2 Tbsp
Red chili powder – 1tsp or more
Curry leaves – 6-10
Salt – to taste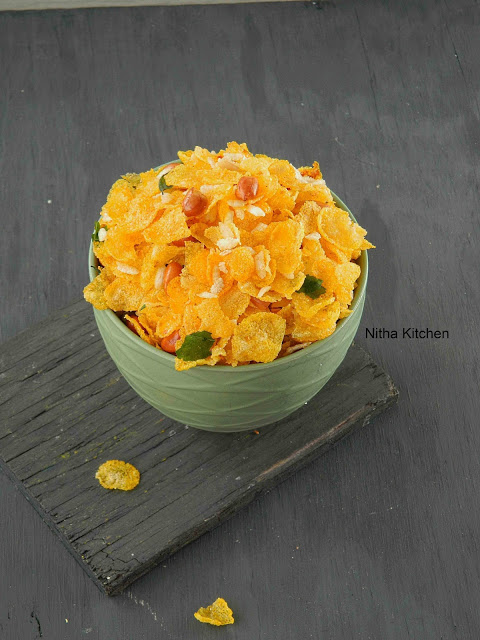 Cornflakes Mixture Preparation
You have to fry each ingredient separately, so measure and keep them separate.
Heat enough oil in a pan/kadai.
Meanwhile in a mixing bowl spread 2 kitchen paper towels and keep it ready.
When oil is hot add cornflakes in batches to the hot oil, just in a fraction of second they give crack/papad sound and once that sound suppress (Pic 2) take it out from oil.
Don't cook for long time, they drink much oil.
Step wise Picture 3 shows un fried poha (in a bowl) and fried one in the ladle.
Once done take it out and spread it on the mixing bowl (Pic 4).
Once frying part is over, an easy way to remove excess oil is, take more kitchen towel lay in between and top of the fried stuff, close the mixing bowl lid and shake it well so that excess oil comes out (Pic 4).
If done with cornflakes, do fry the peanuts in very low flame (Pic 5).
When they change golden brown they are done, spread it on a paper towel and wipe to remove excess oil.
In medium flame fry the cashews till golden burn and remove it and remove excess oil.
Fry the poha in very hot oil they increase in size that's it remove from oil (Pic 6).
In the same way fry the roasted gram/pottukadalai and curry leaves, add it to the mixing bowl (Pic 7).
Since Roasted Peanut and Poha/Aval drinks oil while frying better to wipe the excess oil separately and then finally add it to the mixing bowl (Pic 7).
Make sure the ladle you use, carries all tiny ingredients out from the wok/pan.
Remove the oily kitchen towels, add salt and chili powder(Pic 7), again close the lid and shake it so that the salt and spice coats well.
That's it these snack can be stored in an air tight container for future use for more than 20 days.
Either have it directly or sprinkle it on fried Murmura/Masala Pori as shown below.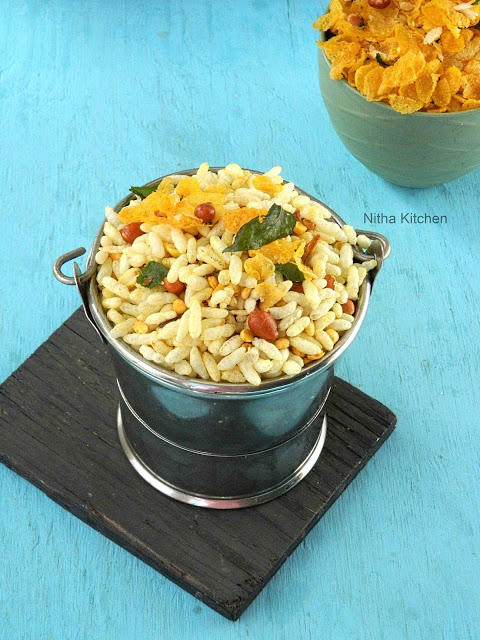 Note
For North Indian Maize/Corn Chivda, add 2 tsp of sugar to this same mixture with some fried fennel seeds, chat masala powder and fried golden/yellow raisins.