Snowball Cookie Recipe: I am wishing you all my dear readers, friends and family members a very happy Christmas. Hope you are having wonderful time with family and friends. Wish Santa brings you gifts/good message tonight, hope for the best, Merry Christmas:-) . Coming to today's Christmas special recipe these Snowball cookies is like last minute idea when kids demand you,  you can make it within 30 minutes even the baking time are less compared to other.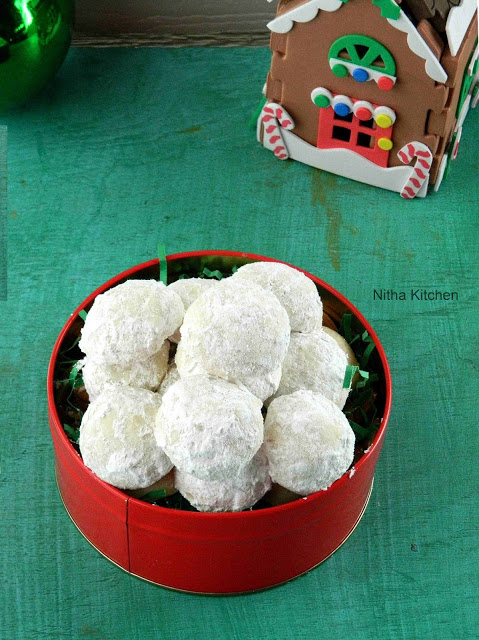 Recipe adapted from here
Ingredients
Butter – 3/4 Cup (1 and 1/2 sticks)
APF/Maida – 1.5 Cups
Powdered Almonds/Almond Meal – 1/3 Cup
Icing Sugar – 1/2-3/4 Cup
Salt – 1/4tsp
Vanilla Extract – 3/4tsp (prefer clear vanilla)
Powdered Sugar for rolling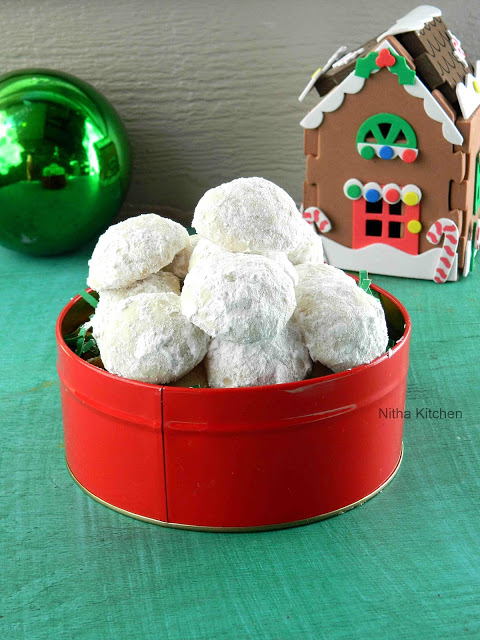 Yields – 16 Cookies as shown in picture
Method
Keep the butter at room temperature.
Mix AP flour,Almond Meal, sugar, salt in a mixing bowl(Pic 1)
Add softened butter(Pic 2), vanilla extract and mix with your hands or in electric beater.
At one stage the looks crumbly and if you hold tight in your palms it should hold the shape(Pic 2).
Arrange a cookie sheet with parchment paper.
That's it take the dough in a 1 tbsp measuring spoon or ice cream scoop(Pic 3) and arrange the dough in the parchment paper greased cookie shee(Pic 4)t.
Once done with all the cookie dough in preheated oven bake the cookies at 375 F for 6-7 minutes or the bottom turns light glden brown(Pic 5).
Allow the cookies to cool and when they are still warm coat the cookies with powderd/icing sugar (Pic 6).
Leave this to kids they will coat it well 🙂