Here are two recipes in a single post. First one is Broccoli chutney, best side dish for tiffins. The next one is broccoli chutney stuffed kuzhi paniyaram. The recipes are in detail, OLD POST UPDATED…
Broccoli Chutney Ingredients
Broccoli – 1 Medium Size (Approx 3/4 Cup Shredded)
Onion – 1 Number (Medium)
Green Chili – 2-3 Numbers
Ginger – Small Piece
Tomato – 1 Number , Small Size
Shredded Coconut – 1 Tbsp
Dhalia/Roasted Gram – 2tsp
Urad Dhal – 1 Tbsp
Optional Chana Dal – 1/2 Tbsp
Gooseberry size Tamarind
Coriander Seeds or Powder – 2tsp
Garlic – 3-4 Numbers (Optional)
Oil – 1 Tbsp
Method
Heat oil add sliced onion, ginger, green chilis, chopped garlic and urad dhal saute till onion changes golden brown.
Add roughly chopped tomato and saute till tomato mashes well.
Add chopped or shredded broccoli cook till it become soft and tender.
Add coriander powder saute for a minute or two finally add coconut and roasted gram then remove from heat.
When cooled completely, grind with less water to fine paste.
Temper the chutney as desired.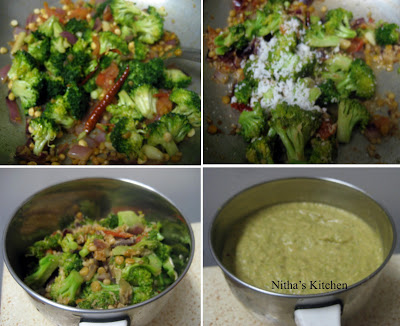 Now the chutney is ready, you can serve it with any
tiffin varieties
or can stuff in paniyarams like shown below. Old Picture below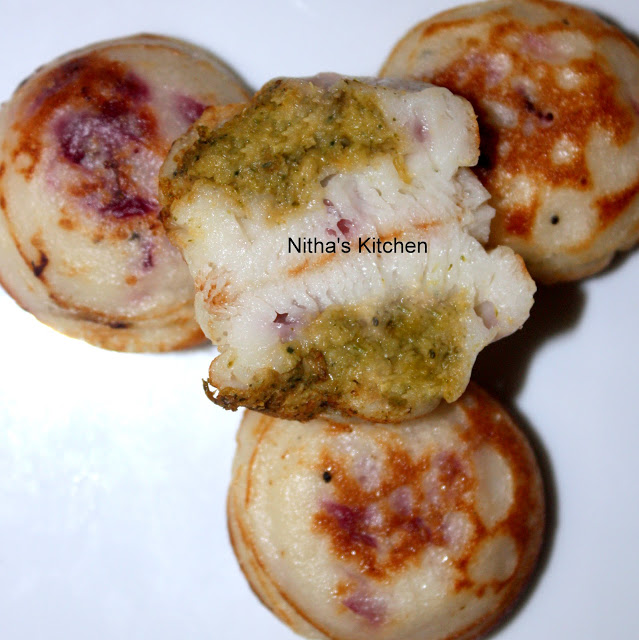 Notes
You can either shredded or chop the broccoli, the chutney color depends on how fresh and green your broccoli is, also when you saute well the color turns light.
You can add a sprig of spinach with broccoli while sauteing to get vibrant green.
Paniyaram Ingredients
Mustard, Cumin seeds
Oil – 2tsp
Onion – 1 number
Curry leaves – Few
Idli/Dosa batter – 3-4 Cups
Method
Chop the onion and curry leaves.

Heat Oil temper Mustard, when splutters add Cumin Seeds then chopped onion and curry leaves, saute till onion changes pink color.

Cool and mix with idli/dosa batter.

Heat paniyara kal (if like to add oil add one or two drops).

First fill half of the holes/Kuzhi with batter.

Next 2tsps of broccoli chutney, then fill remaining with batter.

Now flip the paniyarams after 3-4 mins of cooking in medium flame.

Cook the other side for another 3-4 minutes and both sides turn golden brown then its done.
Remove them and pour the next batch of batter, repeat till you finish all the batter.
No side dish is required if you stuff more chutneys inside paniyaram.