Easter's day is fast approaching Hot Cross Buns, recipes related with Carrot, Bunny shaped desserts are much popular for Easter Sunday.  I am planning to take the kids to nearest egg hunt festival on that day. Coming to the Hot Cross Buns recipe, it's a mix of dry fruits in the soft buns with mild
sweet all over. I made it twice last year and drafted the recipe immediately in my blog, but I am not sure from where did I adapt the recipe.For an eggless version just skip egg wherever mentioned…
If you try these Hot Cross Buns please don't forget to rate and comment your feedback at the bottom of the post. Also if you have any questions do feel free to leave a comment for the same and I will try to answer it asap. Make sure to follow me on Instagram for day to day menu ideas , instant recipes, healthy bakes and garden tips ! Follow me on YouTube for clear video tutorials especially on baking recipes with Recipe Cards or Pinterest for healthy snack ideas and Facebook for recipe updates!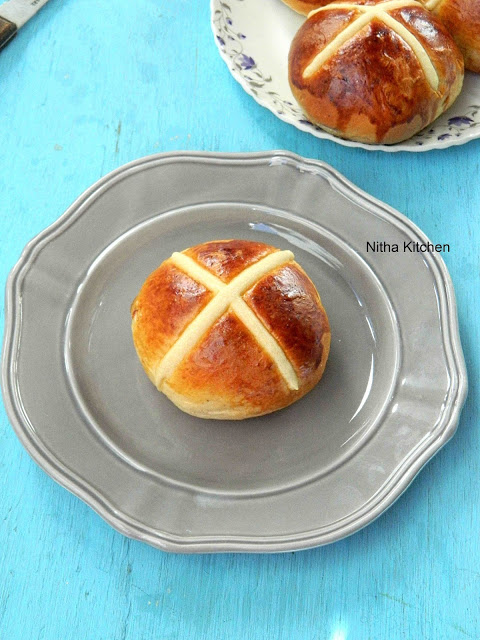 Ingredients for Hot Cross Buns
Unbleached All Purpose Flour or Bread Flour – 2.75 Cups
Butter – 5 Tbsp
Active Dry Yeast – 1.5tsp
Water – 2 Tbsp
Sugar – 1/3 Cup
Egg – 1 Number  (For an eggless version skip egg)
Cinnamon Powder – 3/4tsp
Cardamom Powder – 1/2tsp
Lukewarm Milk – 3/4 Cup
Dried Cherries/Yellow Raisins/Currants or Tutti Frutti – 1/3 Cup (Finely Chopped, can increase to 1/2 cup)
For Egg Wash
Egg Yolk – 1 (For an eggless version skip egg and use milk alone for wash)
Water or Milk – 1 Tbsp
The reason for dark brown color top over the buns is because of egg yolk wash, so using different wash may change the look of the buns.
Flour Cross
Four – 1/3 Cup
Water – 2.5 Tbsp
Sugar – 1/2tsp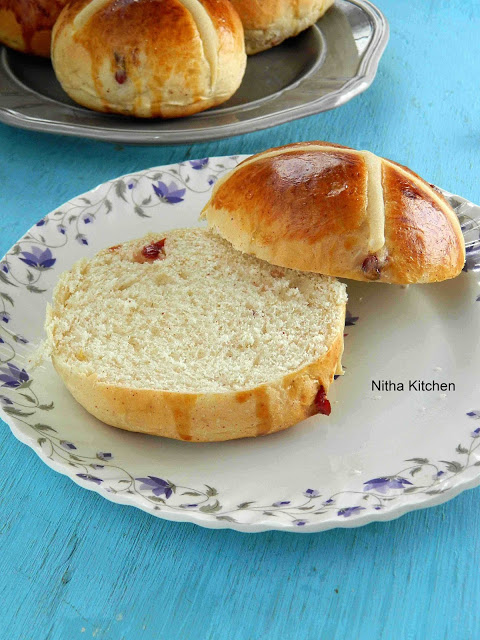 I used 1- 9*13 inch cake pan and 1- 8″ round cake pan to make 8 buns.
Hot Cross Buns Preparation
Drop the yeast in lukewarm milk (Pic 1) and let them sit for few seconds until the yeast dissolves and start puffing up (no need to raises fully).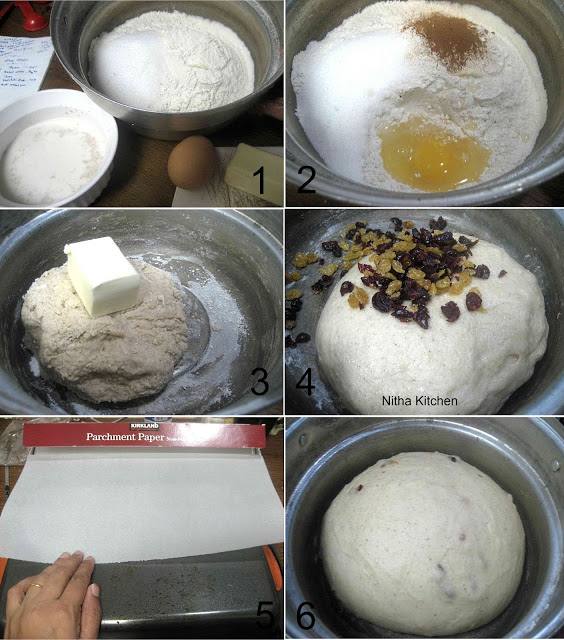 Meanwhile make the other stuffs ready.
Mix flour, cinnamon, cardamom powder, an egg, sugar (Pic 2) and keep kneading with yeast mixture and 2 tbsp (you may need more) of water till it becomes soft Pic 3).
If the dough is dry and crumble nothing to worry, butter makes it perfect.
Now add softened butter (Pic 3) and keep kneading for another 4-5 minutes.
Finally add the dry fruits like cherry, raisin Pic 4), kind of thing and mix all together.
Allow the mixture to raise ie for the first proof it needs minimum 1 hour.
Meanwhile grease the cookie sheet or cake pan with parchment paper (Pic 5).
After 1 hour the mixture looks like shown in picture 6.
Punch the puffed bread dough and weigh it (Pic 8) to make equal size balls.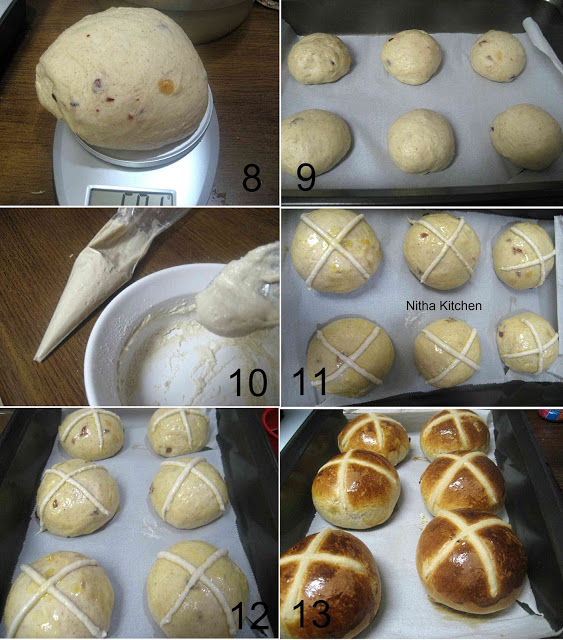 I got 8 numbers, so lay them on the cookie sheet with enough space between each other
(Pic 9).
Let them rise for another 40 minutes, after that make the egg wash and apply all over the buns.
In a mixing bowl, mix flour and water for the cross (hot cross), the consistency should be very thick like shown in picture 10.
Add it to the Piping bag with a hole to make the cross as shown in pictures 11 & 12.
Squeeze the cross batter over 40 minutes second proven buns Pic 11 & 12).
Now in pre heated oven bake them at 350 F for 18-20 minutes or the top turns golden brown (mine got ready in 15 minutes of time).