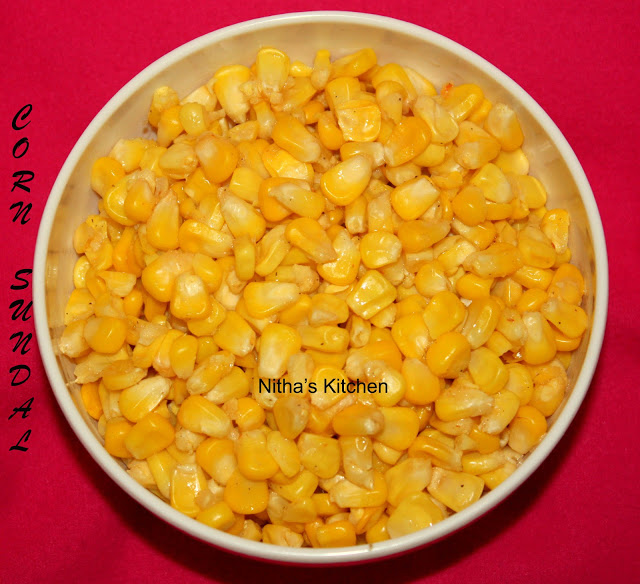 Sweet corn is what we usually get here, very easy to cook and now this corn on season.  Whenever I get fresh corns I prepare as mentioned in the first method which tastes similar to what we get in a street shop in front of "Palamudhir Nilayam" (I could not remember whether it belongs to the same shop or not but taste n flavor still remains in my mouth :))
Method I

The taste of Palamudhir
Cooked Corn – 1 1/2 Cups (given below how to cook corn in detail)
Hot red or green chilli sauce – 1/2 Tbsp
Soy Sauce – 1tsp
Pepper – 1/2tsp
Lemon Juice – 1tsp
Chat Masala – 1tsp
Salt – As Required
I How to Cook Sweet Corn

1. Microwave Cooking
Mix all the ingredients except chat masala and lemon juice. Microwave for 3 mins, in   between  stir for every 1 minute…
Finally add lemon juice n sprinkle chat masala over it before serving…
    2. Steam Cooking
If don't have microwave use Idli steamer or cooker steamer and steam the corn kernels for 5 – 7mins.
Mix all the other ingredients when corn is hot, give a quick stir n serve hot…
II How to Cook Traditional Corns
If using our traditional corn then pressure cook with less water n salt for 1-2 whistles.
Cool completely and then remove the kernels from stem.
Or otherwise separate the corn kernels first and then pressure cook it for 1 whistle….
Mix all the other ingredients when corn is hot, serve hot…
Method II
Authentic Tadka/thalipu
Cooked Corn – 1 1/2 cups
Mustard Seeds – 1/2tsp
Chana Dhal – 1 Tbsp
Split Urad Dhal – 1 Tbsp
Green Chili – 1 No.
Shredded Coconut – 2 Tbsp
Oil – 2tsp
Curry Leaves – Few
Method
If you want to go authentic then cook the corn by any of the choices explained above.
Heat oil, temper mustard, when it sizzles add chana and urad dals.
When grams turn golden brown add green chili,curry leaves, coconut, salt and corn kernels.
Stir for 2-3mins in medium flame and remove from heat.