Gujiya Recipe : I am wishing all dear readers a very happy Holi. Holi is the second largest Hindu festival in India (Diwali is the top among all) and today is Holi for us. Despite of my ill health I would like to publish a recipe with long post. Since this recipe elaborates making gujiya from scratch all you need is patience and some important tips I mentioned at the end to make it right. I have the
video
of making gujiya in the traditional pattern.
I will try to post the video in few hours of time. Till then you can check my step by ste: p pictures…You can check the link Here for making gujiya using gujiya molds. Also don't forget the tips section you can achieve perfection when you follow those tips.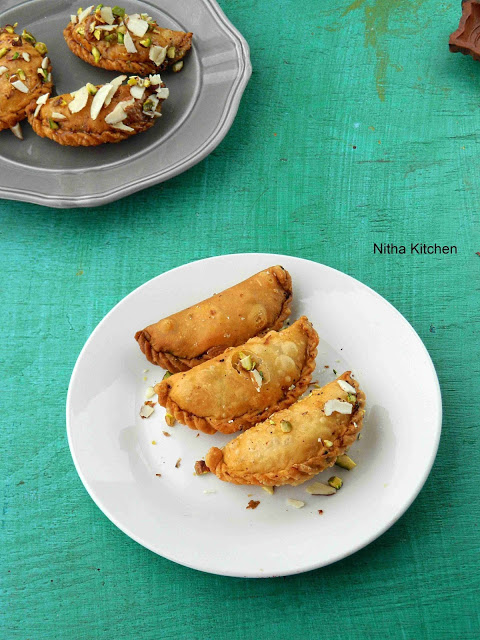 How to make Instant Mawa Using Milk Powder
Milk Powder – 1 Cup and 2 Tbsp (since I used non-fat dry milk powder I added ½ tbsp more ghee)
Ghee – 2 and 1/2 Tbsp
Whole Milk/Regular Milk – 1/2 Cup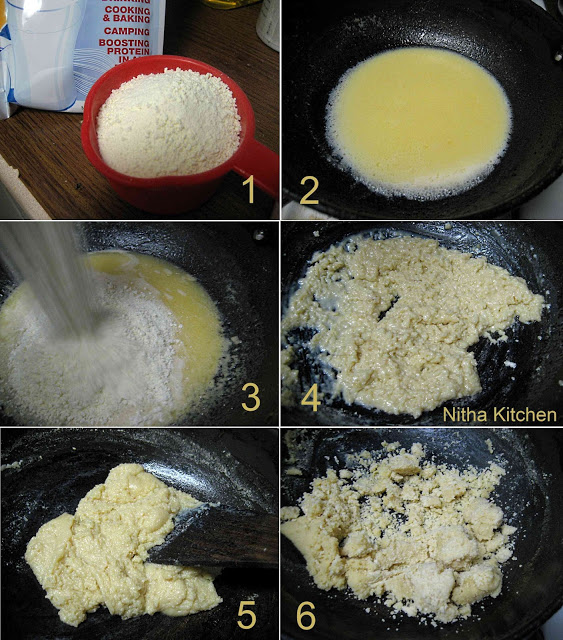 Mawa Gujiya Chandrakala Preparation
Measure the ingredients and keep it ready (Pic 1).
Boil milk in a wide pan, add ghee (Pic 2) and when milk foams and reduces in quantity,  reduce the flame to low and add the milk powder (Pic 3).
Keep stirring (Pic 4) till it reaches the consistency (non-sticky and halwa like texture) as shown in Picture 5.
Allow it to cool at room temperature and once it cooled completely it turns hard (Pic 6) and using ladle break it in to small particles.
How to make Gujiya Outer Layer
All Purpose Flour – 1.5 Cups
Salt – A Pinch
Ghee – 3.5 Tbsp
White Semolina/Sooji – 3 Tbsp (For more crispy outer layer)
Water –   As Needed
Method
Rub ghee over flour and salt mixture.
Sprinkle little water at a time and knead to stiff dough.
Let it rest for 30 minutes to 1hr, mean while prepare the stuffing.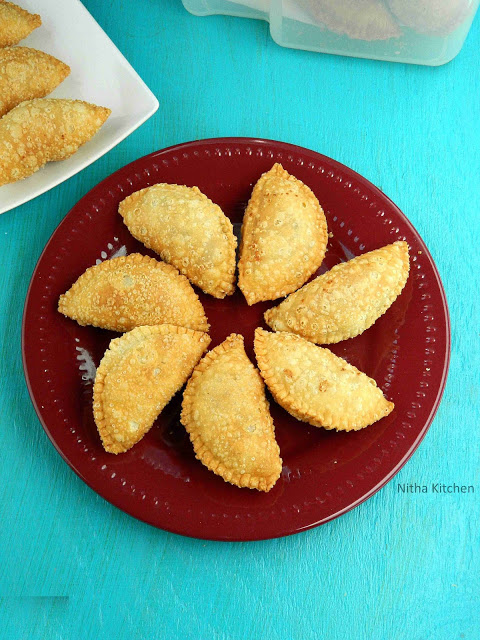 Gujiya Recipe
I have updated the post with recent pictures!

How to make Gujiya Stuffing
Crumble Mawa – Prepared above
Raisins – ¼ Cup
Sugar – 1 Cup
Sooji – 1/3 Cup
Cardamom Powder – 1 Tbsp
Dry Coconut – 1/3 Cup or More (If using fresh shredded coconut dry fry for few minutes till moisture goes off or you can also fry in ghee)
Coarsely Powdered or Chopped Nuts – 2/3 Cup


Method
Here I used Pistachios and Cashew nuts (Pic 1).
I dry roasted (optional) the nuts fraction of seconds (because I store nuts in refrigerator) and powdered it coarse when cooled completely.
Also fry the sooji if using with little ghee.
If using fresh coconut then fry it too in ghee or plain till moisture goes off.
Mix the dry coconut, sugar, powdered nuts, cardamom powder, sooji (if using) and crumbled mawa (Pic 2) and keep aside.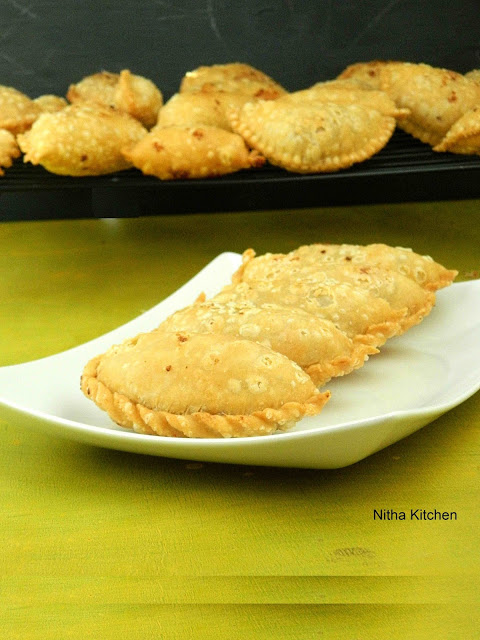 Final Gujiya Making Method
Well now we are ready with the outer dough and stuffing, its time for making gujiya with the designs as desired.
Take the rested dough, divide in to 15-18 parts, keep covered.
Take 4-5 balls out at a time (Pic 1).
Knead each one ball in to circular/chapati like shape (Pic 1), you can trim it with the help of bowl or any lid (I used juicer lid, Pic 2).
Keep a tbsp. or more stuffing that fits in the prepared circle dough.
Place it on one side of the circle (Pic 2).
Grease the sides with water and cover the stuffing, seal well (Pic 3) and make patterns/ designs as desired.
You can use gujiya mold too.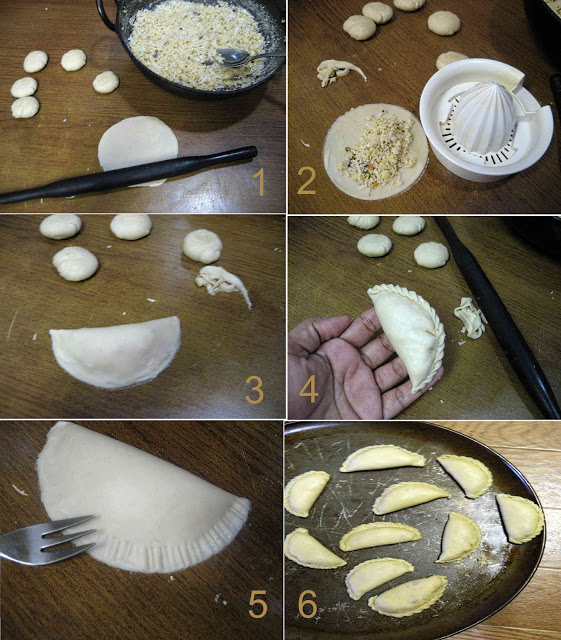 Or just using fork you can seal the sides of the gujiya that is very simple and neat design (Pic 5).
For handmade traditional gujiya (I will be posting a short video how I folded the gujiya with traditional pattern in few hours), make a pinch and twist from start to end (Pic 4).
Check the short video shared at the end of the post.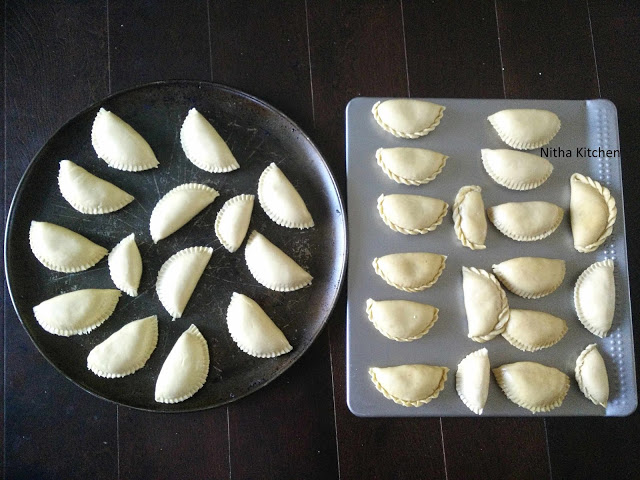 Once done with shaping store the designed gujiyas covered till you deep fry it (Pic 6).
Prepare gujiyas from remaining balls and once you are done with 6-8, you can start deep frying in oil.
Initially the oil should be very hot and then reduce the flame to medium , drop the gujiyas and continue frying in medium flame till its done.
You have to flip it for even cooking.
When both sides are golden brown and the sound of oil while frying suppress then it's done.
Arrange on a cooling rack so that the gujiyas won't get soggy.
Gujiya Recipe Baking Method
You can bake the shaped gujiyas in preheated oven at 350 F for 15- 18 minutes (for 3 or less than 3″ gujiyas). For that place a parchment paper on a baking pan, arrange the gujiyas, spray oil all over it and it won't look this golden brown so eyeball it and take it off after 18 mins of Baki lng and don't let it more than 18 minutes.
Last Sugar Syrup coating (Optional)
Boil 1.5 Cup sugar in 3/4 Cup water and a pinch cardamom powder, make it to one string consistency.
Coat the fried gujiyas and arrange it on a plate.
Garnish with some chopped nuts as desired.
Its optional to coat in sugar syrup but this is the traditional way.
I coated few with sugar syrup and left the remaining as it is.
Enjoy the Holi 🙂
Short Video Tutorial for Shaping Mawa Gujiya…
Gujiya Recipe Tips
Make the outer dough stiff and not too soft, if it turns soft add more flour and make it right.
The mawa has to be completely cooled before adding other filling ingredients in to it.
The filling can be made as a oval shape of even weight for easy wrapping/working like shown in the video.
Seal the dough after stuffing in, brush with water and seal properly otherwise they open and make mess while frying.
I usually dumb more stuffing, its up to you you  can add more or less stuffing whatever you like but too much stuffing will open up while frying so eye ball it.
When you are going for sugar syrup coat then you can reduce 1/4 cup sugar in the stuffing.
You have to fry the gujiya in medium flame also double fry for super crispy gujiyas.